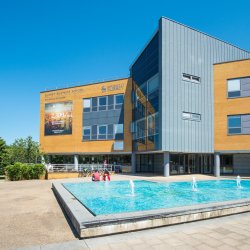 Felicia Troberg
"Surrey taught me that failure is part of my personal and business journey and that learning from my mistakes is as important as my successes."
Course
Entrepreneurship & Innovation Management MSc
The MSc Entrepreneurship course and Surrey's wonderful campus first attracted me to Surrey University. I was looking for an immersive experience where I could focus on my studies and be surrounded by like-minded people. The campus is small but there is always something happening!
My favourite part of my course were the people, both the students and lecturers. My course was wonderfully diverse, leading to interesting discussions in class. The lecturers offered a great balance of personal industry experience and academic theory. They showcased how the theory can be put into practice, or how to learn from mistakes!
The course and our Programme Director were incredibly engaging. There were often events outside of class that meant meeting and networking with industry professionals. The Programme Director took the time and made the effort to ensure each student was thriving in class and becoming the best entrepreneur they could be, which is exciting and encouraging as it feels like a real possibility! The course was tough but rewarding, and there is support available for those that seek it out.
"I've learnt to become independent in my thinking and work, and it has given me the confidence to start my own business."
I was definitely shy in voicing my opinions and not confident in my knowledge or abilities. Through the course, I was able to build on my knowledge, as well as apply it in new ways. I felt like I was making an impact, from a class discussion to choices about my future career. Overall, this course helped me understand what I want as a person and as a professional, and it helped show me what my career could look like.
I've learnt to become independent in my thinking and work, and it has given me the confidence to start my own business. Today I am able to be much more vocal about my opinions and confident in the choices I make for my business and my career.
The course has taught me the skills and business theory I need to start, run and scale up a business. It taught me that failure is part of my personal and business journey, and that learning from my mistakes is as important as my successes.
I've learned a lot about who I am as a person, the risks I am willing to take, and the type of business I thrive in. I also learned how to build a business that reflects my own beliefs and personality, and that has resulted in a very satisfying start to my career.
My happiest memory is visiting Guildford pubs. One particular pub is where I came up with my business idea, and figured out exactly what I wanted my product and business model to be! Being able to speak to my supervisor about my business idea and start to visualise, create and build my business model was the happiest and most rewarding experience.
Discover more about our MSc courses at Surrey Business School including our Entrepreneurship and Innovation MSc.