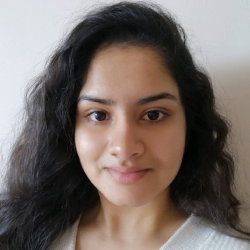 Hemshika Gopee
"I have become more independent, I easily take on more responsibilities, blend into new teams and I have started to prepare myself for the future."
Why Surrey?
I was looking for a course and a university that would provide me with the right skills for my future career. Surrey ticked the boxes, especially with the option of a Professional Training placement and a highly regarded Business School.
The campus was equally important, and the accommodation areas were well kept with the necessary facilities available. Everything I required as a student was well placed, within proximity to campus; the library, laundry services, or the Simply Fresh store.
"My first day at Surrey was at an Applicant Day. Everyone was warm and welcoming and lots of help was available to give students a deeper insight into how the course is taught. It was well organised and helped me to confirm Surrey as my university of choice."
My course
My course, Business Management, provides me with a broader perspective of businesses. I have developed a keen interest in finance, and the best part is that I can choose from a wide range of equally exciting modules to focus on that area of interest. There are lots of group projects involved, and I have made some amazing connections while developing my key skills.
The staff, both teaching and non-teaching staff, and facilities are always available to you. There are drop-in sessions available whenever you require help, which I have made use of throughout my time a university. With the current pandemic, the academic staff and facilities have adapted to and embraced several changes to comply with students' needs.
Extra-curricular activities
"The university offers so much to students, I am part of Surrey Business Society and I am also learning a new language through the Global Graduate Award."
I have made many new friends and I have attended exciting social events, from quiz nights to activities such as bowling. There are lots of opportunities available and students can choose from a wide range of societies, to reflect their interests!
My best moment so far would be my first year as I enjoyed learning interesting topics and partaking in fun group activities. In hindsight, I have really seen myself grow as an individual. I believe that university is an important part of who you become in the future, and Surrey has helped to direct me on the right path.
I have become more independent, I easily take on more responsibilities, blend into new teams and I have started to prepare myself for the future. Surrey has definitely played a huge part in shaping me as an individual.
Learning during the pandemic
Although my second year has predominantly been virtual, Surrey has ensured that students are well informed of any changes. Safety rules have been strictly applied and societies have adapted to online activities. These have helped me to benefit from what the university offers despite being away from campus.
Discover more about the Business Management BSc (Hons) course at Surrey Business School.