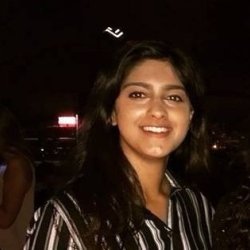 Manjot Jaswal
"My main achievement on placement was being offered a three-month extension, which led to a permanent position."
My decision to study computer science was driven by my natural interest in technology. A growing industry, technology plays a massive role in our day-to-day lives, so I wanted to learn how we can use it to positively impact and improve areas such as education, health, and finance.
Studying on the BSc (Hons) Computer Science at Surrey, I've found that the modules are quite diverse which allows you to learn about different areas of computer science and find the topic which interests you the most. The facilities are great, and the academic staff are passionate about the modules they teach. They have a lot of experience in the field, so they are great to talk to for careers advice.
I did my Professional Training placement at HMRC, focusing on the digital side of the organisation. My role as an associate user researcher involved obtaining user insights to improve the usability of HMRC's online services.
I decided to do my placement with HMRC because it has the goal of becoming one of the world's most digitally advanced tax administrations, and I thought this would be a great way of learning the uses and benefits of technology and how it can be applied to different industries.
I worked across two teams, one of which was responsible for recruiting users of HMRC's services to take part in research sessions, and the other carrying out research activities – from desk research to interviewing and observing users at their workplace. Working on both teams meant that I was able to see the end-to-end process of user research.
My main achievement on placement was being offered a three-month extension which in turn led to a permanent position. I also built my teamwork, communication, time management and presentation skills, and gained real world experience of working with an agile methodology. It was interesting to see how the smallest of changes to technology can impact a large audience.
At Surrey I've enjoyed the campus and local town of Guildford, and also got involved in the broad range of extracurricular activities the University has to offer. I've participated in Surrey's Women's Football and Cricket clubs, which has been great way to meet new people.
"I've been a coach on the Professional Training coaching scheme: my own placement was such an invaluable experience, I wanted to give back by helping other students to gain a placement and have this opportunity."
I've been impressed by Surrey's Students' Union, which really listens to students' voices. One example of this was its response to the pandemic: many universities had to cancel event such as Freshers' week but Surrey's SU thought outside of the box and set up a new venue that met all the Covid regulations.
When I graduate, I'll be returning to HMRC in the role I undertook on placement. However, I'm also looking forward to shadowing a few different roles which caught my interest during my year there.
Discover our courses in computer science, including our BSc (Hons) Computer Science.