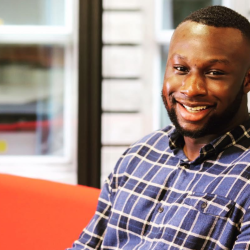 Osaze Obazuaye
"Surrey has changed me in several positive ways, I am now more driven in pursuit of my career goals."
Course
International Business Management BSc (Hons)
One of the main reasons I chose Surrey was because of its historical Professional Training reputation. I was pleasantly surprised to find that Surrey was one of the pioneers of the now popular Professional Training placement It was also great being close to London, with the train station nearby I could get into London in just over half an hour!
The Stag Hill Campus was probably the first thing that stood out. The green campus really gives it a homely feeling, on top of this, the university did a great job of having everything you need on campus meaning you wouldn't need to travel too far to access facilities.
"Guildford offered a nice balance to city life and allowed me to get away from the hustle and bustle of the capital."
My course allowed me to specialise in international based units, whilst also giving me the flexibility for additional personalisation based on modules. This was beneficial as I was able to gain knowledge in contrasting topics, from entrepreneurship to international trade. The option of a placement also gave me the chance to gain valuable work experience in an ever-increasing competitive job market.
On my placement year, I worked at GSMA, an industry trade body in the telecommunications sector. I was based in the Central London office as a Programme Intern working in the Future Networks programme. Working in the tech sector allowed me to gain a wealth of knowledge on things I previously knew nothing about including 5G, Internet of Things and AI. Fortunately, I was able to get involved in a whole range of projects across the organisation including Security and Marketing. The highlight of my placement was attending Barcelona to assist in hosting the annual Mobile World Congress event. It was a surreal experience getting to see the latest technological innovations up close, as well as being able to network with professionals in leading companies such as Huawei and Google.
"I would absolutely recommend a Professional Training placement to others and advise you shouldn't be daunted about the competition involved. The university offers a plethora of workshops, networking sessions and fairs to help build skills and confidence."
They also have an employability and careers support team which assist in placement searches and writing CVs and cover letters. Completing a placement enhanced my employability helping me to secure a graduate role at Fujitsu!
As a fitness freak, Surrey Sports Park provides a fantastic set of facilities to use. From the gym to the basketball courts and football pitches, there is something for everyone. It was also quite cool to find yourself training next to professional basketball or rugby players!
Surrey has changed me in several positive ways, I am now more driven in pursuit of my career goals, and more comfortable attending networking events, partly down to the number of company workshops and presentations that occur on campus throughout the year.
Discover more about study at Surrey Business School and the International Business Management course.