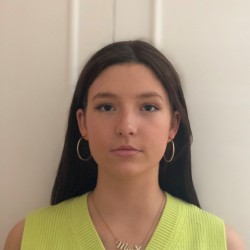 Charlotte Pearson
"By getting me off to a flying start the Foundation Year has helped me settle into my first year more quickly."
Why did you choose to come to Surrey? What appealed to you? 
At school, I was constantly encouraged to apply to a Russell Group university and I didn't want the pressure of that, especially as I was nervous that my A-levels might go awry because of my Dyslexia. I looked at the top business schools in the UK and which had the highest employability rate for its students – and Surrey came out top! 
When I came to an open day, the piѐce de résistance in my decision to choose Surrey was the Surrey Sports Park. I play high-level squash and seeing six glass backed squash courts was too irresistible!
Initially, I applied to do the degree in International Business Management but then I became nervous about my A-level results so I contacted Admissions at Surrey and asked to switch my application to the International Business Management with a Foundation Year course. Fortunately, they were happy to accommodate me!
Why did you choose to do a Foundation Year?
A-levels are super stressful! I really wanted to go to university and I didn't know if I could trust my academic skills to get there. I knew it was going to be a massive mountain to climb to get the results. By going for a Foundation Year, it made the mountain much more manageable and it took a load off.
The Foundation Year is tailored to give you an overview on all aspects of business management – you get to learn about analytics, international business, marketing and economics.
On the Foundation Year, you're taught to a strong A-level standard which gets you on level terms – or better – with the other students in the first year of the degree.
What do you like about your course and why?
"I like the flexibility of a business degree – it doesn't pigeon-hole you down one set career path. I expect to have multiple varying jobs throughout my career so I want a degree that is versatile enough to allow me to change professions and to give me transferrable skills."
What I'm learning is so useful – profit and loss accounts, tax returns, and critical analysis of data, these are really practical skills. At school, I found a lot of what I was learning was not applicable to how the real world works.
Do you feel that you're supported whilst at Surrey?
Yes. The Neurodiversity team met me in the first week to make sure my needs were met. The teachers are very accommodating over my dyslexia. The Foundation Year gave me the confidence I needed. 
Are you part of any clubs or societies? How have they contributed to your Surrey experience?
I play squash for the University and I'm first year rep for the Food and Wine Society. It's been a great way to meet like-minded people who share the same love for something that you do. 
What are the best things about life at Surrey? 
Surrey is close to the town of Guildford and is just half an hour from London. You don't get to feel isolated on a campus or in a bubble as it's so close to the town and the countryside.
How has your Foundation Year at Surrey had an impact on you?
By getting me off to a flying start it has helped me settle into my first year more quickly.  
"Having a university experience – rather than taking a gap year after leaving school – was a great decision. It gave me structure and routine as well as a real taste of what it's like to be at university."
Taking the Foundation Year has worked wonders for my confidence. I discovered I was really smart with the business side of things. Now that I'm in my first year of the degree, I like being able to know how to operate SurreyLearn, navigate my way around the campus, where the best places to eat are and where to go for a good night out – it's put me at such an advantage over first years just starting out. 
It's been really worth it!