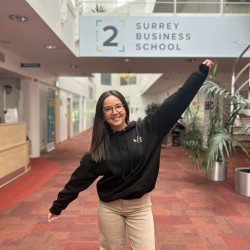 Ines Contente
"Once I visited Surrey's campus and found out all the great opportunities the University offered, I was set on my choice for higher education. I can happily say that I 100 per cent made the right choice..."
Placement company
The Walt Disney Company
Is there a song that reminds you of Surrey? Why? 
Feeling good – Michael Bublé, it reminds me of the walks on campus to either a full day at the library going after my goals, or knowing I was going to lectures and got to see my friends.  

What's something you couldn't live without at university? 

Couldn't live without the iced coffees from Lakeside café, the best! 

What's one food dish or snack you couldn't live without at university? 

The Fuel double chocolate oat cookie from simply fresh, it would be my anytime snack to get through a full day in the library! 

Describe your experience at Surrey in three words: 

Wholesome, epic, unforgettable 
Why did you choose to come to Surrey?  
I chose Surrey mainly because it gave me the options both to study abroad and also to do a year in industry. However, once I came to campus on my offer-holder day, the vibrant atmosphere and the community spirit made me 100% sure of Surrey for my first choice! 
What was your first impression when you got here? 
The feeling of togetherness and compassion for one another was one of the first things I loved about Surrey, as well as the pretty campus and the amazing cathedral! 
Why are you passionate about your subject? 
Business rules the world, and since I was young, I have always been told I have an eye for entrepreneurship as well as selling ideas… I also love people and communication so international business management was the perfect combination for that! 
What do you like about your course and why? 
My course gave me both the practical and theoretical tools to help me build a strong tool kit in preparation for the professional world. I liked the aspects of team working in module assignments, but also the creativity and freedom of speech to be able to express myself as an individual.  
Who was/were your favourite academic/s and why? 
Anna Holland, Razak Alhassan, and Tim Wray. They all showed support, belief and positivity in different ways and were always incredibly helpful.  
Anna was one of the most supportive people at a difficult time for me at university as well as making the Entrepreneurship and Innovation module very fun and creative.  
Razak was immensely helpful and supportive with my assignment in his module and made me keep positive throughout my journey with it.  
Tim was an amazing tutor throughout my four years at Surrey, and he always encouraged me to strive for my best whilst being there to help at all times. 
What were the facilities like on your course? How did they help your studying experience? 
I spent most of my time at the study facilities in Surrey Business School which were comfortable and helpful for my personal projects and assignments, work, and team meetings when working on group assignments. My personal favourite was the student common room in Surrey Business School.  
What careers support have you received?
I received support from the careers team in my second year to prepare for interviews and check my CV for placement applications. This was a great help to make me feel more confident. I also spoke to my personal tutor for advice whilst applying and this was a great support for my journey too.  
Have you been on a Professional Training placement? If yes, where did you go?   
Yes, I spent a year working as a Licensing Sales Intern at The Walt Disney Company in the London office. 
What did the work on your placement involve? What were the highlights?  
I worked in the FMCG [Fast-Moving Consumer Goods] team and supported my manager with key account management, being a point of contact for clients and supporting the team with strategy and development. One of my highlights is presenting my first deck to a client as well as participating in a volunteering event for Make-A-Wish and Disney!  
Would you recommend a Professional Training placement to others? Why?   
Yes, I would definitely recommend it. A placement not only gives you the real-life experience of what your future could look like as a professional, but also the confidence and personality going into your final year of university.  
The skillset gained through placement is invaluable and I know I personally saw the biggest shift in myself both as a professional, individual and a student from when I first started my placement to starting my final year! 
Are you part of any clubs or societies? How have they contributed to your Surrey experience? 
I was part of the Surrey Business Society throughout my four years at Surrey and it was an amazing experience. I was a member of the committee in my second and final year and I thoroughly enjoyed it. I learned from the final year students who had been on placement and who were managing and restructuring the Society in that year. They were incredible mentors, and I was able to bring great events to life, management a team and understand how real togetherness can create impactful projects. The Society was highly recognised by everyone's work so I would totally recommend joining a student society as you will both gain experiences you wouldn't anywhere else, meet amazing people and make friends for life!  
What are the best things about life at Surrey?  
The best things about Surrey are definitely the pretty nature walks by The Mount or in the Surrey Hills. However, the campus and Surrey Sports Park are also top choice for me!  
The best moment of my time at Surrey would be graduation day with my friends. An unforgettable memory.  
Surrey has definitely shaped me into an individual I am proud of and for that I owe to all the amazing people I met at Surrey. My classmates, the academics, managers, and my family's support throughout.  
Do you know what you want to do when you graduate? 
I know I want to pursue my passion for people and communication. I know I want to secure a role I enjoy but also take some time to travel the world!  
Do you have any other comments you'd like to offer about your time at Surrey? 
Once I visited Surrey's campus and found out all the great opportunities the University offered, I was set on my choice for higher education. I can happily say I 100 per cent made the right choice and I will never forget how much Surrey has had an impact on me. It will always hold a special place in my heart. Forever Surrey!