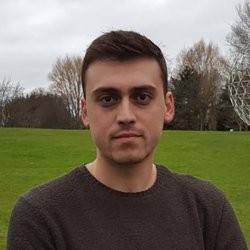 Panayiotis Kattou
"When I heard about this PhD project I knew I wanted to do it. It wasn't just the science that excited me but also its direct impact and relevance to industry and the outside world."
Course
Chemical and Process Engineering Research
"Conducting my PhD within Surrey's Department of Chemical and Process Engineering has been a good decision. The Department has grown really fast over the past three years but is still relatively small, with very approachable and friendly staff.
There's a good combination of young and more experienced researchers and scientists, which gives a positive spark to the environment.
My PhD has involved building a computational model of our skin's structure, including its hair follicles, which can predict the pharmacokinetics (chemical effects) of a formulation applied to the skin.
When I heard about this PhD project I knew I wanted to do it. It wasn't just the science that excited me but also its direct impact and relevance to industry and the outside world. If accepted by the scientific community, computational models like this one could save scientists hundreds of hours of lab work, as well as reducing animal testing, so I'm very excited to be part of this bigger picture.
I'm now in the final year of my PhD and I have been successful in getting my skin model working, which was the most important goal. I've already published some work and am publishing another paper before I leave Surrey. Besides that, I've attended conferences across Europe, presenting my work at many of these, which has provided an excellent chance to network with other researchers working on similar projects.
My project is funded by the Biotechnology and Biological Sciences Research Council (BBSRC) and Unilever, so there's been an active involvement with industry throughout the project. Academia and industry treat problems from different perspectives, and this has given me the chance to observe and consult with both parties, as well as having access to their facilities, which has been very helpful.
As I come to the end of my PhD experience, I know that I've obtained a number of skills that will definitely help me in the future.
The struggles and problems you encounter during your PhD may seem huge at the time, but they teach you patience, hard work and the ability to motivate yourself. After I get my PhD I will look for another challenge to solve, which could be in industry, academia, or even in a completely different sector: as long as I'm kept challenged, I am motivated to work."
Discover our programmes in chemical and process engineering including our PhD Chemical and Process Engineering.