Student experience
We will empower our students to take ownership of their Surrey journey, enabling them to achieve lifelong success.
Ambition
Our ambition is to empower our students to take ownership of their Surrey journey, enabling them to achieve lifelong success.
Mission
Our mission is to transform lives. We will support our students to achieve their potential and prepare them to thrive throughout and beyond university.
Objectives
Help our students succeed – developing a broader employability offer for students, building on our existing successful professional training programme, supplementing the academic delivery.

Listen to our students – working proactively and in partnership to prioritise and clearly communicate joint initiatives which will positively shape the student experience.

Work with our students – improving support – especially at key periods of transition – to enable student successes throughout their university life.

Support our students – providing access to appropriate, high-quality, caring and co-ordinated support services to all students, championing inclusivity and growing independence.
Key activities to deliver
Employability head start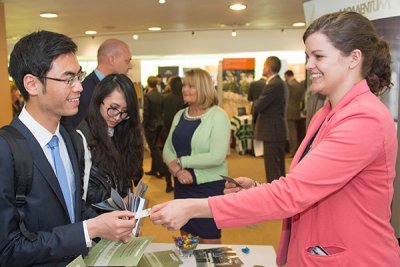 We will build a broader employability offer for our students to enable them to become rounded and resilient graduates and to empower them to find career success.
We will do this by:
Embedding employability in the curriculum and strengthening the existing Professional Training placement year and other placement programmes
Widening opportunities for work experience through summer and graduate internships
Increasing the employment of graduates in roles at the University
Instilling a lifelong learning ethos for long-term career resilience
Growing the uptake of 'SurreyConnects', the place for alumni-student networking and mentoring
Reflecting the needs of future employers in our employability offer.
Seamless student journey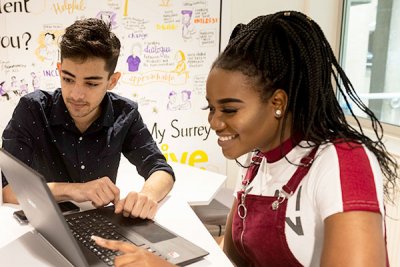 We will ensure a seamless experience for all our students from pre-arrival to post-graduation. We will conduct a review of the student journey to identify gaps and opportunities for improvement in the support we provide to students, including our postgraduate researchers.
Our approach will identify and deliver targeted initiatives for certain student groups and will seek to widen participation and inclusivity across the journey. We will refine our case-coordinating approach to student support and develop the necessary infrastructure for a joined-up experience, ensuring access to support is consistent, flexible and connected.
This will be supported through the co-creation of processes, timelines, and structures, embedding the staff-student partnership manifesto and will be complemented by the services delivered through the Students' Union.
Through these activities we will build a Surrey community for all our staff, students and alumni that fosters pride and belonging and champions diversity, inclusivity and togetherness.
Measures of success
There are many ways in which we will analyse the success of our objectives, but these three top level measures enable us to see that we are supporting our students to succeed, that we are listening and working with them to optimise their experience, and that we are creating an inclusive community supporting all students in their journey.
Top 10%
In graduate employability with less than 1% gap between White and Black students
Top 25%
Learning community*