Studentships
We appreciate that not all of those who want to start a Doctoral programme will be able to self-fund their studies. For those who require financial support there are options available to you. These pages are intended to help aid your search for funding.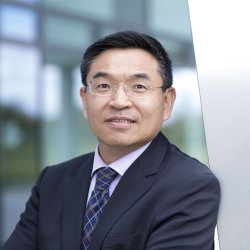 "It is a priority for us to attract exceptional global research talent, in order to fulfil our mission to transform lives across the world through research and education. We are delighted to offer prospective international PhD students a generous funding package to support their development as future leaders in academia and beyond."
Max Lu, Vice-Chancellor of the University of Surrey
There are many funding opportunities at Surrey for prospective postgraduate students, from a wide variety of sources including the Doctoral College, Faculty, Industry and Research Council Funding.
Once you are registered as a student at Surrey, there are very few funding opportunities available. PhD students are expected to have their finances in place before they start their course. 
You can use our studentship listings page to find a full list of available funded studentships offered at the University of Surrey. Be sure to check the funding information to see whether you are eligible and the application deadlines.
Research Council
UK Research Councils distribute public money to train new PhD students at UK universities. This funding is referred to as a 'Research Council studentship'. It has two components: a scholarship paid to the university up to the value of a student's PhD fees and a separate bursary paid directly to the student for living costs during their doctorate, also referred to as a stipend. Some studentships include both components. Others are 'fees-only', with no additional living allowance.
Although the studentship is allocated by the Research Council, you do not apply to the respective Research Council, but to the university.
On this page you will find separate sections below regarding funding for SeNSS (ESRC), technē (AHRC) and SCENARIO (NERC) studentships at the University of Surrey.
As a member of the TECHNE Doctoral Training Partnership, University of Surrey students are eligible to apply for Arts and Humanities Research Council (AHRC) studentships. Technē is a consortium of nine universities in London and the South East offering a rich and diverse training programme for doctoral students with a focus on interdisciplinarity and developing career potential both in and beyond higher education.
Technē's training programme is enhanced by input and placement opportunities provided by Technē's 15 partner organisations (including the Barbican, Natural History Museum, The National Archives, UNICEF and Science Museum) in the cultural sector. Technē's vision is to produce scholars who are highly motivated and prepared for academic, public or professional life. Students will benefit from a diversity of training opportunities and be able to draw on supervisory expertise from across the Consortium. Find out more.
Studentships are awarded on the basis of the academic excellence of both the candidate and the research proposal. This is an extremely competitive process and only very high calibre candidates are successful. Find out more.
The SeNSS Doctoral Training Partnership, funded by the ESRC is a centre of excellence in social science postgraduate research training, and is a partnership between the following Universities: City, Essex, Goldsmiths, Kent, Reading, Roehampton, Royal Holloway, Surrey, Sussex and University of East Anglia. SeNSS offers:
Fully-funded studentships (tax-free living costs at approximately £15k per year and tuition fees of £4k+ per year) for UK and eligible EU students, and international Economics students.
Fees-only studentships (tuition fees of £4k+ per year) for EU students who have lived in the UK for less than three years.
Student-led Studentship
SeNSS is offering approximately 40 student-led studentships for the 2020/2021 academic year, in 13 social science disciplines across 10 universities. Open for applications. Find out more and apply.
SeNSS Collaborative Studentships
SeNSS is offering six collaborative studentships, each linked to a different research project. We are now seeking to identify the best candidate for each of these six collaborative studentships, to start their studies in October 2020. To find further information about each project, as well as how apply for one of these studentships. Find out more and apply. 
SeNSS ESRC-funded Post-Doctoral Fellowship
SeNSS offers six ESRC-funded Post-Doctoral Fellowships (PDFs) each year. These provide an opportunity to consolidate their PhDs through developing publications, their networks, and their research and professional skills.
Please note that the deadline for submitting an application for a PDF is around 20 March each year. Find out more and apply.
As a SCENARIO PhD student based at the University of Surrey you will have the opportunity to participate in our leading research.
For available PhD studentships take a look at the SCENARIO NERC Doctoral Training Partnership website which is a joint collaboration between the University of Surrey and the University of Reading.
Loans
A Postgraduate Doctoral Loan can help with course fees and living costs while you study a postgraduate doctoral course, such as a PhD.
If you're studying for a PhD within a Doctoral Training Partnership (DTP), Doctoral Training Centre (DTC) or Centre for Doctoral Training (CDT), your eligibility depends on whether your research is funded by a Research Council studentship. If it is, you won't be able to apply for a loan. Similarly, if you apply for a loan and subsequently receive research council funding you will required to pay back the loan.
Further information about the Doctoral Loan can be found here: 
There are non-means tested loans available for those studying research-based programmes at masters level (such as the MRes and MPhil). For 2017 starts, these loans are up to £10,280 and are available for UK, EEA and Swiss nationals residing in England and EU nationals residing in the EU, EEA or Switzerland. They are open to anyone under 60 who does not have a qualification at masters level or above. To find out more about the postgraduate loan, findamasters has a step-by-step guide to applying.
You can also get further details on the GOV.UK postgraduate loans pages. 
A Postgraduate Doctoral Loan can help with course fees and living costs while you study a postgraduate doctoral course, such as a PhD.
Visit the Government's Doctoral Loans site for more information.
Employer sponsorship
If you want to do research within your current area of professionalism and believe that your doctorate will improve performance at work, it is worth discussing with your employer whether they may be prepared to help to subsidise or pay your fees. To get guidance on how to approach these conversations, we recommend you read the Prospects employer sponsorship information. 
Departments in the University also offer commercial studentships, these programmes are embedded in industry with a sponsoring organisation.
Charities and learned societies grants
Charities and trusts sometimes provide smaller grants, often for students from poorer backgrounds or those who have achieved academic excellence. You can find out more at your local library in publications such as Educational Grants Directory; Charities Digest; Grants Register; and the Directory of Grant Making Trusts. You can also use the Family Action grant search.
Certain societies also offer funding for postdoctoral research. They include:
Postgraduate research tuition fees
View a full list of our postgraduate research fees.
Bench fees
Some programmes charge a bench fee (also known as a research support fee) in addition to the tuition fee. The bench is charged to cover additional costs incurred by the academic department to support your research, such as consumables, materials, additional specialist training and trips. These costs are not covered by the tuition fee. The bench fee is calculated on a case-by-case basis depending on the nature of the research project and is independent from the tuition fee status of the student. 
If you are made an offer of admission to the University of Surrey, you will be notified of any bench fee applicable in your offer letter. Students or sponsors should contact the academic supervisor directly for information on the specific breakdown of what their bench fee covers.