On the day
Your graduation day will be one of the most memorable days of your life. Make sure you are well prepared for the whole experience so you can make the most of this momentous occasion.
What happens on your graduation day
The steps below will help you to get a feel for what to expect on the day so that you can prepare as best as possible. You can also find the key timings for your day to help you plan. 
1. Arrive in good time 
You should arrive at least 2 hours before your ceremony start time as there are things you need to do before it begins. During peak times it can take a couple of hours to get through everything. 
Once you have arrived walk to the Austin Pearce piazza – this is where your big day begins! From here you will be guided through every step of your graduation experience by our friendly team.
Top tip: free parking (including accessible parking) is available for everyone in our main car parks. Accessible parking is also available at the Cathedral. We recommend  booking this online in advance.
2. Check-in and collect your tickets
Have your ticket booking confirmation email and URN ready for when you visit the check-in tent. Here you will be given your wristband and your ceremony seat number (applicable to graduands only). If you have indicated a member of your party will have difficulty making their way to the Cathedral on foot, a Cathedral car park permit will be given so you can drive to and park at the Cathedral.
Top tip: If you have any luggage or items that  can't be taken into the Cathedral, then head to the information point on the Austin Pearce Piazza and a member of staff will help store it for you.
3. Collect your robes and have your pre-booked photography taken
Once you have checked in you will be directed to the Austin Pearce Building where you will be able to collect your robes and take part in studio photography. 
Our partners Ede and Ravenscroft will be on hand to assist you with robing. All robes should be pre-booked to avoid disappointment on the day. However, some spare robes will be available to hire on the day but this supply is limited in number. 
After robing you can visit the photography studios for those all-important graduation snaps with your special guests. 
4. Walk to Guildford Cathedral
You and your guests should then make your way to Guildford Cathedral for the ceremony via the flight of steps adjacent to Wates House. If you have been given a Cathedral parking permit then you should make your way back to the car park and drive up to the Cathedral. 
This walk can take 10-15 minutes depending on your walking speed, and there are a number of hills and steps on the way. Allow plenty of time for this part of the day and bring water with you during hot weather. 
5. Take your seats in the Cathedral
This is the moment you take the walk into the incredible Guildford Cathedral and relax in your seat before the start of your ceremony! 
The entrance to the Cathedral is via the main doors and is by wristband only.
To help keep everyone safe bag checks will be in progress so please be prepared to open small bags for a quick bag search just before you enter the Cathedral. On some ceremony days there may be additional bag checks and security before you enter the Cathedral, so you should consider this when planning your day. 
The following items are not permitted in the Cathedral but you can make use of the left luggage facility at the Austin Pearce Piazza: 
Large bags and suitcases 
Selfie sticks 
Helium balloons 
Food and drink (water is allowed). 
You'll be able to leave any flowers on a table in the Cathedral. Toilets are available in the Cathedral refectory building, and mobile phones should be switched to silent during the ceremony. 
The Cathedral doors close 15 minutes before the start of your ceremony – all attendees must be seated by this time as the doors close shortly after. All of our events must run on schedule, so we do not wait for late arrivals! 
Guests are not generally allocated a seat number so are advised to arrive early in the Cathedral to choose their seats.  
Guests are asked to remain seated and not block the view of others for the duration of the ceremony. 
Graduands are allocated a seat and are seated in the block to the back right of the Cathedral and should approach their seats using the right-hand aisle. They should show their wristband to the steward at the end of their row who will direct them to the correct seat and register their attendance. Please ensure that you are in the correct seat at least 30 minutes before the start of the ceremony. 
There is limited seating in the West Gallery (upstairs) which will be used if the ceremony is particularly full. This will be opened once the main body of the Cathedral has been filled. Some seats upstairs do have a restricted view. 
There is a helpdesk located inside the Cathedral if you have any questions. Please note that this desk is manned for one hour before each ceremony is due to commence and we will only be able to deal with enquiries relating to that ceremony. This desk will not have any payment facilities. 
6. Enjoy your ceremony!
This is the big moment! Our friendly team will be on hand to guide you through the whole process, so there is no need to worry about specifically what you need to do and when. 
After the fanfare and procession, you will be guided to the stage by a member of the team when it is your turn. When your name is announced, you will walk across the stage to receive your certificate (if you haven't already received it) and then return to your seat. During the ceremony, only your name and course will be announced, not the outcome of your degree, such as whether you achieved a First or a 2:1. If you are not in attendance, your name will not be called out. 
If you have been awarded a prize for best performance or best research project, it will be announced during the ceremony, but you will receive the prize on another day from the relevant awarding party. 
On the stage you will stop to shake hands with the Presiding Officer and your photo will be taken, before you return to your seat for the rest of the ceremony. 
Following the presentation you will be able to enjoy speeches from a selection of inspirational guest speakers, before you leave the Cathedral at the end of your ceremony. 
Live streaming
All ceremonies will be live streamed on the University's YouTube channel, meaning you can watch wherever you are in the world. The live stream can also be shared with any family and friends who may not be able to attend the celebration in person.
7. Celebrate with your friends and guests at our circus-themed reception
The Greatest Show continues in The Marquee with all graduands invited to attend a free vintage circus-themed reception. Guests can look forward to a delicious afternoon tea with Champagne, unlimited refreshments, complimentary candy floss and pick 'n' mix, as well as brilliant photo opportunities and a fantastic atmosphere. 
This takes place immediately after your ceremony, so please arrive promptly to make sure that you and your guests have plenty of time to enjoy the reception. 
All those entering the celebratory marquee must have a valid wristband. You can book your wristbands and tickets online. 
Top tip: walk straight down to the reception as soon as you can – food and drink is available for 1 hour after your ceremony ends, and we want you to make the most of the whole event! After the reception you have the rest of the day to walk around campus taking as many photos as you like!
8. Grab selfies around campus before returning your robes
We know that you will all be wanting photos by the lake, the Stag statue or in your favourite campus hangouts, so take a walk around campus to build those lasting memories and take as many photos as you want! 
Once you are finished, you will need to return your robes to the Austin Pearce Building before 6pm, which marks the end of your graduation experience on campus. 
Timings for your big day
Select your ceremony time below to find all of the important timings relevant to you and your guests. We recommend allowing as much time as possible to go through all of the steps above, and to be able to enjoy this memorable day with your friends and family. 
Arriving late
We ask that you make every effort to arrive in time for the start of your ceremony. If you arrive late, you may not be able to graduate in your chosen ceremony. Plus, rushing around getting from one venue to the other will impact how much you enjoy your big day – a day that you may only experience once in your life!
If you are held up for any reason (e.g. traffic delays) then we will make every effort to graduate you in a later ceremony that day or week, as long as capacity allows.
| Wednesday 10 to Friday 12 April | 10:30am ceremony | 2:30pm ceremony |
| --- | --- | --- |
| Arrive on campus and check in | Opens 8am - Closes 10am | Opens 12pm - Closes 2pm |
| Robe collection from Austin Pearce building (if applicable) | Opens 8am - Closes 10am | Opens 12pm - Closes 2pm |
| Have your official studio photographs taken in AP | Opens 8am - Closes 6pm | Opens 12pm - Closes 6pm |
| Walk to Guildford Cathedral (allow 15 minutes) | Before 10am | Before 2pm |
| All graduands must be seated by | 10am | 2pm |
| All guests must be seated by | 10:15am | 2:15pm |
| Cathedral doors close | 10:15am | 2:15pm |
| Your ceremony begins | 10:30am | 2:30pm |
| Your ceremony ends | Approx. 12pm | Approx. 4pm |
| Your celebratory reception begins | Approx. 12.15pm | Approx. 4.15pm |
| Return your robes to Austin Pearce (if applicable) | Before 6pm | Before 6pm |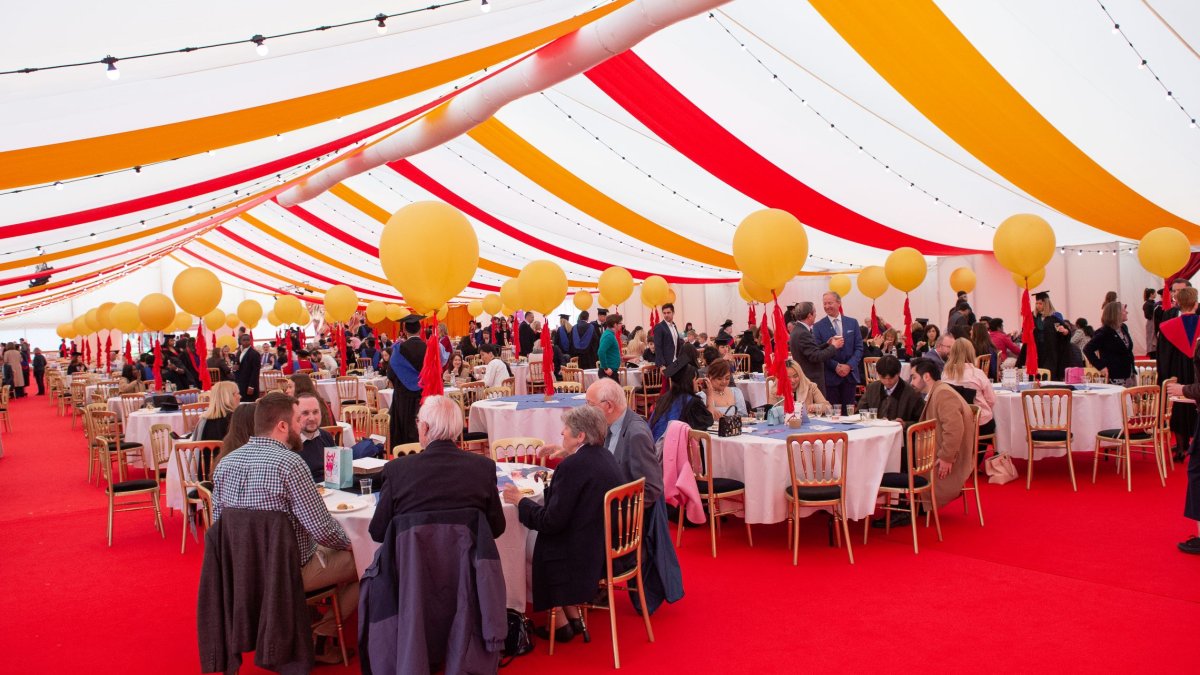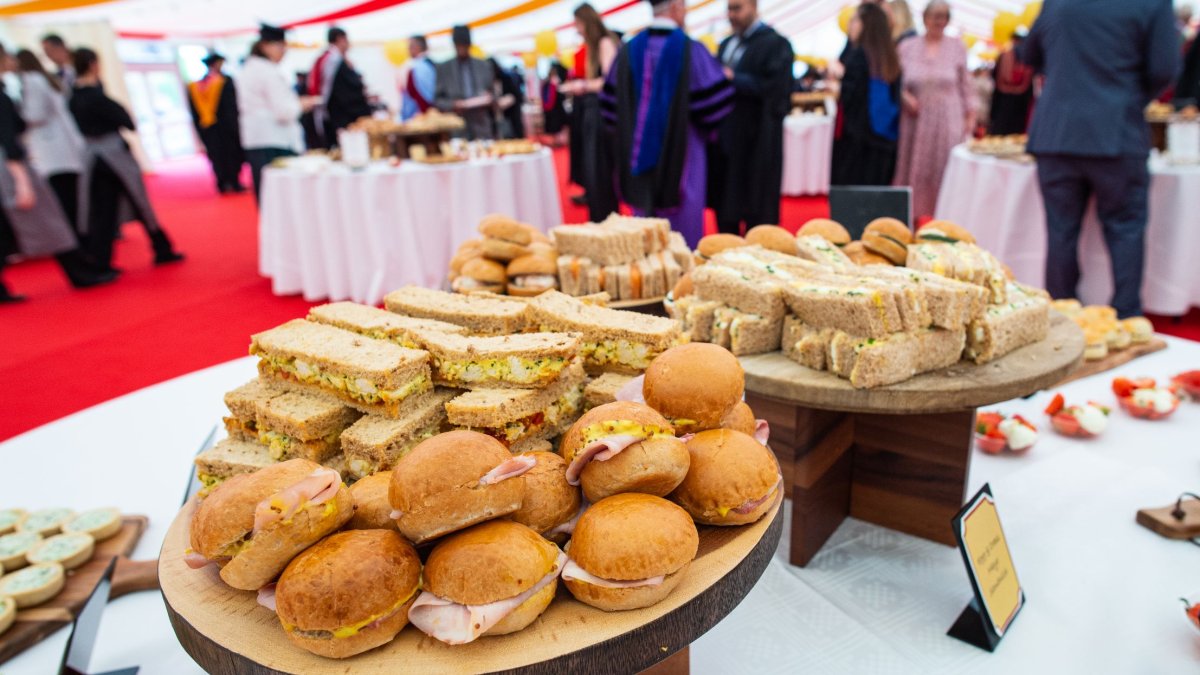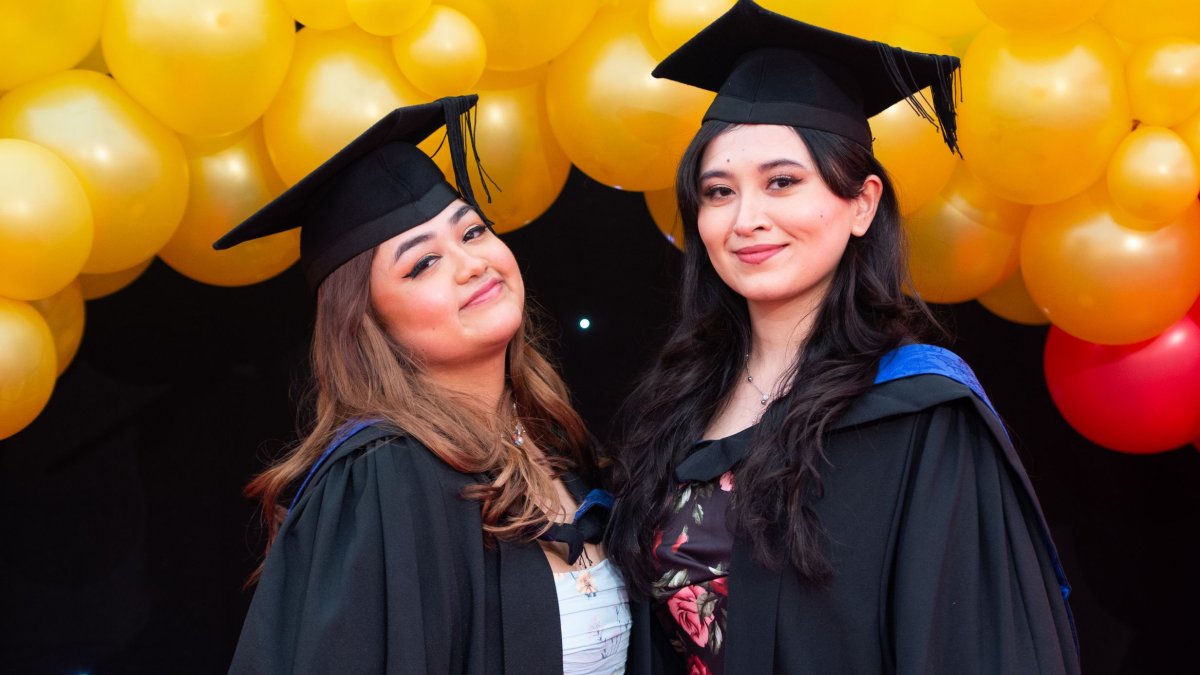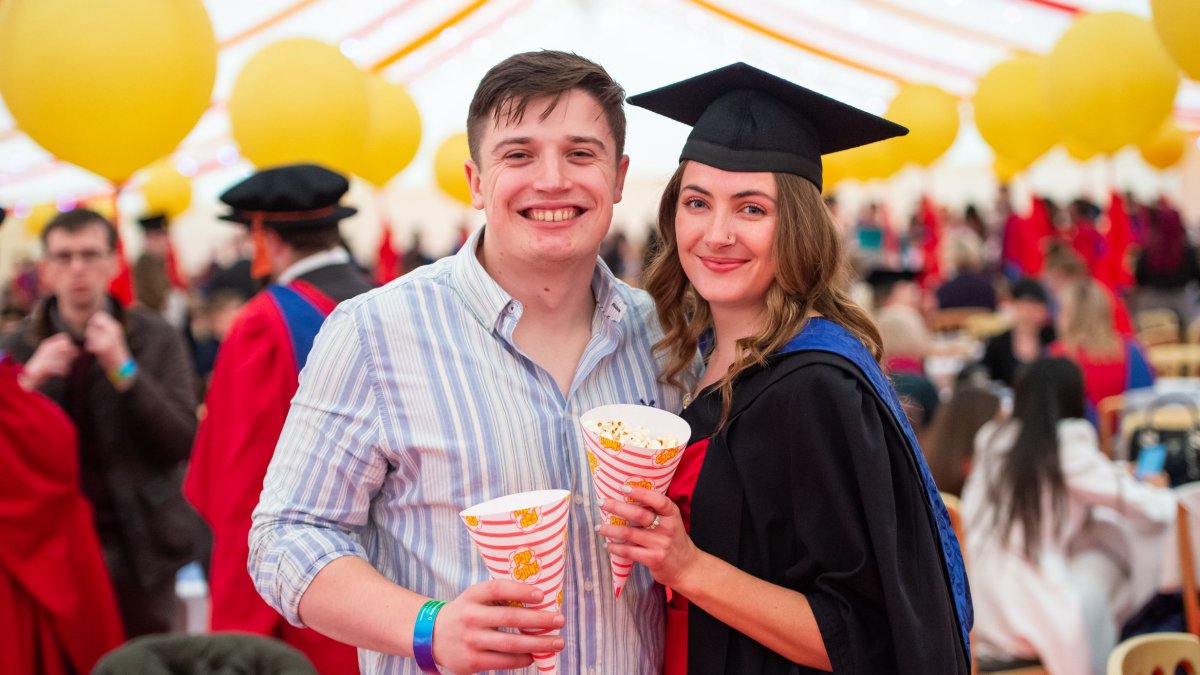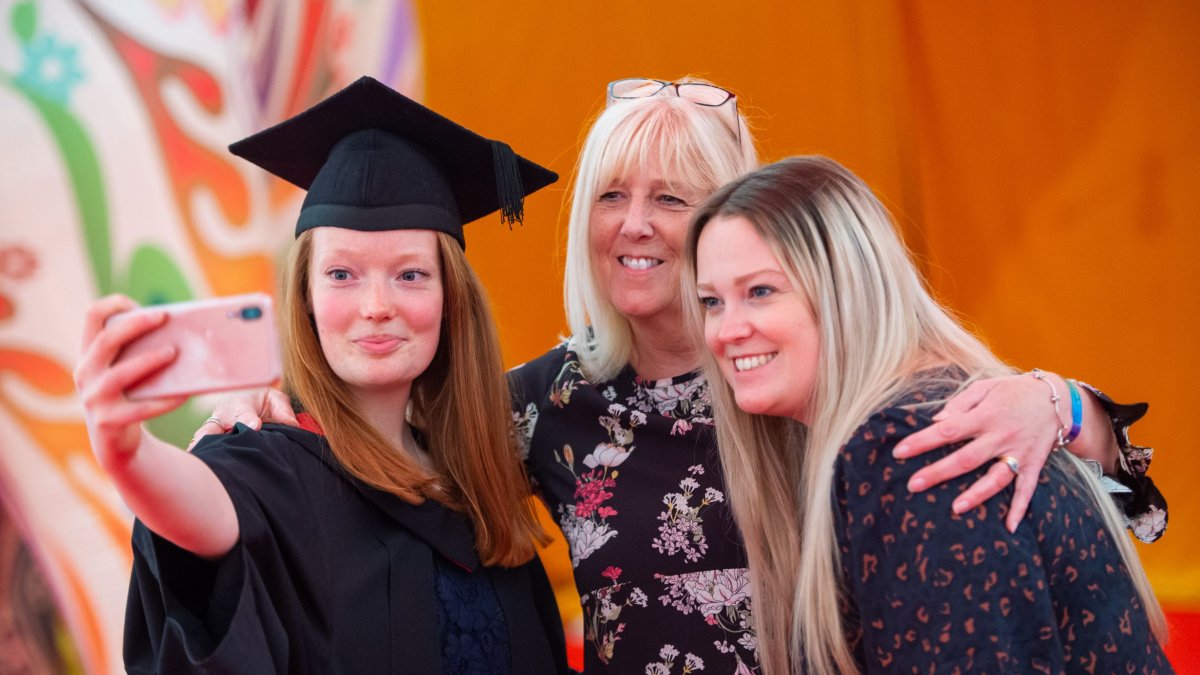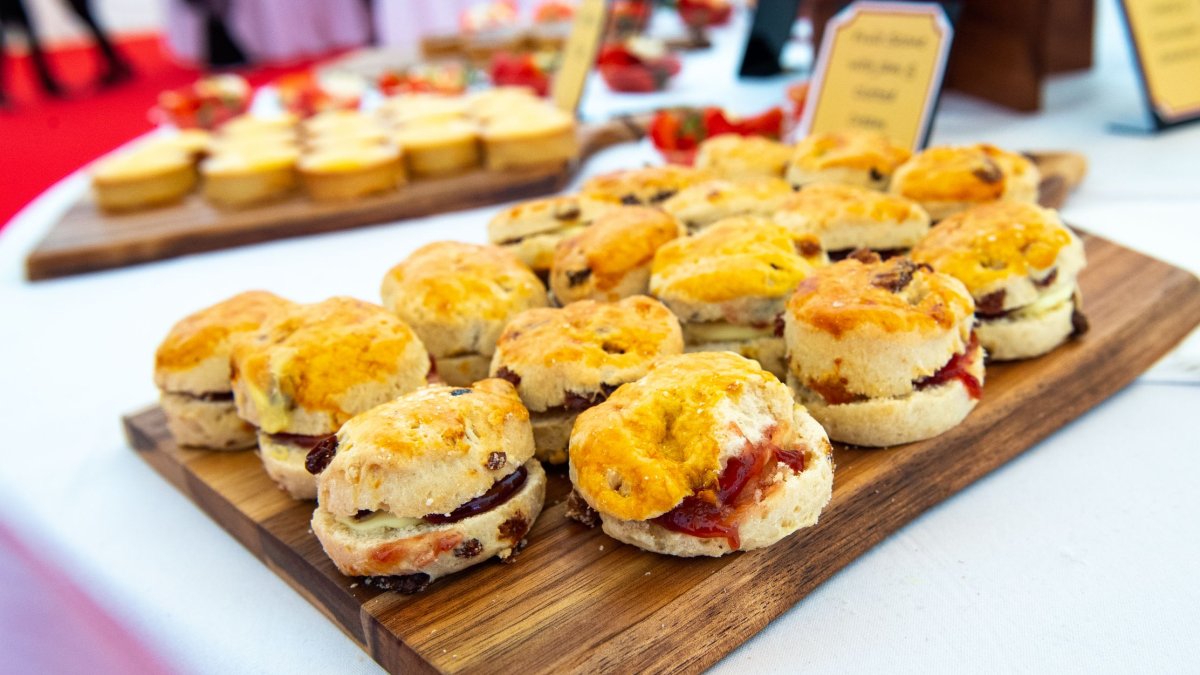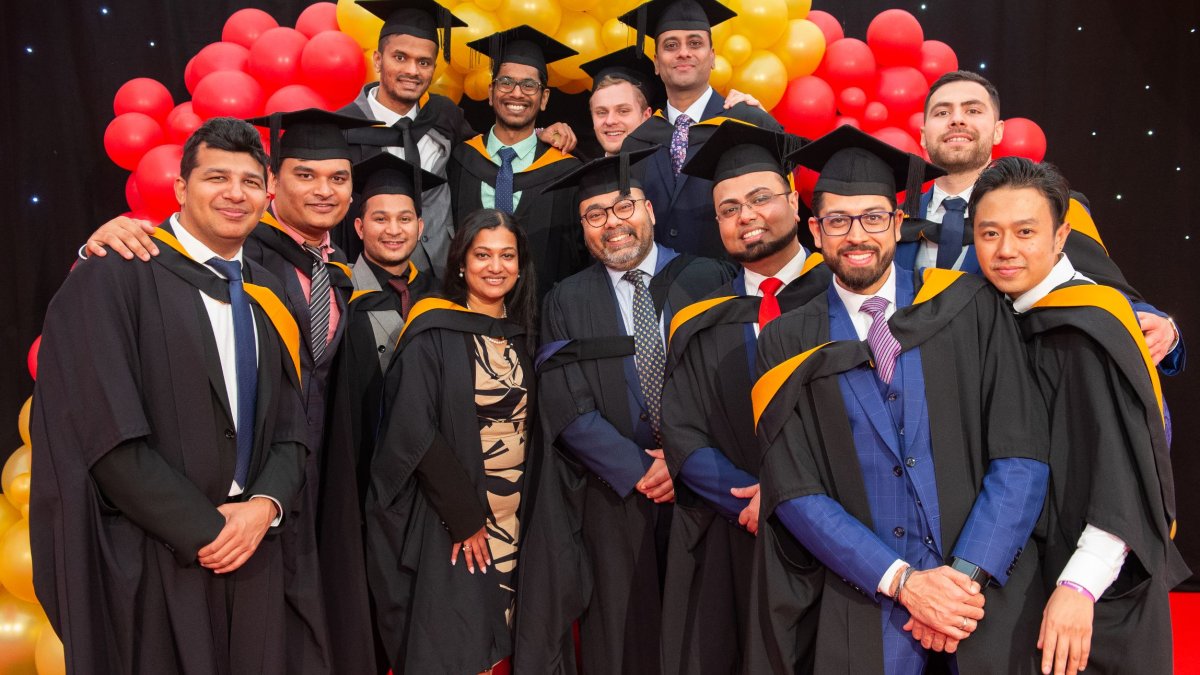 More about the day
Find out everything you need to know about your graduation.