---
feature
"Arts students were in the minority, but we did our best to bring a bit of culture to campus…"
Margaret Collier (née Ross) completed her BSc in Linguistic and Regional Studies between 1972-1977. Alongside stints in Germany and Sweden, she also hosted an arts programme on University Radio Surrey and she was a leading light in the Drama Society.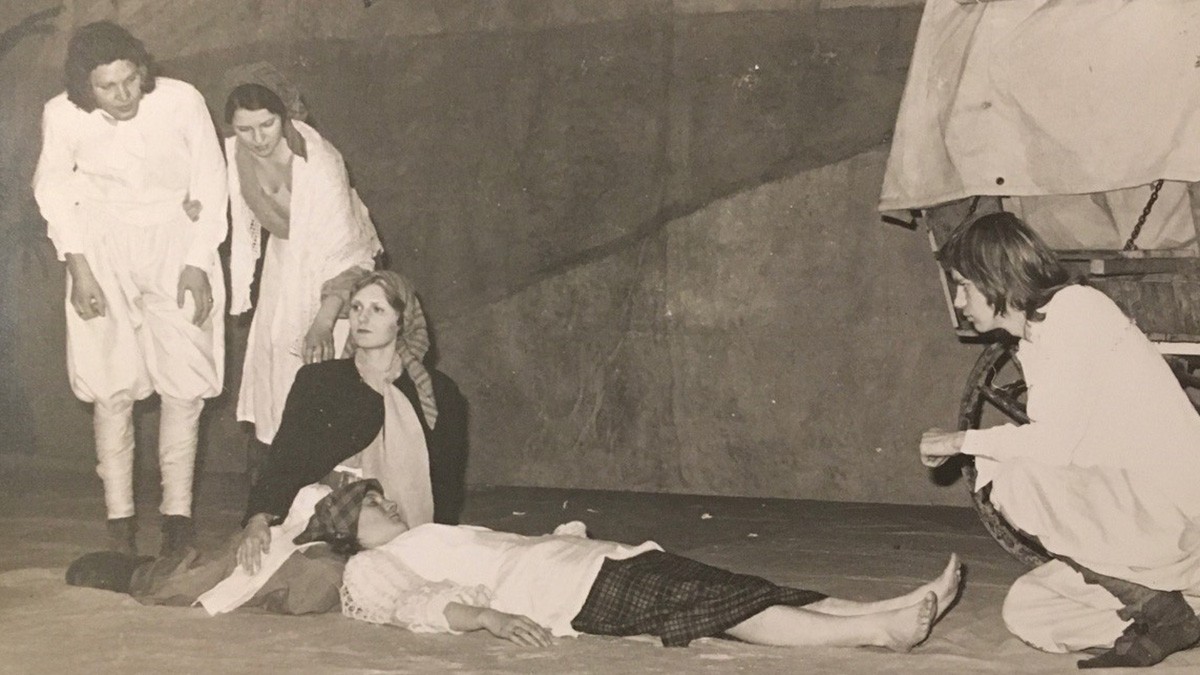 Why did you come to Surrey?
I wanted to study a languages degree that was practically focused and about communicating in the real world, rather than just having to read classical foreign-language literature and translate it. Surrey offered this and it also offered the chance to spend time in the countries of the languages you were studying. In my case, these were Germany and Sweden.
I was also lucky enough to be offered a scholarship at the Technical University of Darmstadt, so I spent an extra year in the middle of my four-year degree in Germany as a teaching assistant running conversation classes. I don't know why they offered this to me because I wasn't a high-flying student. I'm grateful they did, though. It changed my life in lots of ways.
What was it like to study at a new university?
It was still a building site when I arrived. I was lucky because I was put into the "Diddy Houses" in Third Court. These had six single rooms downstairs, with shared bathrooms. Upstairs were two duplex flats, with two students sharing those on a split-level arrangement. They were quite enchanting. I got to know the people I was living with, plus those who lived in the nearby houses.
Fourth and Fifth Court were also built during my time there. But they were just square blocks. Third Court was this charming little village by comparison.
The teaching facilities were modern. The language lab was hi-tech for the time. You sat with headphones on and did various exercises in mini booths.
The Students' Union and the Sports Hall were both new. There was also the multi-purpose hall where a lot of bands played and where we staged student drama productions. There was a lot of open space as well.
Why did you choose your course?
My parents were involved in the twinning movement. My dad was a driving force behind the campaign to have Exeter University twinned with Rennes University in France. Our family visited Brittany when I was seven, and we were looked after by this charming chap and his family. His daughter taught me to count in French.
I originally wanted to study French at university as it was my strongest subject at school. But at Surrey, I couldn't do it as a main language. So I thought I'd do German as my major language with French as my minor one.
During Freshers' Week, we could choose our second language and our specialist subject. I wasn't enamoured with the French course. Then I encountered two ultra-dynamic Swedish women lecturers and they convinced me to take Swedish instead. That decision effectively meant I was learning three languages for the price of one because if I understood Swedish then I'd be able to understand Danish and Norwegian, too. I chose law as my specialist subject.
What were the best bits of the course?
The nature of it being a sandwich course meant we spent a lot of time abroad. In the first year and for half of the second, we were on-campus in Guildford. Then we were packed off to spend three months in the country of our major language and another three months in the country of our minor language. I secured a scholarship in Germany for an extra year.
I came back for my third year, which was six months on campus and six months in the country of my major language. I spent my final year back on site. It was a bit of a chequered existence, but the opportunities it offered to spend time abroad were amazing.
Did you enjoy your time as a student here?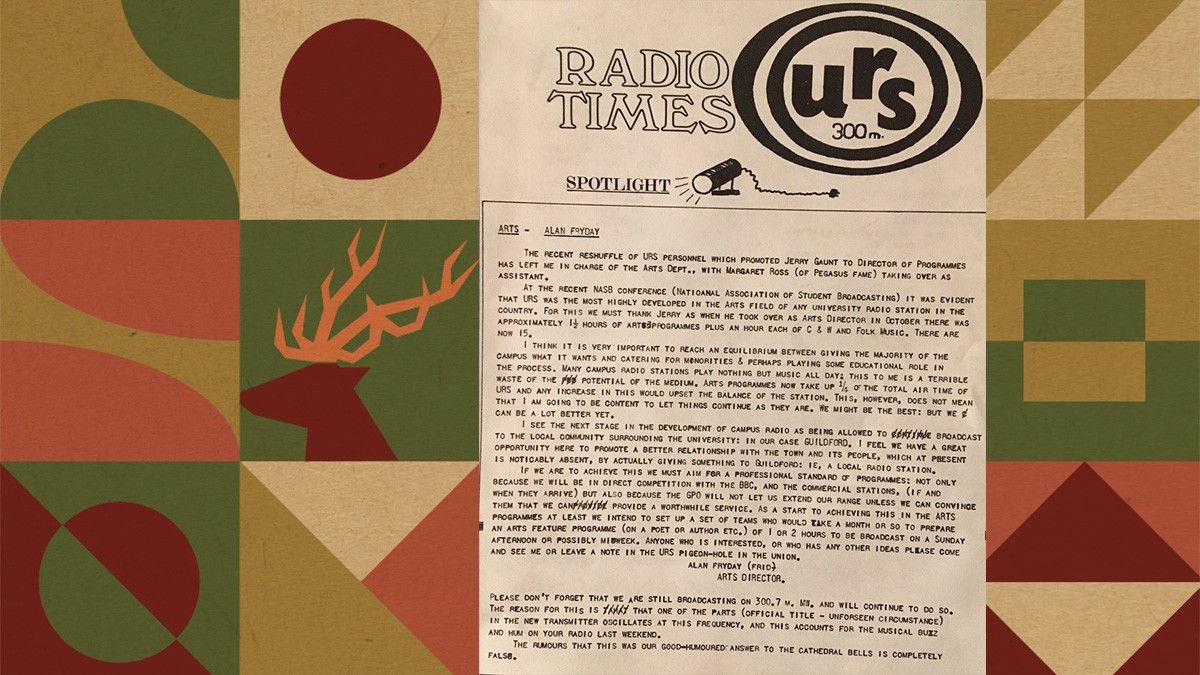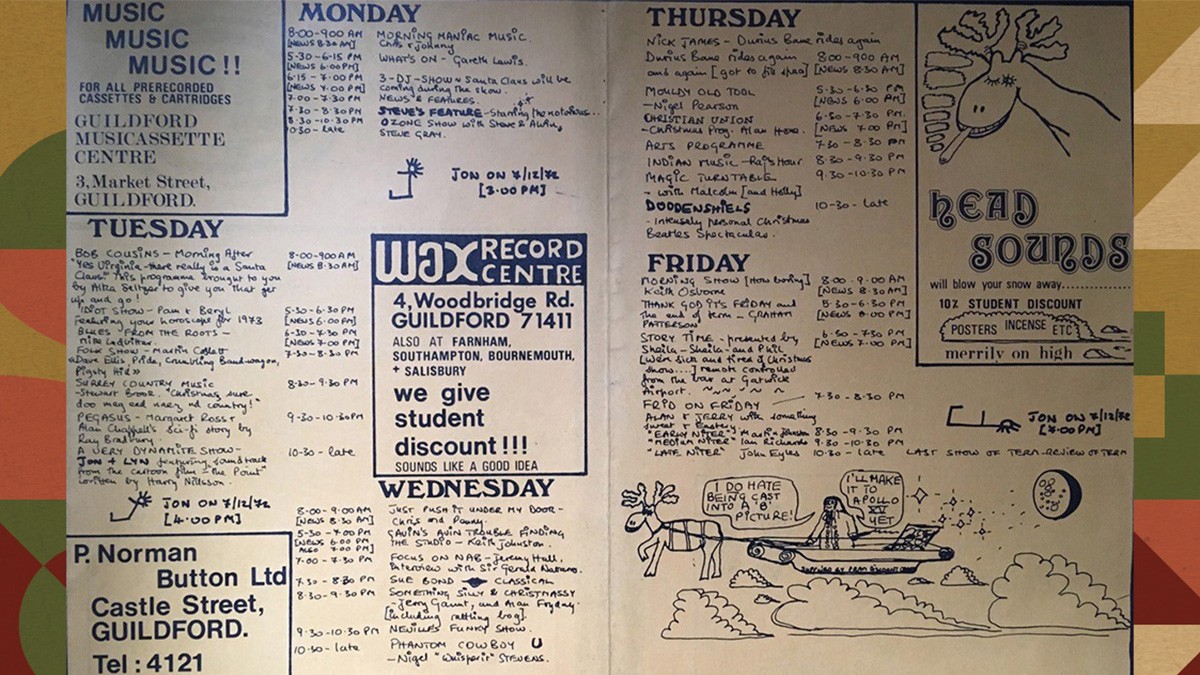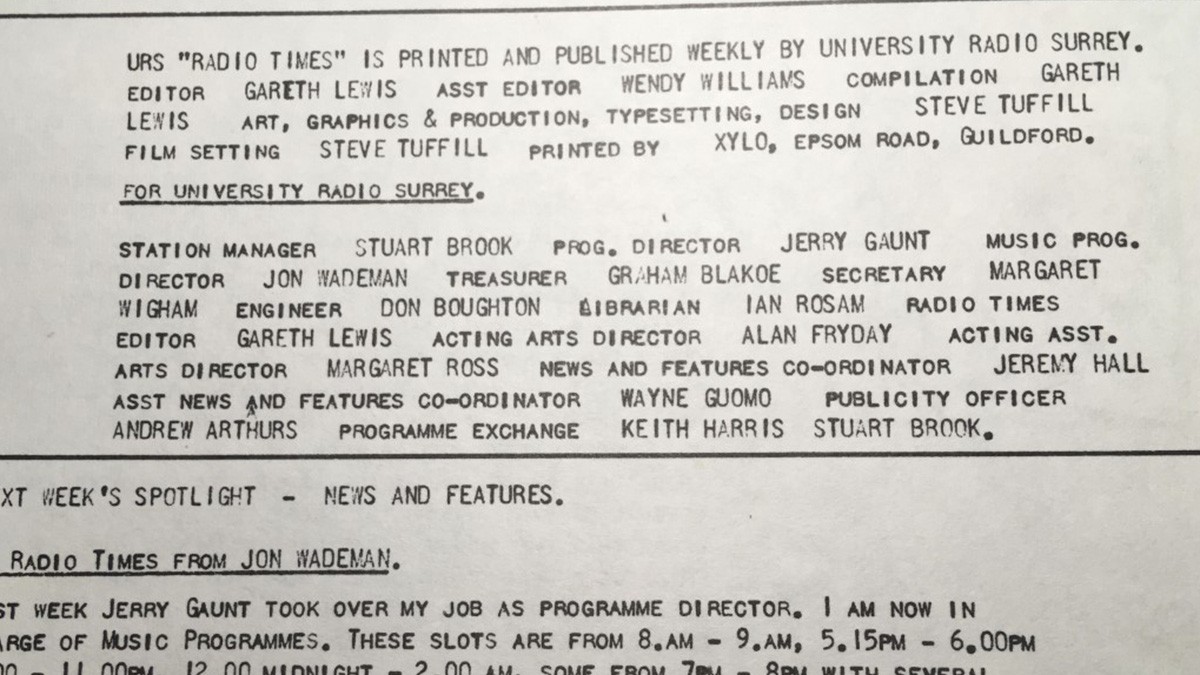 It was a place where technology was at the forefront, with arts students in the minority. We did, however, do our best to bring a bit of culture to campus. The Department of Music was involved in that, too, particularly the students on the Tonmeister course.
I was a regular voice on University Surrey Radio, which was quite a big deal at the time. I had my own show called Pegasus, which featured classical music, arts news and poetry readings. I used to broadcast live from the fourth floor of Battersea Court at 11pm on a Thursday. We published a weekly listing of programmes, cheekily called Radio Times.
Did you take part in any other clubs?
I sang with the choir and I attended the Folk Club. This was based in one of the lecture theatres and a lot of the students involved were incredibly talented performers.
Tell us about the Drama Society…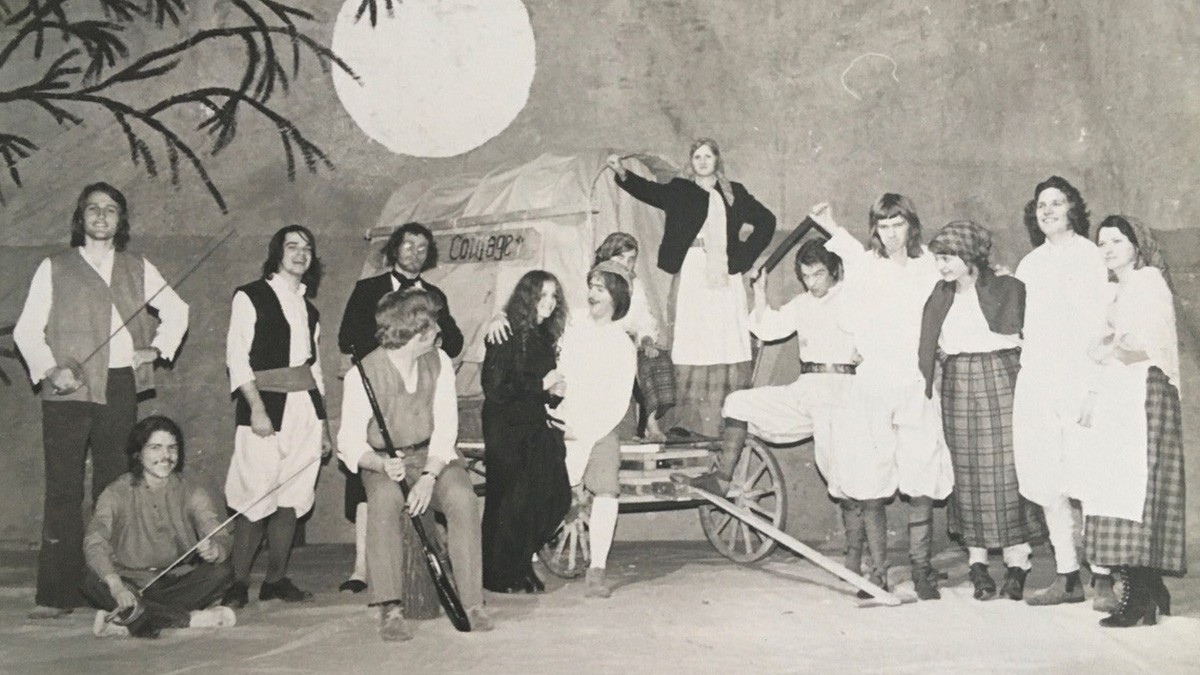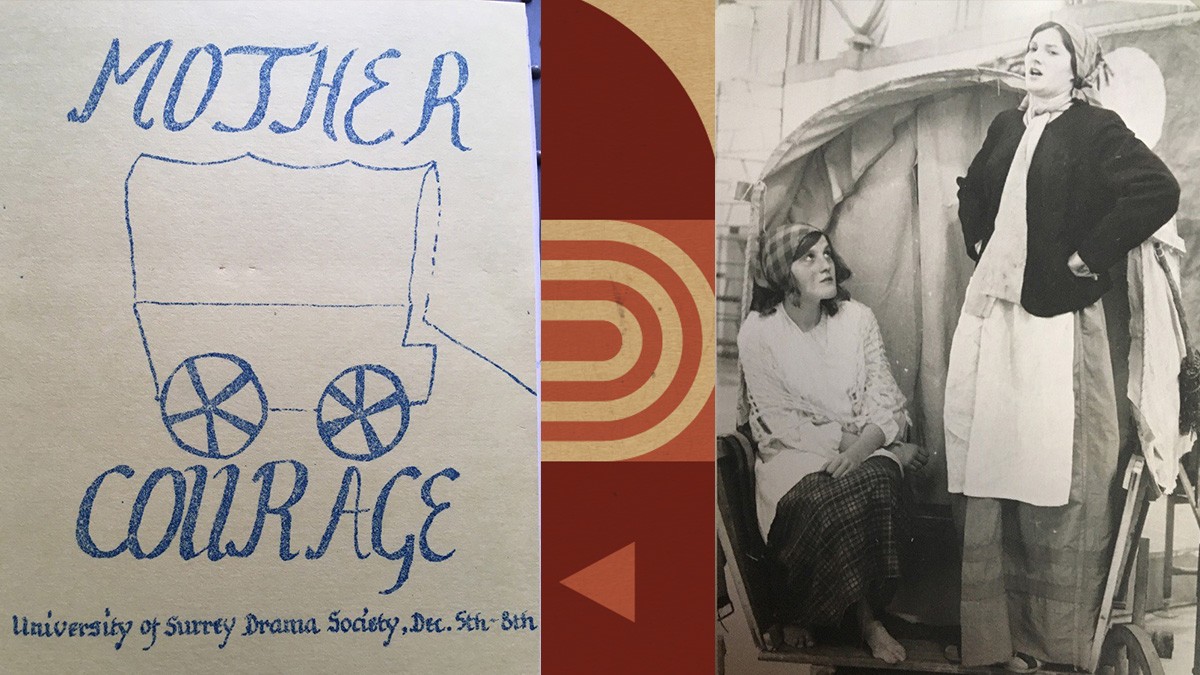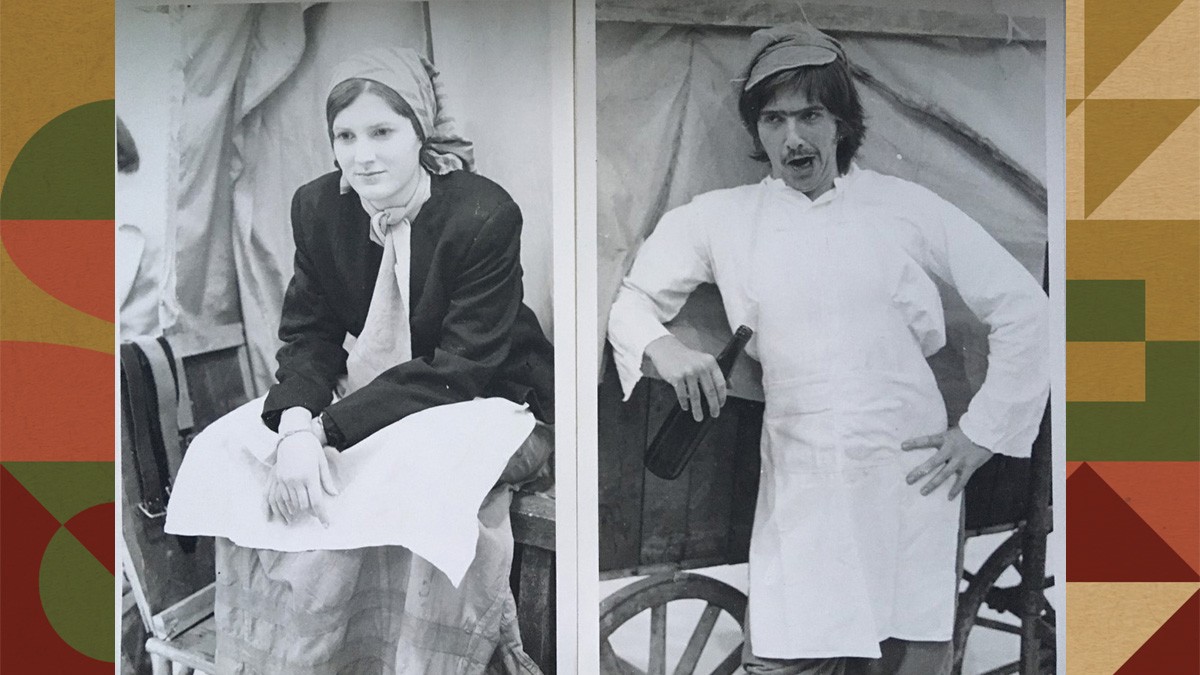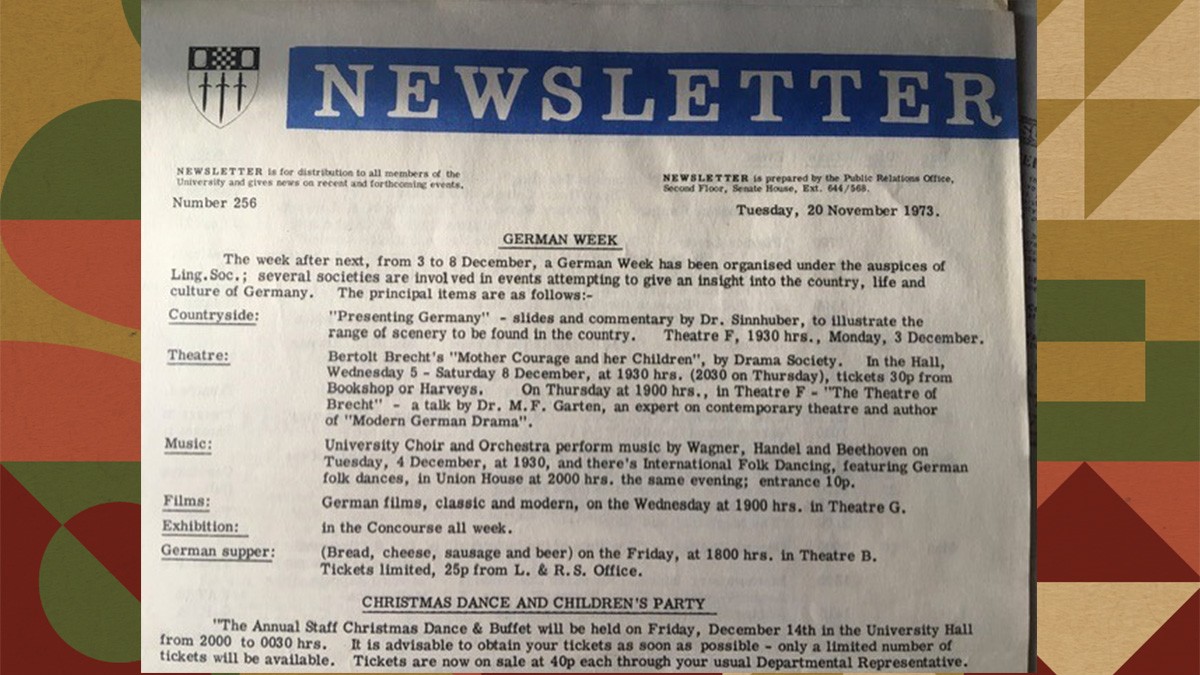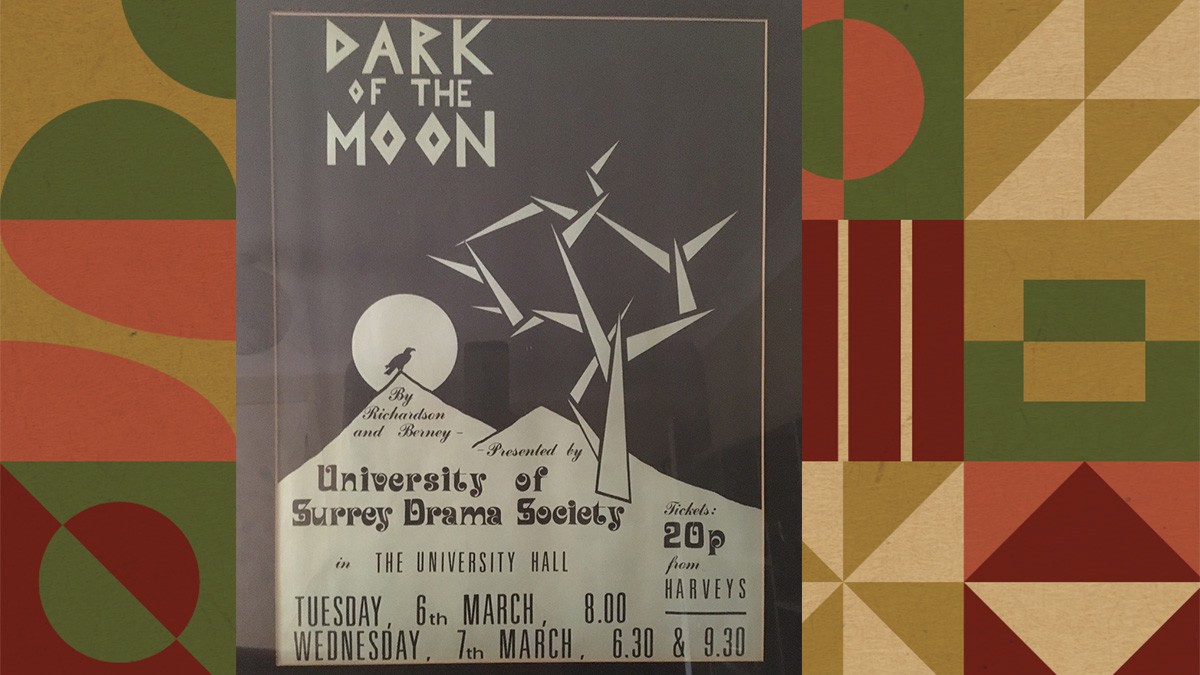 There were only a handful of people involved at first. I was drawn into it because my room-mate's boyfriend was a member. I'd have joined eventually because I'd always taken part in acting and plays at school.
The first play I was involved in was Dark of the Moon and it was mainly first-years who were involved. A lot of them were my fellow language students. It was directed by a mature student who'd been active in youth theatre at the Liverpool Everyman. That influx of students saw the Society start to grow and flourish.
The following year, I was elected Chair of the Drama Society, and a student on the Hotel and Catering Administration course convinced me that we should stage Mother Courage by Bertolt Brecht. It was quite ambitious. She and her brother built the wagon during the summer and, for the performance, we changed the configuration of the hall by bringing in amphitheatre seating. We had original music by Philip Chambon, who also performed it. I sang one of the songs, too.
The production became the focal point of German Week at the University, which was seven days of events staged by the Linguistics Society. In retrospect, I have no idea how I got any work done during that period.
What was Guildford like?
We went into town on Saturday afternoons to shop for food when the market was selling off fruit and vegetables cheaply. We'd also visit the Yvonne Arnaud Theatre to see productions. We did most of our socialising on campus, though.
What are your key memories of Surrey?
We spent a lot of time in pub gardens in the Surrey countryside. In those days, drinking and driving wasn't a huge issue, so we'd often venture out to The Ram at Godalming, The White Horse at Shere and several other pubs. Walks along the Hog's Back are also a lovely memory.
RAG Week was always a fun time. The Stag Hill Morris Men were a regular feature and there were many other public events. The Morris Men were a marvellously eccentric bunch, but they were very good at what they did.
The Charter Ball was a lovely event, too. It was basically a gala dinner, so in both 1973 and 1974 I was there in my 'posh frock' and the guys were all dressed up in suits. It was a fabulous evening.
What did you do following graduation?
I was aiming to use my language skills and my first role was with the British Council. I thought it was going to be my dream job, but I was assigned to a department where I wasn't using my language skills at all. I also realised the civil service environment wasn't for me.
After that, I worked for a marketing company that sold mailing lists. These consisted of printed labels with addresses typed on them. The early days of Direct Mail! The guy was expanding his business and I helped him set up offices in Frankfurt and Paris. I stayed in administration roles using my language skills at another company, then I landed a position working in advertising sales for the Frankfurter Allgemeine Zeitung, which is a big German newspaper. That office was based in a rather grand house just behind Harrod's in Knightsbridge.
I then moved into my favourite job, which was working in the wine trade. I was responsible for overseeing the advertising and marketing budget for Sogrape in Europe. It was based in Kensington and it was a really great job.
I was also married by then. My husband was the guy who'd done the lighting on Mother Courage. He was offered the opportunity to move to Northern Italy near Lake Garda. Our son was born there and I took the opportunity to learn Italian.
We came back to the UK and I did some work for an international businessman as a translator and interpreter. That inspired me to set up my own business as a freelance translator. A translation job in a law firm in Frankfurt followed, then I spent my final years before retirement proof-reading and editing texts at the European Court of Human Rights in Strasbourg. So the law element of my degree finally came good!
Did your time at Surrey influence your career?
Everything I did in my career directly relates back to my course at Surrey.
What advice would you give the undergraduate version of yourself?
I honestly don't have many regrets. My time at Surrey was very productive. I could perhaps have taken the academic side a bit more seriously, but the other activities I was involved in were hugely enjoyable. I benefitted immensely from them. I also came out with a 2:1, so I did OK on the academic front.