---
case study
The benefits and challenges of open access journals for political science
Dr Simona Guerra, Senior Lecturer in Comparative Politics at Surrey and co-editor of Political Research Exchange (PRX), addresses the benefits of open access and the challenges that lie ahead for the field of political science.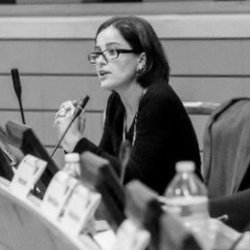 Dr Simona Guerra
The issue 
Scholarly communication is experiencing a time of transition. Academic publishing emerged in a specific institutional, scientific and technological setting. That setting has now changed and that is fundamentally reshaping how research is conducted, disseminated, communicated and assessed.  
Publishers and core stakeholders recognise that academic publishing needs to adapt with the times. Sweden and Finland are leading on open access. The European Union is too, and they are calling for open access publications for any EU-funded project. 
The challenges 
Open access presents benefits, but there are also diverse challenges.  
On the plus side, articles take less time to be published, there is a platform to exchange ideas, store data, clips or interviews, and manuscripts can be read and accessed across the world. The European Consortium for Political Research is currently offering a blog, where authors can publish a post after their manuscript has been accepted to increase its dissemination. 
We have, however, been aware from the outset that the main issue was not so much concerned with open access, but more about accessibility, exchange and quality scholarship.  
These issues depend on funding and sustainability, as well as considerations for credibility, legitimacy, large-scale contributions and predatory publishers. 
The solution 
In order to remain in the European Research Area, we need to engage with these challenges and work together to win over the distrust towards open access research that still exists in the field of political science, in particular in the UK and the USA. 
The driving forces behind open access is an ideal that aligns with steps towards greater methodological transparency and accountability in academic research.  
However, transparency alone – whether as open access or open research – does not secure equality of access, opportunity and treatment for all authors, reviewers and readers. Even with the best intentions, institutional settings, publishing systems, financial constraints, processes and practices retain the potential to reinforce, repeat and perpetuate hidden biases and barriers.  
All the same, I'm confident that the collaborative efforts of academic scholars, publishers and practitioners will help to overcome these obstacles that challenge equal and inclusive participation.   
View the open access journal on the Political Research Exchange.