---
news
In conversation with Dr Sarah Golding
We caught up with health psychologist and Surrey alumna Dr Sarah Golding, who delves into her PhD thesis on the psychological and social influences on prescribing antibiotics in veterinary medicine and shares the latest on her Covid-19 research.
Credit: Paul Stead / University of Surrey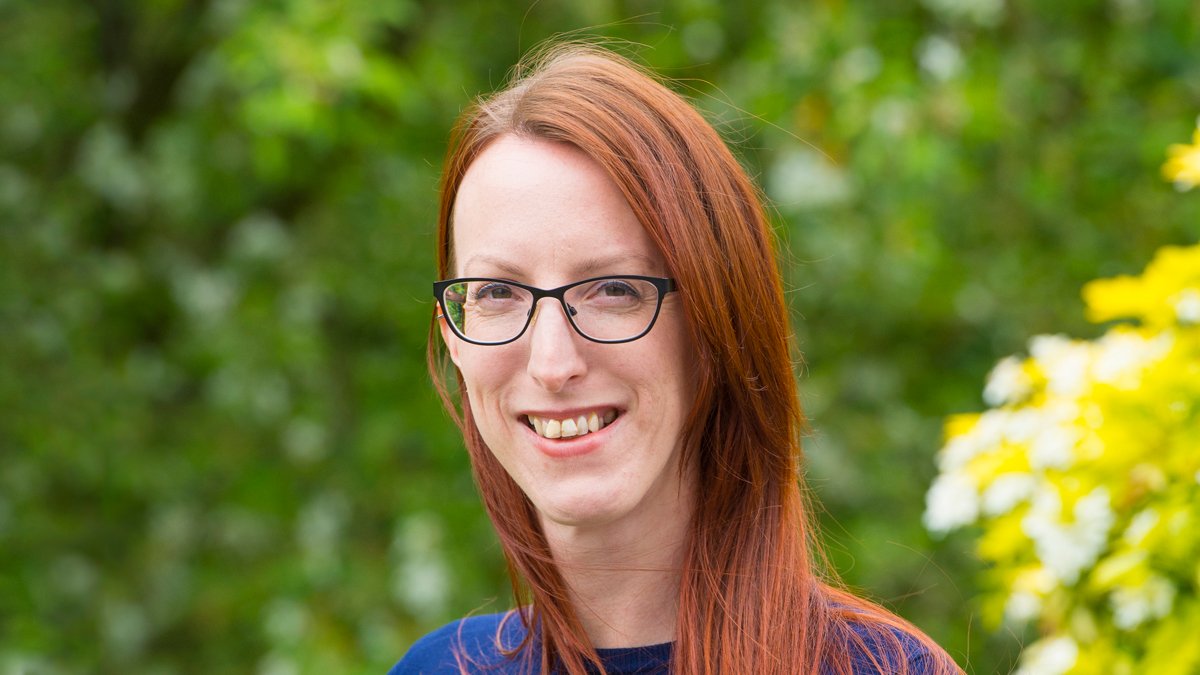 As a mature student, when did you first think about going to university?
"I was my early 20s. I decided to try and get a degree, but for various reasons I was nervous about going to university. I then discovered the Open University offered taster courses, so I tried one. It was called 'Life in the Oceans' and it was based around the first Blue Planet series – I was hooked. I spent the next seven years studying part-time with the Open University for my BSc in Psychology, while working in various retail and finance roles."
How did you know health psychology was the right field for you?
"Health psychology, as a sub-discipline and profession, is very applied. We're trained to be scientist-practitioners, and I was keen to pursue training in an area that, in addition to advancing academic knowledge, would also have the potential to make a difference to people's everyday lives.
"Although many health psychologists do work with clients on a one-to-one basis, I was keen to learn more about how psychology could be applied to improve wellbeing at the population level, to help maximise the impact of scarce resources.
"I believe psychology can and should be used to help drive change in society, especially in ways that challenge injustice and help make society fairer for everyone. Health psychology gives me the opportunity to help challenge the unequal access to health resources across society."
You did your masters and PhD at Surrey. Is that right?
"Yes. My primary goal was to become both a chartered psychologist and a health psychologist, so the fact Surrey offered a British Psychology Society (BPS) accredited MSc and PhD meant I was one step closer to achieving this goal.
"It was during my masters that I developed a project proposal for my PhD and submitted this for funding with the Economic and Social Research Council (ESRC). I was fortunate to get a grant to cover all my project costs, for which I'm very grateful. Without this, I wouldn't have been able to take on a PhD programme."
What was your thesis on?
"My research examined the psychological and social influences on antibiotic prescribing in veterinary medicine, specifically in livestock. Antibiotics are vital medicines that underpin much of modern medicine, but the way that society uses antibiotics is making these medicines less effective. In both human and veterinary medicine, antibiotics are sometimes used inappropriately, driving a process called antibiotic resistance. Bacteria that are resistant to antibiotics are much harder to treat when they cause infections.
"Most of my PhD involved interviewing and surveying participants, asking them about their experiences of treating livestock with antibiotics, and examining their knowledge about antibiotic resistance and their beliefs about how antibiotics are used by different groups in society.
"The results identified some of the psychological and social barriers that prevent farm vets and farmers from always prescribing and using antibiotics in the most appropriate way. The findings will hopefully inform future behaviour change interventions to improve the use of antibiotics in livestock medicine."
What were your highlights?
"I loved having the chance to learn how to be a researcher. Where I'd always studied part-time, being a full-time funded PhD student felt like a huge privilege. I was finally able to focus on my studies and work towards becoming a fully-fledged researcher and health psychologist.
"I also enjoyed physically being on campus, as this was such a contrast to my distance learning experience at undergraduate level. This meant I could attend seminars and training sessions in person, which helped me feel like I was part of a research community at Surrey. It was great to meet with other PhD students, share stories over coffee and support each other."
I'm guessing there were a few stressful moments, too?
"I loved doing my PhD (mostly!) but it was a rollercoaster of experiences, especially trying to keep myself motivated when things got challenging. I was very fortunate to have two incredibly supportive supervisors. They provided me with an excellent mix of scientific, creative and technical advice, along with the emotional support that most people need at some point in their PhD! In addition, the Doctoral College provided useful training sessions, as well as a sympathetic ear."
What are you doing now you're qualified as a health psychologist?
"I'm currently a Research Fellow here at Surrey and the University of Winchester, working on three different part-time qualitative research projects:
Exploring the impact of the Covid-19 lockdowns on people's relationships with nature at Surrey
Exploring people's experiences of volunteering during the Covid-19 pandemic at the University of Winchester
Exploring men's treatment decisions for surgery for troublesome urinary symptoms, also at the University of Winchester.
"The best part of my role is the variety. Every day is different and there's no time to be bored. I also love the people I work with. I'm very fortunate to have incredibly supportive and friendly colleagues. As I'm working on qualitative projects, I also have the joy of interviewing members of the public about their experiences."