---
press release
The future of veterinary pathology: University of Surrey launches new Centre to focus on pathology research, surveillance, education and commercial activity
The University of Surrey has officially launched an £11m Veterinary Pathology Centre which will provide a focus for pathology research, education and commercial activity.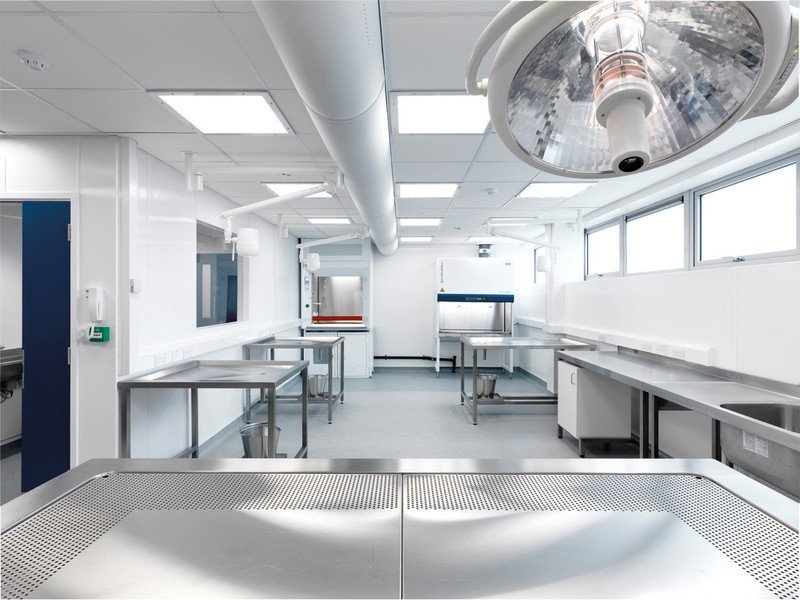 New £11m Veterinary Pathology Centre is one of the largest and most sophisticated of its kind in Europe, offering high-containment, post-mortem examination facilities
The Centre is close to many leading-edge scientific research centres including Pirbright, the Animal and Plant Health Agency, Public Health England and the National Physical Laboratory
State-of-the-art facilities will provide a focus for pathology research, education, surveillance and commercial activity
The Centre will see the University of Surrey working closely with the veterinary and scientific community to address some of the unique challenges associated with farm animal health surveillance
The Centre will have close links with medical colleagues through the NHS Surrey Pathology Service and a comparative pathology clinical academic group.
Located in the South East of England, the Centre is part of the new School of Veterinary Medicine at the University of Surrey, and one of the UK's largest veterinary pathology centres, offering high-containment post-mortem examination facilities and histopathology.
The Centre is staffed by a team of highly skilled, board-certified veterinary pathologists, veterinary investigation officers and technicians, with expertise in farm-animal, equine, exotic and small-animal pathology.  
The new building centres on a large Containment Level 2 post-mortem examination room with high ceilings, natural lighting, post-mortem examination tables, biological safety cabinets and integrated cold rooms all served by a powerful winch system.  This means that post-mortem examinations can be performed on a wide range of species.  A viewing gallery overlooks the suite and the latest digital technology can be used to record and stream post-mortem examinations for training purposes. 
Professor Roberto La Ragione, Director of the Veterinary Pathology Centre, said: "Veterinary pathology is a growing discipline and its importance has been highlighted in recent disease outbreaks and the important role veterinary pathologists make in drug development.  Helping the farming community to be more effective, sustainable and innovative, the Centre will work with partners, businesses and researchers to address some of the unique challenges faced by the veterinary and scientific community. 
"It is the close relationships with our external clinical and scientific partners that enables us to be innovative in our approach to education and training here at the Surrey.  An example of the latter is the use of digital pathology in teaching, research and diagnostics, which was the subject of discussion at the recent launch of the Veterinary Health Innovation Engine (vHive). 
"Together with our partners such as the National Physical Laboratory and the 5G Innovation centre, the Centre is at the forefront of the digitalisation of pathology and innovative big data management. 
"The Centre offers the opportunity to inspire the next generation of veterinary pathologists and complements the centres of excellence that already exist in other vet schools and research institutes."
Media Contacts
---
Peter La
Communications & Marketing Manager (Research)
Phone: +44 (0)1483 689191
External Communications and PR team
Phone: +44 (0)1483 684380 / 688914 / 684378
Email: mediarelations@surrey.ac.uk
Out of hours: +44 (0)7773 479911