---
news
Published:
14 December 2021
Up the hill to the workhouse: A sociology fieldtrip to the Spike
A group of students from the Department of Sociology at the University of Surrey, enjoyed a bespoke tour of The Spike Heritage Centre, as part of their module on Poverty, Welfare and the State.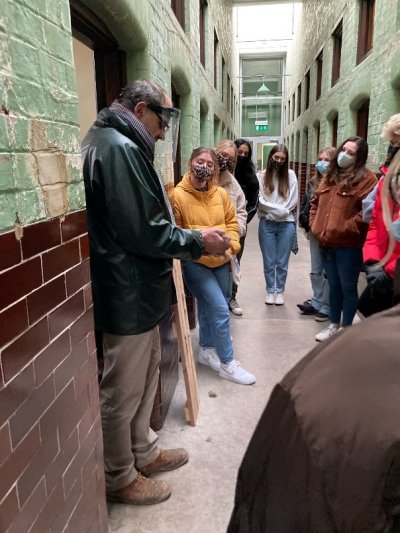 On Warren Road in Guildford a century ago, from 6pm every day you would see those described as 'vagrants' lining up against the wall for a chance to spend the night in the Casual Ward. Built in 1906, this was an early example of state intervention on the issue of homelessness and formed part of the existing Guildford Union Workhouse site.
The visit of students from the Department of Sociology to The Spike took place on December 8th and was led by Jill Timms and designed as an additional way to complement student's learning about the Poor Laws, Workhouses and early government policies on poverty.
The Spike is a particularly interesting place as the Vagrant Ward has been so well preserved, and even the architecture demonstrates the approach the state took to the homeless, with separation on entry, spaced designed to ensure control, use of natural light for lack of electricity and more ventilation than you could imagine! This facility was for those who were destitute, but could still work and did not want to enter the Workhouse, with the fear that often brought of institutionalisation and the splitting up of families. At The Spike, unless they could pay, men, women and children only stayed one night, then were unable to return for 30 days, leading many to 'tramp' to place after place.
Jill explained:
 'interestingly from a sociology of work perspective, they also had to earn their keep. Some of the men's cells included a small work space, where they were required to work for four hours the morning after their stay before they could leave. Labour could include breaking up rock for road building, chopping kindling or using a 'Spike' instrument to break down old rope'.
All would have to surrender their clothes on arrival for fumigation and have a bath (usually of shared water), but any food provided was minimal and those staying were locked in to aid the Warden's control of them.
Closed in the 1960s and now a Heritage Centre, our students were able to tour the outside space as well as an in-depth visit of the rooms and cells, which were pretty much as cold as outside! Our guide and current Warden John Redpath was very knowledgeable, shared some fascinating stories of those who stayed and previous wardens, and answered many questions for us. Student comments on the trip explained:
'It was very interesting to see the layout first hand and gain some extra knowledge on the poor laws.'
'It helped to contextualise the personal experience and treatment within these institutions.'
'It was very useful getting a clear idea of what life was like.'
'I learnt so many facts and seeing it in person was very eye opening.'
We were also grateful for the chance to reflect and discuss the experience over John's supply of mulled wine and mince pies – making it rather a festival occasion in contrast to the topic. Indeed, The Spike has a special tour on Christmas Day!
For more information on this heritage centre, see: www.guildfordspike.co.uk. For more information on our Sociology Programme click here.