---
news
Published:
20 October 2023
"I can be a voice for care-leavers and disadvantaged young people who haven't found theirs yet"
Lucy Barnes went into care at 13 and fell off the "care cliff" at 16. Aged 18, she came to Surrey to study law. Next year, she begins her pupillage as a barrister. Alongside her legal career, she is a vocal advocate for the care-experienced and disadvantaged young people…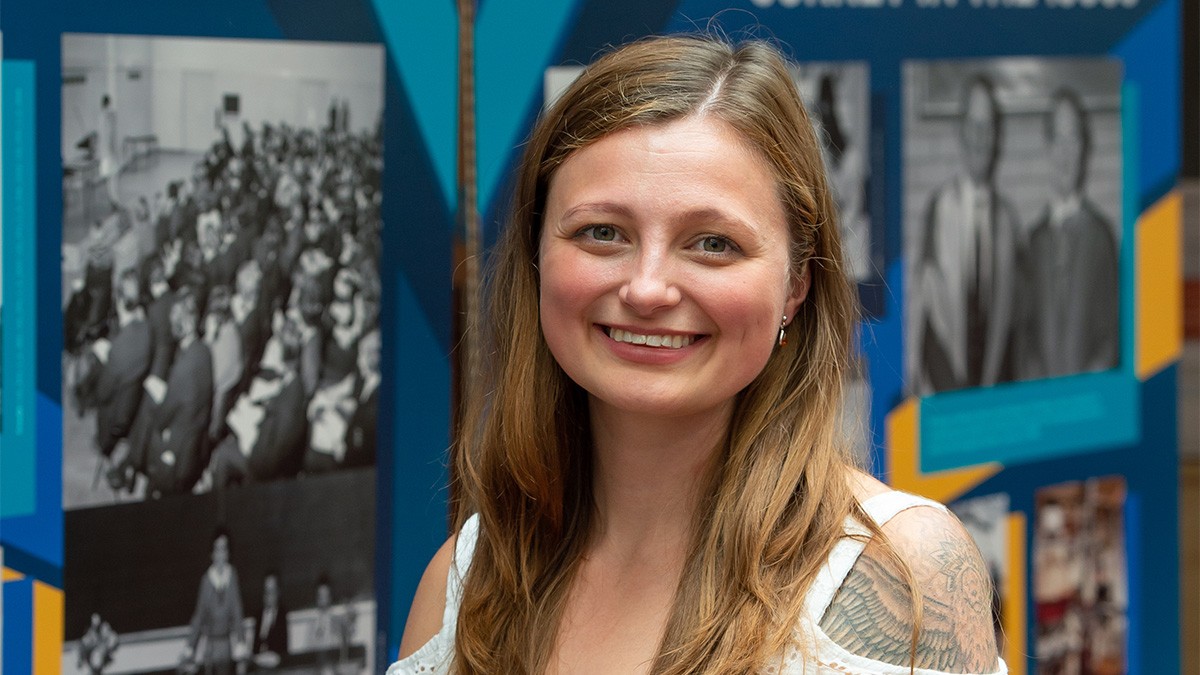 Why did you come to Surrey? 
I targeted Surrey as a place I wanted to go because it was close to London but not in London, where a lot of opportunities in law are. I didn't have parental support, but I was delighted when my friend's dad offered to drive me to Surrey for an open day. I remember arriving at the campus and walking around the lake, and feeling like this was somewhere I could belong. 
Surrey also had bursaries for individuals from low-income homes. That showed me the University recognised that not everyone who does a degree will be financially stable. 
Securing that £2,000 award in my first year meant so much to me. It was a huge amount of money. I had no family support to fall back on, so it made such a difference. 
Why did you study law? 
When I'd finished my GCSEs, I struggled with my mental health. Because I no longer had a supportive foster family, having been kicked out due to self-destructive behaviour, and because I never had a supportive biological family, I felt unwanted, unlovable and alone. 
I did not hear from my social worker after my 16th birthday, so I fell off the "care cliff". I had no idea what I was going to do. I was distraught. My mental health suffered and this resulted in a nervous breakdown at 16. 
After the breakdown, I remember crawling to my previous home with my foster family to beg them for help. Only my foster dad was in, but eventually he did let me in. I remember him making me a cup of tea and sitting opposite me on the sofa, tears in his eyes.
I was at the point of choosing A Level subjects and he asked me what I wanted to do. I didn't really know because I felt at that time the only energy I had was for survival. 
I remember him saying to me, "Do you know what, Lucy? I believe in you." These words choked me. I'd never really heard them before. He said, "We'll figure out what you're going to do together." We chatted and he ran through the things I was good at and, after a long pause, he said, "I think you'd make a good lawyer."
I nearly spat my tea out. I gave him a list of reasons why he was wrong: I wasn't clever enough, I wasn't good enough, nobody from my background will ever make it in that profession, etc… 
But he countered every argument by discussing my determination, my bravery, and my drive to overcome barriers and succeed. He said, "I think you'd be a great solicitor." Then he paused and, in a movie moment, added: "No. You can do one better. You'd be a great barrister." 
This confused me. I thought he'd said "barista". He explained what a barrister was and he talked me through the role. 
That night, I remember using this basic little box computer we had at my biological family's house to find out everything about solicitors and barristers, and work experience placements. 
In summary, I chose law because my foster dad believed in me and he saw it as a career path that I could succeed in. That made me feel seen. It made me determined to make him proud. And I have done. What is more brilliant is that I've made myself proud.
Did you have a professional training year? 
My degree was a four-year course. I spent a year in Turku in Finland on work experience thanks to an Erasmus+ grant. That was incredible. I still speak very limited Finnish, but only to order a coffee. That's the only skill I really need in life as a coffee-lover, though.
How did you find studying at Surrey? 
I loved it. I came from a place that wasn't diverse, so meeting new people from different backgrounds was amazing. 
I recall my roommate, who's still my closest friend and will be my maid of honour when I marry next year, came dancing into the room. I'd never met anyone like her before and we had this funny conversation. Straight away, I knew this was going to be a new life for me. 
And I needed that. As a child and a teenager, I had to grow up quickly. I often had to look after my little brothers. I often had to look after my biological mum, too. Or I was trying to navigate being in care, or trying to go from the bottom set to the top sets in school in under a few months. But I could suddenly be the young person I never had the chance to be. I studied hard, but I could finally let loose a bit. I had a chance to breathe. I could be myself. 
Did you tell people you were care-experienced? 
After a while, though there wasn't a word or community for care-experienced then. I always felt the stigma of the status of being a foster child. But I told my friends and they didn't judge me for it at all. I was able to open up to people like I'd never done before. 
It took me a few years to integrate my past into my present life, and stop various self-destructive habits I'd adopted from my biological family. I went to therapy for a long time. But I became more healed as a person. Surrey provided the initial opportunity to begin that process. I had the blank slate I needed, and a new group of friends who accepted and supported me. 
What's your favourite memory of Surrey?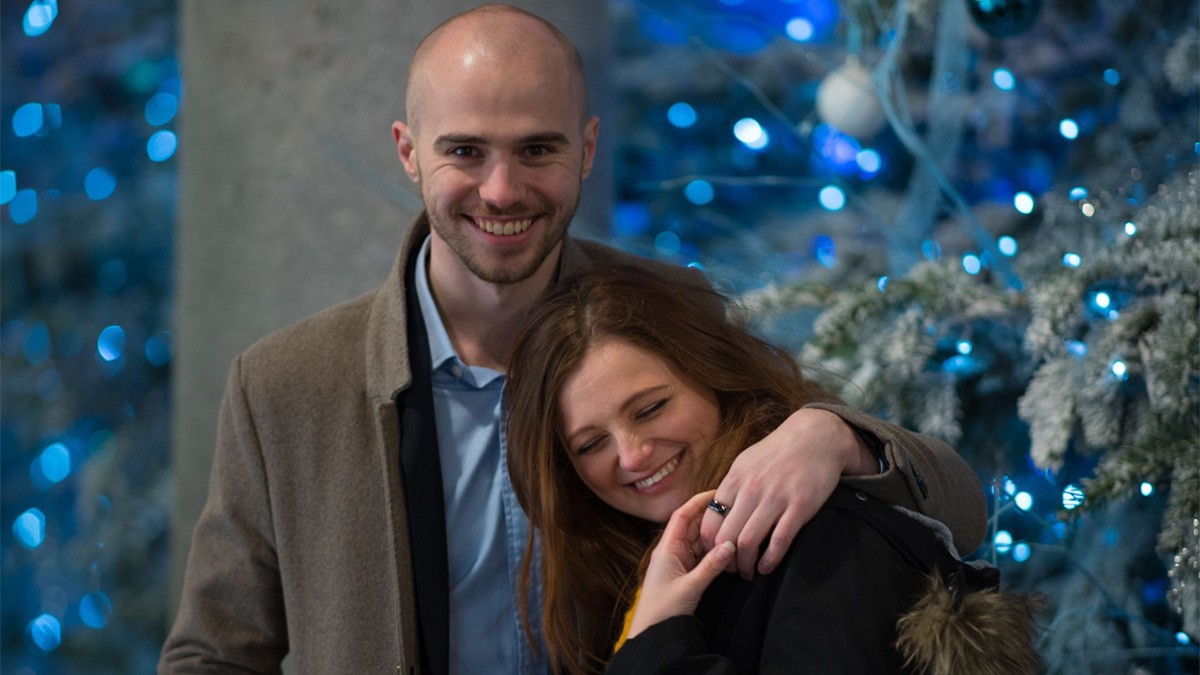 I met my fiancée, Greg, at Surrey, although we weren't going out with each other during our degrees. I usually forget when I first meet people because I don't remember faces. But I always remembered meeting him. We were at Surrey Sports Park and it was like, "Wow! This person is so much himself. He's not trying to be anyone else." I loved that about him then and I still do. 
A lot of my other core memories revolve around the School of Law. Giving a TEDx talk at Surrey was a massive moment for me. It was me explaining key lessons I'd learnt about defeating self-destructive communication patterns in relationships and coming out the other side as a better person. The response to that was amazing. I had people asking for advice, and my podcast and reading recommendations. It also made me realise the strength in vulnerability.
What was the plan when you graduated? 
I had massive imposter syndrome and I didn't feel good enough for the legal profession. Going into the degree, I felt I could do it. But trying to enter that world was a struggle. Whenever I went on a work placement, I was aware that pretty much everyone I met was a from a very privileged background. It made me feel isolated and like I didn't belong there. 
I had an identity crisis and I decided to go travelling in south-east Asia. But that was good for me. It was during that time I realised what I wanted to do, and I applied for a role working as an assistant at a barristers' chambers. 
I remember doing an assessment for the role in Kuala Lumpur at 4am because of the time difference between Malaysia and the UK. I landed the job. That gave me a boost because I was working for a leading barrister who believed in me. It also made me realise that people from my background maybe could succeed in this sector. 
I remember thinking, "I may not have belonged here before. But I am here and that means I can pave the way for others." More legal roles followed. I ended up working in Bristol for a couple of months, then Switzerland and Luxembourg for about six months, both while still working as an assistant for the barrister. 
When I left these roles, I set up my own niche practice as a freelance paralegal for barristers. There were lots of freelance paralegals working for solicitors, but there weren't many working exclusively for barristers. I saw a gap in the market. That was in 2019 and my practice has continued to grow. 
You're about to become a barrister. How did that happen? 
After a year or so in therapy, I decided that my limiting beliefs were not going to hold me back any more and I wanted to follow through on my original goal of being a barrister. But I didn't have the money. The Bar course fees alone were £14,000+.
I considered applying for a scholarship from Middle Temple Inn in London. There are four Inns of Court and you must join one of them to practise as a barrister. If you can demonstrate you have potential in an area of law, they may award you a scholarship to fund your course. 
When the pandemic struck, I spent a lot of time indoors. But I had a moment of clarity where I thought, "Just apply for it, Lucy, and stop holding yourself back." 
As I filled in the form, I took ownership of who I was and what my background was. It was the first time I'd mentioned being care-experienced in a job application. I did that because I didn't want to start a new phase of my career without integrating that element of my identity. 
I attended the interview and the panel seemed impressed by that level of honesty. I also explained how my passions would go further than the Bar. Alongside my career, I wanted to become an advocate for care-experienced young people. I wanted to use my legal standing to help people with similar experiences to me tackle the stigma associated with that. To show others that you can be whatever you want to be. There are so many talented people who are care-experienced and they don't get seen because their background rather than their talents define their identity. 
I was successful and the scholarship paid for my Bar course fees. It was a huge moment for me in my self-belief. I started Bar school at the end of 2020 and completed it at the end of November 2021. I was officially called to the Bar on 25 November. I was also three months pregnant, so I graduated with my baby. Greg came as well, as did my long-lost auntie and uncle who appeared in my life while I studied at Surrey. It was a lovely day and a big moment. 
When was your son born? 
I gave birth in May 2022, which was the biggest moment of my life. Inspired by my role of mother to go into family law, I started applying for pupillages not long after. You can only apply within a certain time window once a year because it's so competitive. I decided that I loved my family life in Norwich and I wasn't going to sacrifice that by heading back into London. 
I applied for a pupillage at a brilliant chambers in Norwich and I was delighted when I got the email to say I'd been offered a pupillage. I had to read it six times to make sure I hadn't misunderstood what it was saying. I even asked my sister to read it to make sure I had been offered it. 
I called Greg. He was so happy for me because he knew what it meant to me. It wasn't just about being accepted for my competencies as a barrister, it was about being accepted for exactly who I am and what I can bring to the table. His first reaction was "I'm not surprised one bit, Luce, you are brilliant."
I start in October next year. I feel like I'm ready and excited for the next step. I'll also have the chance to learn another area of law. I have expertise in immigration, asylum and public law currently. Because of my lived experience, I can see myself practising family and children law.
I've been volunteering as a Legal Adviser for the Children's Legal Advice Centre in Colchester. It's primarily a service for people from lower-income backgrounds who can't afford legal advice. It's such an important service in so many ways and the work feels very aligned with me and my values. 
Can you tell us about your advocacy work?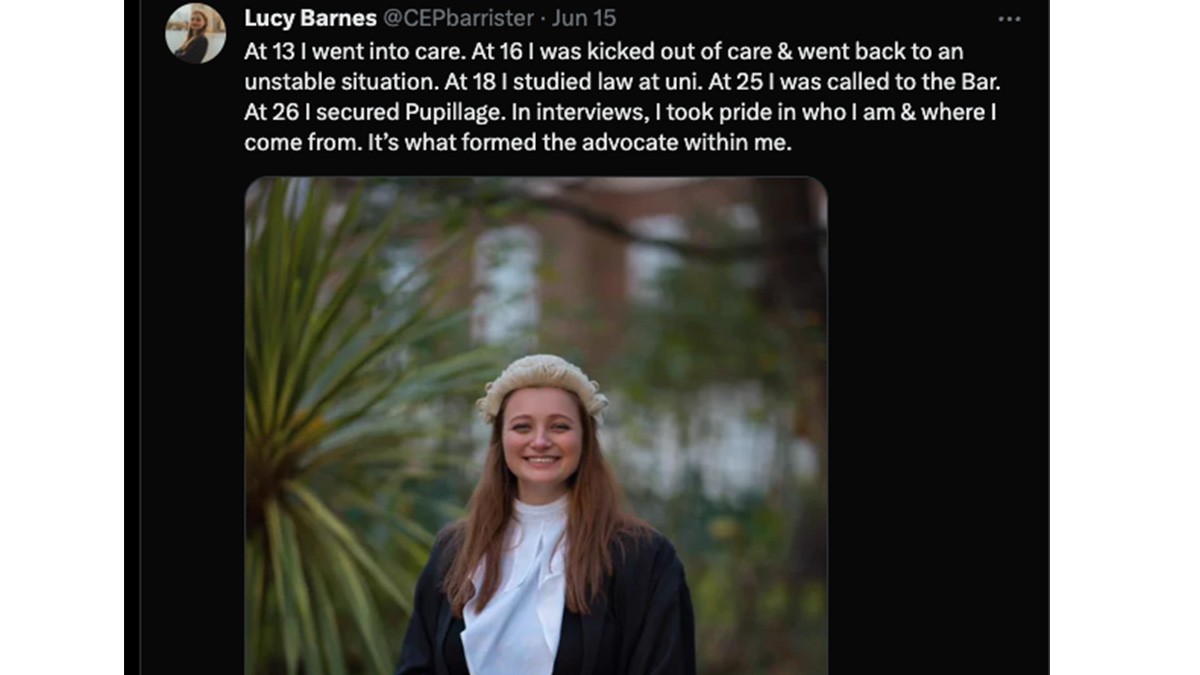 I started a Twitter/X account after securing my pupillage (@CEPbarrister). I decided to dedicate it to not only my future work as a barrister, but to advocacy for care-experienced individuals. I made my first post an introductory one, explaining who I was and what my experiences were. I was astonished by the response. It's had more than 900,000 views and so much support from so many people. I remain delighted that such a simple act can help open discussions about care-experienced people and the barriers we face. 
I've also been doing a lot of speaking in schools, talking directly to either those in care or those from difficult upbringings in more impoverished areas. Some of my support and advocacy work involves helping to train professionals in how to deal with individuals who've had traumatic backgrounds. 
I want to be a voice for young people in care and disadvantaged backgrounds. What's most important to me is dissolving the stigma of care that I allowed to seep into my life. I often felt I wasn't good enough and I was embarrassed about my upbringing. That doubt and fear can easily take a hold if you allow it to. I've had to confront that, learn to be confident and self-assured, and know who I am and what I'm trying to do. That means I can be a voice for others who haven't yet found theirs. 
You mentor as well? 
I am an independent visitor for Coram Voice – which I recommend everyone looking into as it makes a huge difference. I spend a day a month with an amazing teenager who's in care. They remind me so much of myself at that age. It's such a rewarding thing to do. That charity and the people it supports deserve a huge amount of recognition.
You talk about the "care cliff". Can you explain it? 
This is an area I'm particularly passionate about. The phrase refers to the point where local authority support is withdrawn or limited, and people who need support systems are suddenly left to fend for themselves. The assumption is based on the view that you're an adult at a certain age and you can look after yourself. Theoretically you have entitlements by law, but in practice they are not always implemented.
Falling off the "care cliff" can happen at different times for different care leavers. Sometimes it happens at 16 or 18. For others, it can be 21 or, in some cases, it can be 25. 
Joe Swash did a documentary recently called Teens in Care. It was good at illustrating the "care cliff". I tell as many people as I can to watch it because it's so good at examining what happens to care-leavers. 
When did you fall off the "care cliff"? 
I was kicked out of foster care at 16. Despite being assessed as a child in need, I never saw a social worker again. That was me done. I don't even think they knew that I went back to my biological family, which was assessed three years before as unstable for me. 
And it's a familiar story for a lot of people in care. They just fall off the "care cliff". The assumption in my case was that my biological mother would support me. But that wasn't the case at all. 
You're a passionate advocate for the care-experienced. Would you enter politics?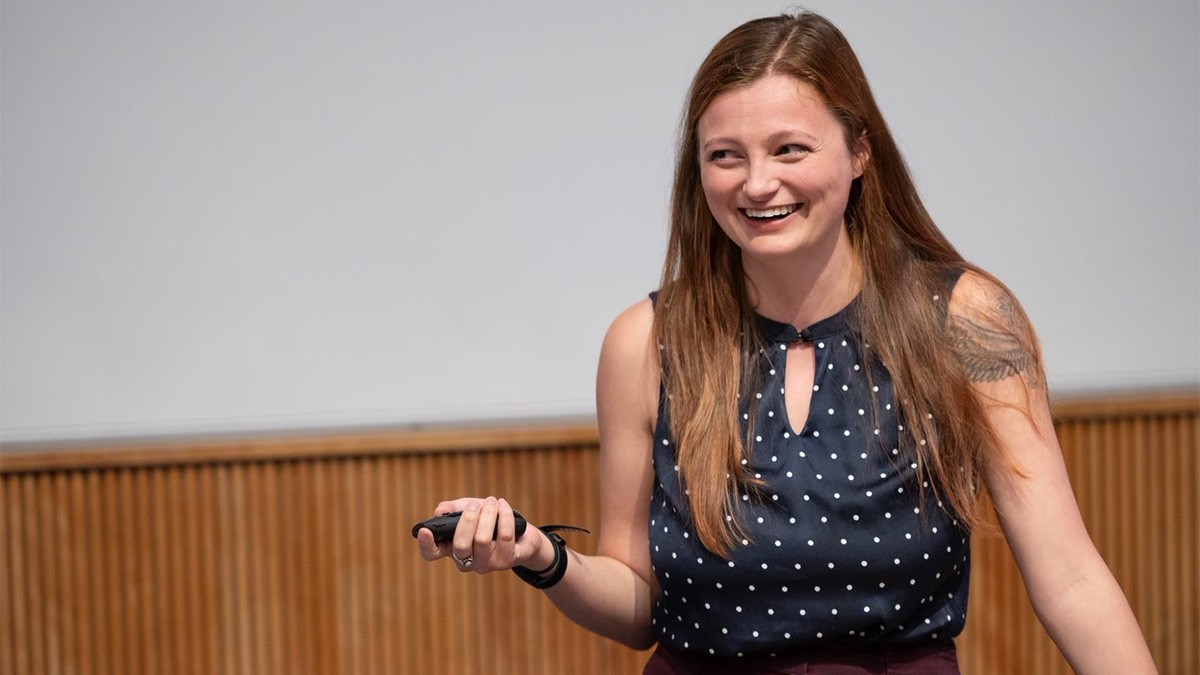 It's been suggested. I haven't ruled it out completely, but I'm not sure it's for me yet. I'd hesitate to become such a public figure in that way, and open my son and my partner up to the sort of toxic public scrutiny that seems to come with that career. I also fear I'd have to compromise my morality a bit as a politician. I wouldn't be comfortable with that. 
Now, I want to focus on my practice as a legal professional and build up my reputation.
I'd also like to develop a strong practice in public children's law and deal with local authority matters. That's an area where I could bring my lived experience to the role and make a difference to people. 
One day, I'd like to establish a foundation to help care-experience young people who struggle financially, and become an author.
How do you balance career, advocacy and family? 
I'm humble in most walks of life, but my time management is impeccable. Bizarrely, that stems from my experiences having to navigate chaos as a child.
I had to work hard during my GCSEs to attain the results I needed. My predicted grades were mostly Ds and Cs. I had about a year and a half to get those up – or I was going to lose the chance that education offered. I'm proud of the fact I got 14 GCSEs. I lived in a chaotic environment, so I learned to be efficient in everything I did by strictly managing my time. 
It was a similar story during my A Levels. I attended sixth form in the day, worked very early morning shifts in a supermarket through the week and at weekends, juggled the chaos of living at that house, and studied in the small hours of the morning as it was the only time the house was quiet. 
Because I had to juggle so many challenges early on in my life, I'm good at time management. When I need to focus on legal matters or advocacy work, I focus on that. When it's family time, that's my priority. My work phone is off. 
Asking for help was one of the biggest weaknesses I had to overcome, but I now feel comfortable asking for it. Greg's mum and dad are great if I ever need help looking after our son. They have welcomed me as a part of their family with open arms. 
You recently got engaged. How's the wedding planning? 
I'm really excited by it. Greg is one of the best things that ever happened to me. I don't want a big wedding and we've decided not to turn it into a massive event. I'd also feel uncomfortable spending a huge amount of money on that sort of thing because my background taught me to appreciate money. It's purely about me, Greg and our son. 
It will be a bit quirky, though. One of mine and Greg's little passions is mushrooms. One of the first conversations we ever had was about Entangled Life, a book by Merlin Sheldrake about fungi. So our wedding is going to be mushroom-themed. Or maybe woodland-themed. It's a work in progress… 
If you could time travel, what advice would you give to the undergraduate version of yourself? 
Despite impostor syndrome or despite what other people say, trust your intuition. And if you want something, don't be swayed by what others think – unless it's someone you really care about and who genuinely cares about you. 
Learning to trust your intuition is a powerful tool and it puts you more in tune with yourself. I learned to trust my intuition through therapy and it's my guide through everything. If something doesn't feel right and that little voice of doubt pops up, I know when to listen it. And being swayed by too many other people and constantly trying to people-please is not a sustainable way to live. 
In short, learn what you can bring to the table, realise there will be a lot and back yourself.