---
feature
"I remember looking out at the Oscar ceremony and seeing Harrison Ford and Cate Blanchett singing Happy Birthday..."
Film-makers Tom Berkeley and Ross White are our Young Achievers of the Year in the Vice-Chancellor's Alumni Awards. After graduating from Guildford School of Acting in 2017, their first short film, Roy, was long-listed for a BAFTA. Their second, An Irish Goodbye, won an IFTA, a BAFTA and an Oscar in 2023.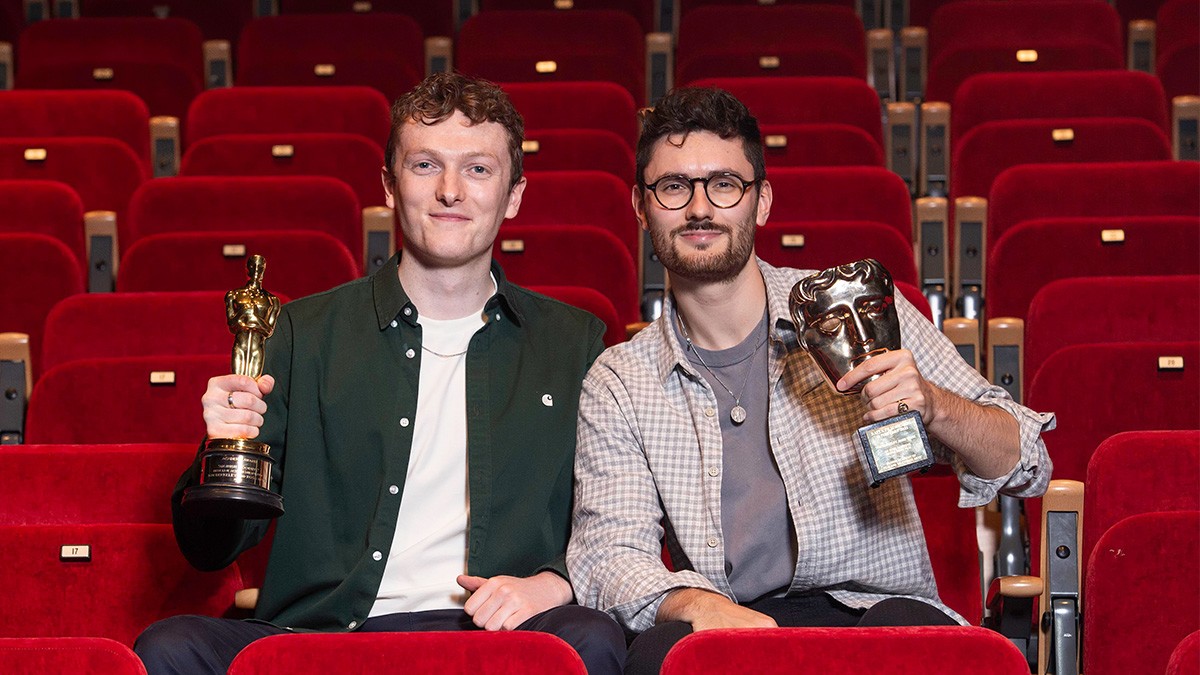 "I remember auditioning at GSA in 2014," recalls Tom. "It was such a collaborative and supportive experience. When the offer of a place came through, accepting it was an easy decision."
It's a view that Ross echoes: "The spirit of cross-course collaboration imbued throughout the School was a big selling point for me. It's one of the key lessons that sustains us now in filmmaking. It's such a collaborative medium. It requires an ability to connect, adapt and work with people from different disciplines towards a common goal. Learning about that began at GSA for us."
Early success 
Following graduation, Ross and Tom made a brave decision and left the successful theatre company they'd formed at GSA.
Tom explains: "We had to ask ourselves if we wanted to just be theatre producers. We had this love of writing and we wanted to focus on that. So we left the company and we set up Floodlight Pictures to explore projects for the screen."
Tom moved back to Gloucester and Ross returned to his native Belfast. They collaborated over Zoom on writing projects.
"We weren't aware of short film as a medium at the time," continues Tom. "Then we discovered it and we watched lots of them. They're usually built from the ground up, so it was akin to what we did with the theatre company. We felt we had the skills to produce something."
Their debut project was Roy, which starred David Bradley as a lonely pensioner who strikes up an unusual friendship with a sex worker. It was long-listed for a BAFTA. Securing the services of the Game of Thrones actor is a coup that still amazes Ross.
"We wrote to David about Roy and tentatively asked if it was something he'd consider appearing in," he recalls. "Amazingly, he bought into the story and he agreed to play the lead role.
"That was a key lesson for us. If the script is engaging enough, you can end up working with brilliant people."
An Irish Goodbye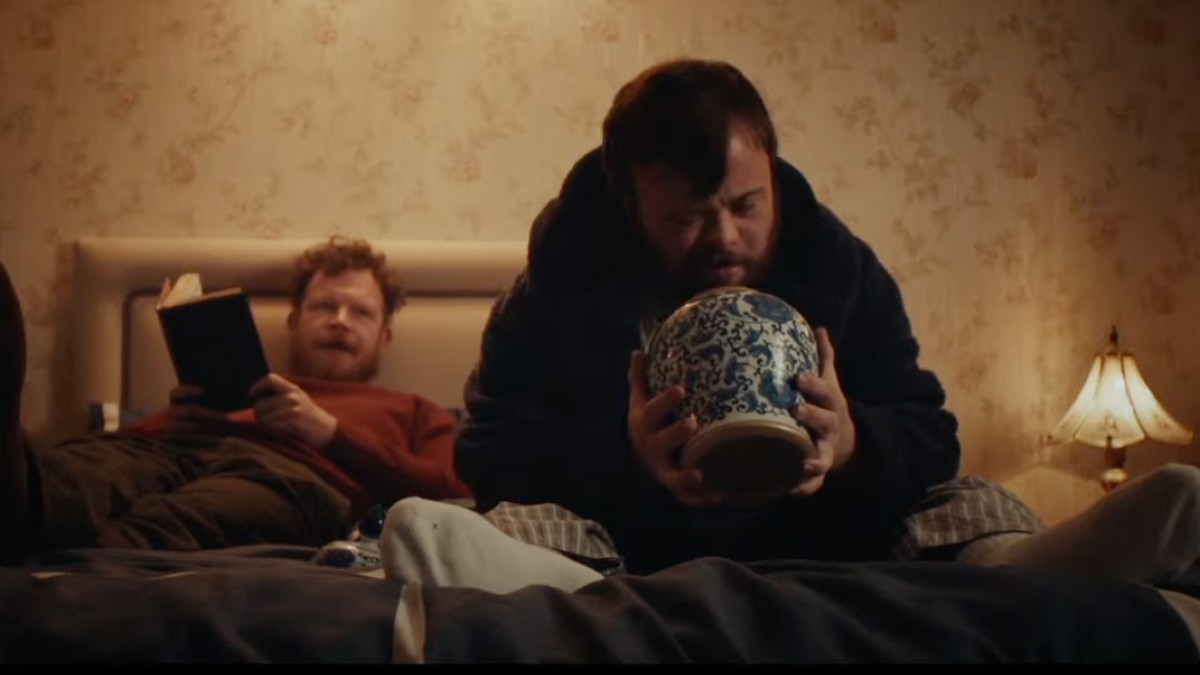 Brilliant people also featured in their follow-up, An Irish Goodbye. This black comedy has hilarious and moving performances from Seamus O'Hara and James Martin as estranged brothers reunited following the death of their mother.
"We came away feeling proud of the work and we hoped it would find an audience," says Ross. "We were bowled over by the fact it played on six continents at about 70 film festivals."
Oscar-winners
And this wasn't the only success it achieved. Following a win at the BAFTAs, a global audience looked on as it won an Oscar.
"I had a sort of memory blackout from between them calling the name of the film as the winner and us singing Happy Birthday on stage to James Martin," laughs Tom. "My recollections sort of kick back into action during that song.
"I remember looking out and seeing Harrison Ford and Cate Blanchett joining in. Even now, when I have footage of it all, I still wonder, 'Did I dream it? Did it really happen?'"
Ross, meanwhile, remembers the moment the reality of the Academy Award win sunk in: "We were backstage after the presentation and we had the Oscar in our hands. I hadn't looked at it at that point. I remember peering down and seeing it. That's when I burst into tears. It was this sudden rush of emotion that comes from that little gold man."
The future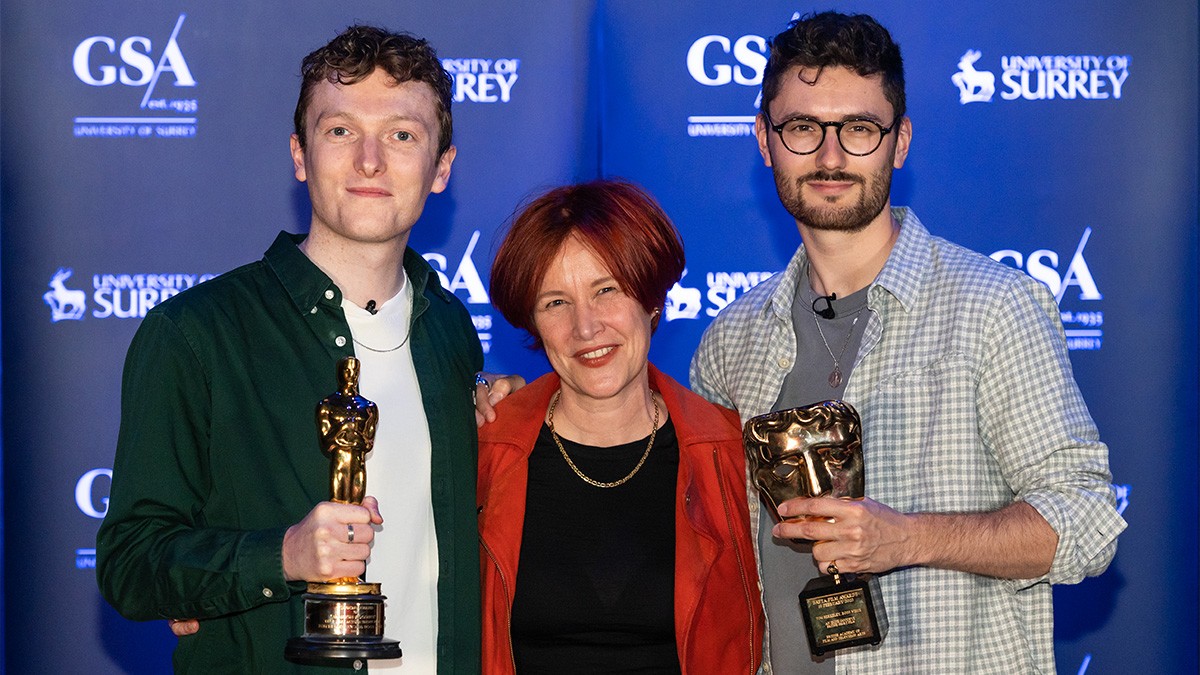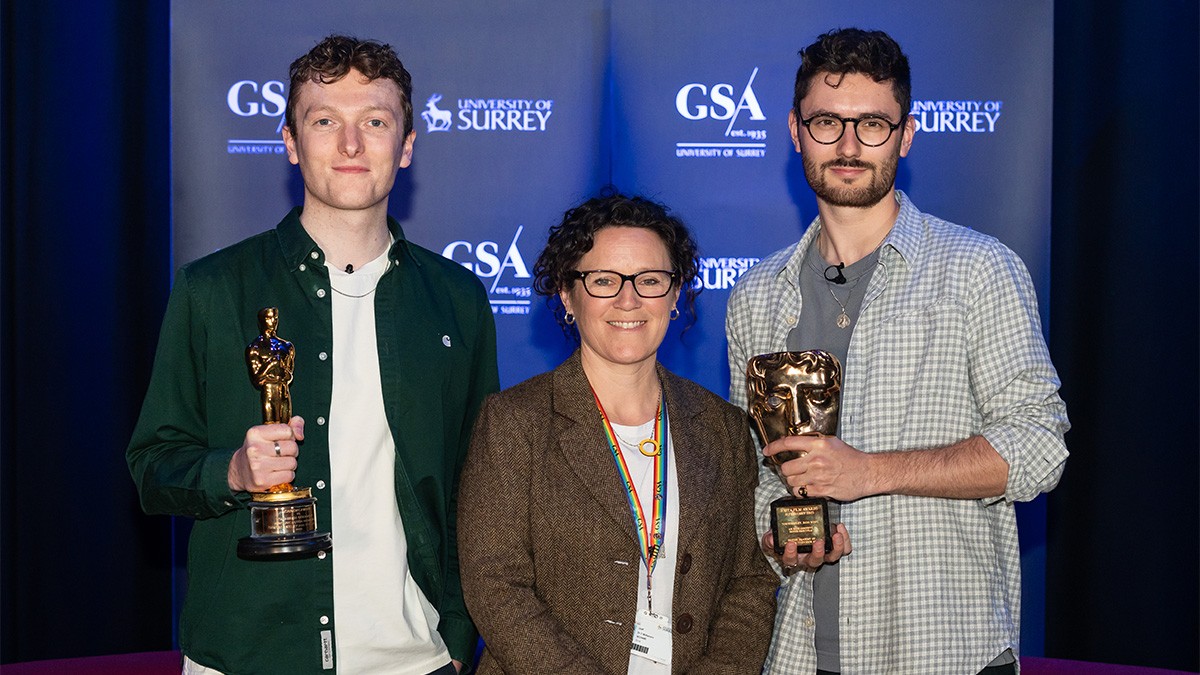 Tom and Ross' third short, The Golden West, is out later this year. They've also signed up with prestigious agents in London and Los Angeles, and they plan to spend the summer working on the script for their first feature film.
"The good thing about winning the BAFTA and the Oscar is that they allow you to keep making work," says Tom. "We're now writing our first full-length feature film.
"While major industry accolades have enabled that, winning the Young Achiever of the Year award is still incredibly special.
"The University and GSA has such a personal connection to us and our history. It's where we met, where we built a theatre company and where we became creative collaborators. To be recognised by the institution that helped nurture us is both touching and heartening, and we're thankful for that."
Read our full interview with Tom and Ross.