---
news
Published:
03 August 2021
Inside Surrey societies: EARS
Joining Surrey's Electronics and Amateur Radio Society (EARS) connects you to a passionate community of fellow engineers and gives you 24/7 access to amazing workshop facilities. We talk to Vice-President Sam Lane to find out how EARS can add to your Surrey experience.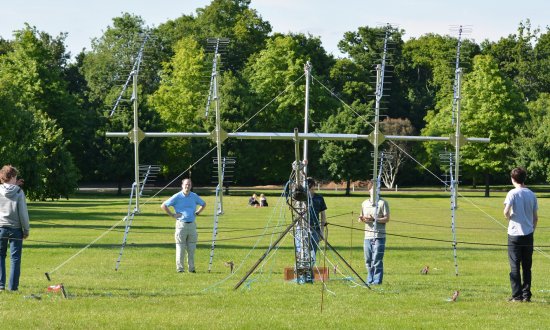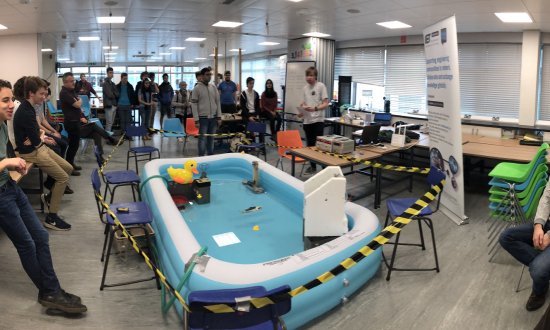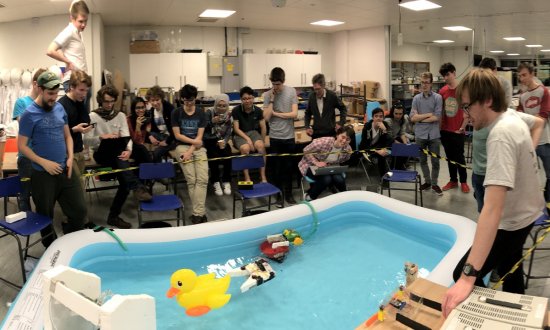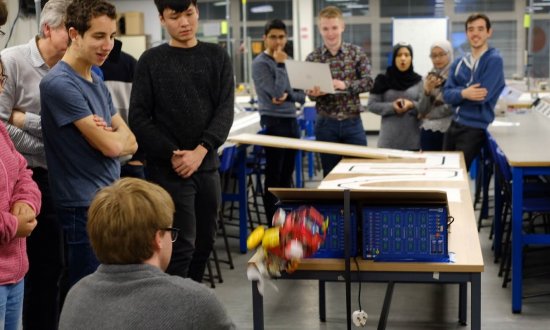 If the thought of exploring electronics projects in an open workshop environment alongside like-minded people appeals to you, then EARS is the society to join. As a member of the Society, you can build your own projects using a variety of electronic, amateur radio and space technology equipment within two dedicated facilities on campus: 'Makerspace' and the 'Radio Shack'.
Whether you're keen to build your own project or want to work on a project or experiment that's being run with others, there's lot to get involved in.
Sam Lane explains: "Seeing the EARS facilities, and the amount of support there is for personal projects at Surrey from both academics and fellow students, at an open day was one of the things that convinced me to apply.
"The amount of kit you get to use as a member of EARS is very impressive and you generally don't need to book it in advance," he says. "Our Makerspace area is a fully kitted-out workshop including CNC machines, 3D printers and test equipment such as oscilloscopes. The Radio Shack, on the top of the AB building, has a wide range of amateur radio equipment you can use to communicate with people all over the world using satellites."
"Whether you're keen to build your own project or want to work on a project or experiment that's being run with others, there's lot to get involved in. For example in 2019 we had a team entering the UKSEDS (UK Students for the Exploration and Development of Space) inter-university rocketry competition which involved designing the body of a rocket, all the electronics inside and its recovery and tracking systems. We also run an annual scraphEEp Challenge, and a team from EARS worked on the LunarRover project (PDF), building a rover capable of running on the moon!"
After a challenging 18 months due to Covid-19 – during which EARS kept up students' morale with online events and quizzes – the committee is looking forward to business as usual for the 2021-22 academic year. Prior to the pandemic, the Society had 250 trained members, and looks set to thrive again, welcoming not only students from the Department of Electrical and Electronic Engineering but also those from other disciplines with a passion for electronics.
In addition to offering exceptional workshop facilities, EARS runs widely popular computer coding courses in Arduino and Python, both of which are very useful throughout your studies and into the future. When there is adequate demand all 3 tiers of amateur radio licence courses have been run in the past
"We've had very good feedback from attendees on our computer language courses which we run in a very hands-on way, with people challenged to work things out for themselves while being supported by more experienced students," says Sam. "Our amateur radio licence projects are also really good to have on your CV if you're looking at working in an area related to radio."
"For anyone who has an aptitude and interest in electronics, amateur radio or space technology, EARS is the place to indulge that passion."
Find out more about EARS or look out for their stand at the Freshers' Fair during Welcome Week.
Discover our courses in electrical and electronic engineering.