---
news
Published:
22 February 2023
Inside Surrey societies: Formula Student Society
Joining a society linked to your subject is a fantastic way of enriching your university experience – and Formula Student Society gives you the unique chance to help design, build and race an electric car, competing at an international level.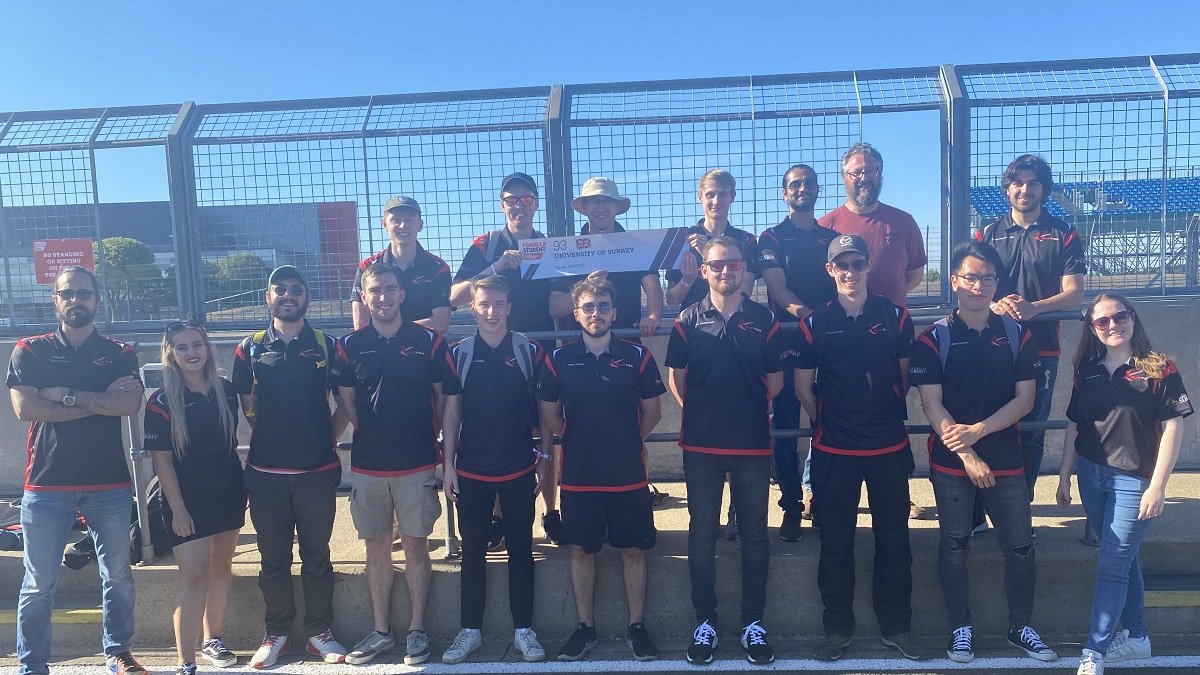 With over 50 members from across mechanical engineering sciences and other subject areas, Formula Student Society is a thriving community with a clear goal in mind: to compete and succeed in the world's biggest student motorsport competition, taking place at Silverstone in July.
The Society meets every Tuesday in Surrey's state-of-the-art Design Centre, with each member given a specific role. Vice-President Natalia Gogolova explains: "We have members from across mechanical, automotive and aerospace engineering, and also from subjects like economics, law and psychology. Each person has a role to play and we run the Society just like an F1 team – so there's a technical department and a management department, and everyone has the chance to shine."
"On the technical side, members work in sub teams (powertrain, suspension, aerodynamics and electronic systems) focusing on a specific issue on the car – something that's not working. There's also a big focus on going through past designs and thinking about what we could have done better."
Meanwhile the Society's non-technical members focus on business presentation, social media and recruiting sponsors – all vital skills within an F1 team.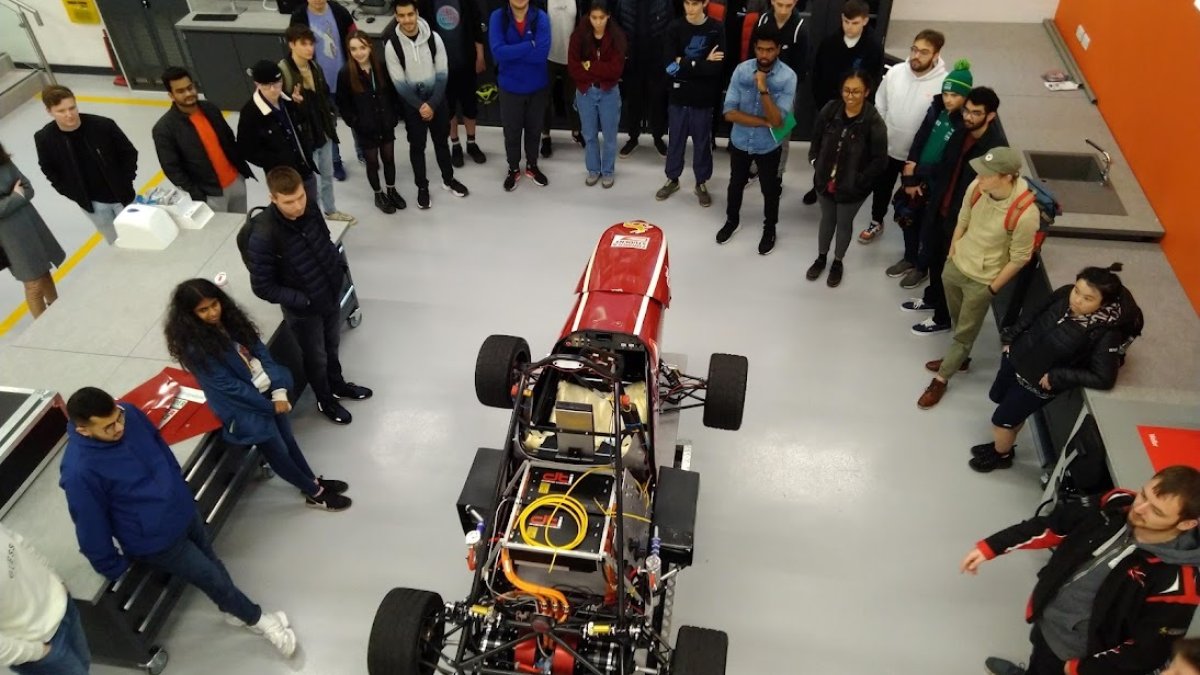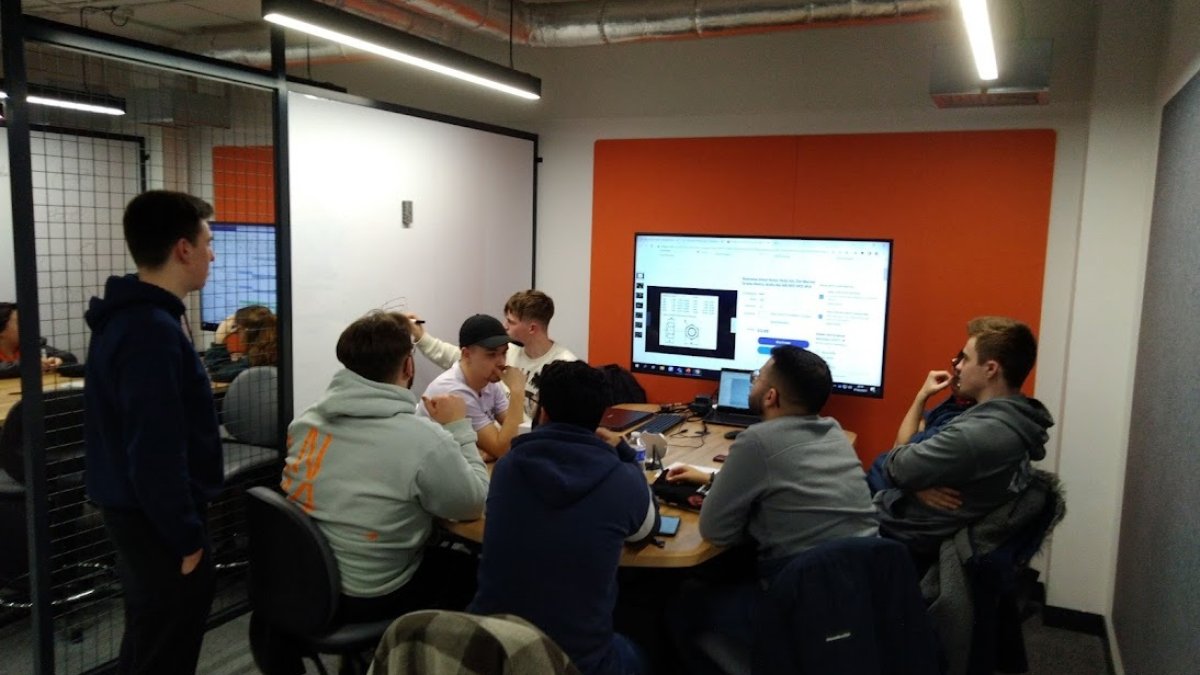 Members of the Society also get to hear from guest speakers from the automotive industry which have recently included Kristian Goodall, the number two mechanic in Aston Martin's F1 team (and a Surrey alumni); Sam Lawrence, design engineer with Rolls-Royce; and Mike Law, Head of Vehicle Dynamics at McLaren Racing.
Natalia adds: "We also get together if there's a big F1 race on a Sunday – like the last race of the season in Abu Dhabi – and watch it together."
The culmination of the Society's year is the annual Formula Student competition in July when Surrey competes with universities across the world in a series of races, time trials and tests.
Natalia says: "We'll soon be testing the seventh iteration of our electric car, the SE7, which we're entering in the 2023 competition. Meanwhile our new engineering cohort have already started designing the SE8 for next season."
"If you're aiming for a career in F1, being part of the Society can help open the door. You gain really valuable hands-on engineering experience, get to apply what you learn in lectures and tutorials, and also have the chance to network through the competition." - Natalia Gogolova
Society member Charlie Hinton said: "I think that the experiences gained through Formula Student Society are most valuable when looking for placements and grad jobs. I know from my experience that the guys interviewing me really liked the fact that I could discuss what I had learnt or would be learning from working within Formula Student. Be it working within a more 'realistic' engineering environment or even just having a go at building and testing your own design, all of these things give you important experience that shows them that you are prepared to make the jump to working within industry."
Find out more about Formula Student Society.
Discover our courses in mechanical engineering sciences, including our BEng (Hons)/MEng Automotive Engineering.