---
news
Published:
22 November 2023
"It's OK to take an unusual route to get where you want to go"
Dianne Jackson (nee Carter) graduated with a BEng in Materials Science and Engineering at Surrey in 2002, then returned to start an EngD in Environmental Technology in 2003. Before landing her current role in the NHS, her multi-faceted career has included roles at a ski resort, a school in China, the Territorial Army and an aerospace company…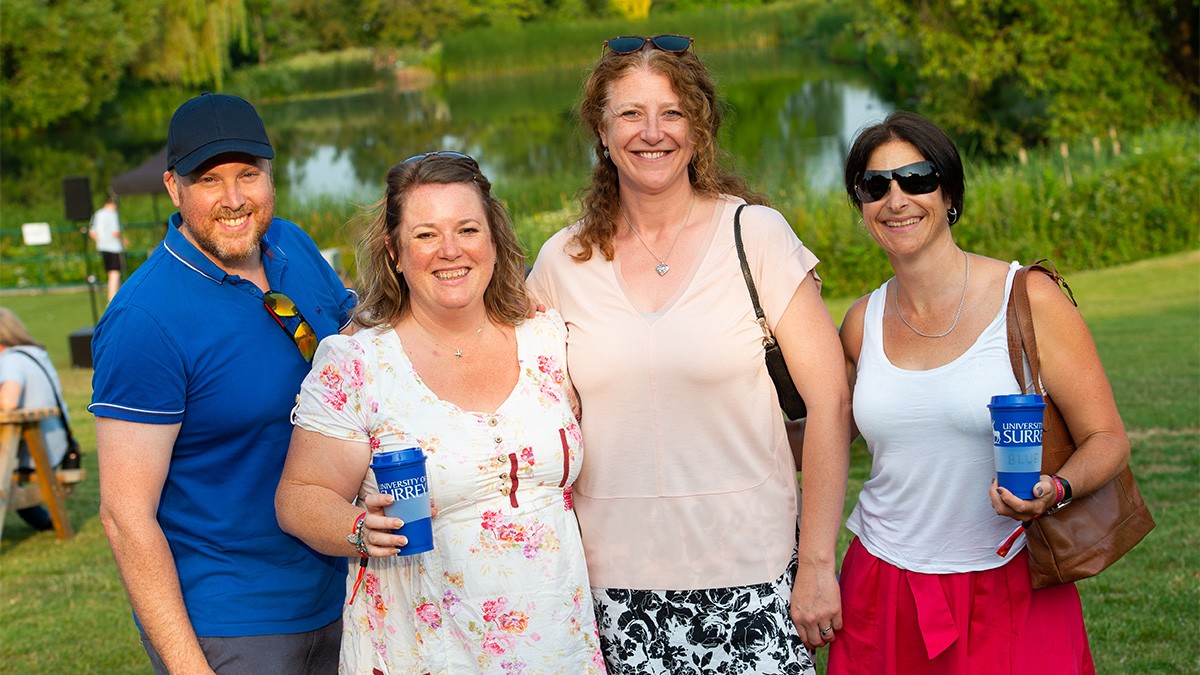 Why did you come to Surrey? 
I originally got a place at Oxford. This was a big achievement. I was the first person in my family to get into higher education. My dad and grandfather were paper-makers, and my brother worked for the food company, Hovis. They had practical engineering skills, but no academic background. 
My mother was worried about me going off to study in Oxford. I remember her saying, "It's not for the likes of us." When I got there, I realised she was right. I didn't fit in at all. 
After a year at Oxford, I looked around for a new institution. Surrey had a good reputation for science and engineering, and it had good employability figures. I remember Dr Mark Whiting was so approachable and friendly on the phone. The whole place just seemed more "normal". 
What did you study? 
I studied a BEng in Materials, Science and Engineering from 1998-2002. I spent my Professional Training Year in Port Talbot, South Wales, with British Steel. I was young, earning money and newly single. I learnt lots and I had a great time. I then returned to study an EngD in Environmental Technology from 2003-2007. 
What are your favourite memories of Surrey? 
I played rugby from pretty much the first day that I got there. I played hockey to a decent standard at school, but I'd never played rugby. During Freshers' Week, I met a friend nicknamed "Storks". She asked me if I fancied going along to a rugby training session. I'd never played before, but I thought I'd give it a go. It was excellent. 
I very quickly realised that my team-mates were my kind of people. I'd found my tribe. I got rid of a lot of pent-up aggression on the pitch. Wednesday afternoons and the evenings out following the game remain special memories. 
I'm still in touch with the women I played alongside all those years ago. We meet up every three or four months. I retain life-long friendships with "Brian", "Blue" and "Tewy". They're also nicknames, by the way. 
The Colours Ball and the Grand Ball were also highlights because we'd get dressed up and have fun. I enjoyed the course, too. I worked hard at my degree and I enjoyed my down time. I graduated top of my year, so I did well academically. 
What was the plan when you graduated?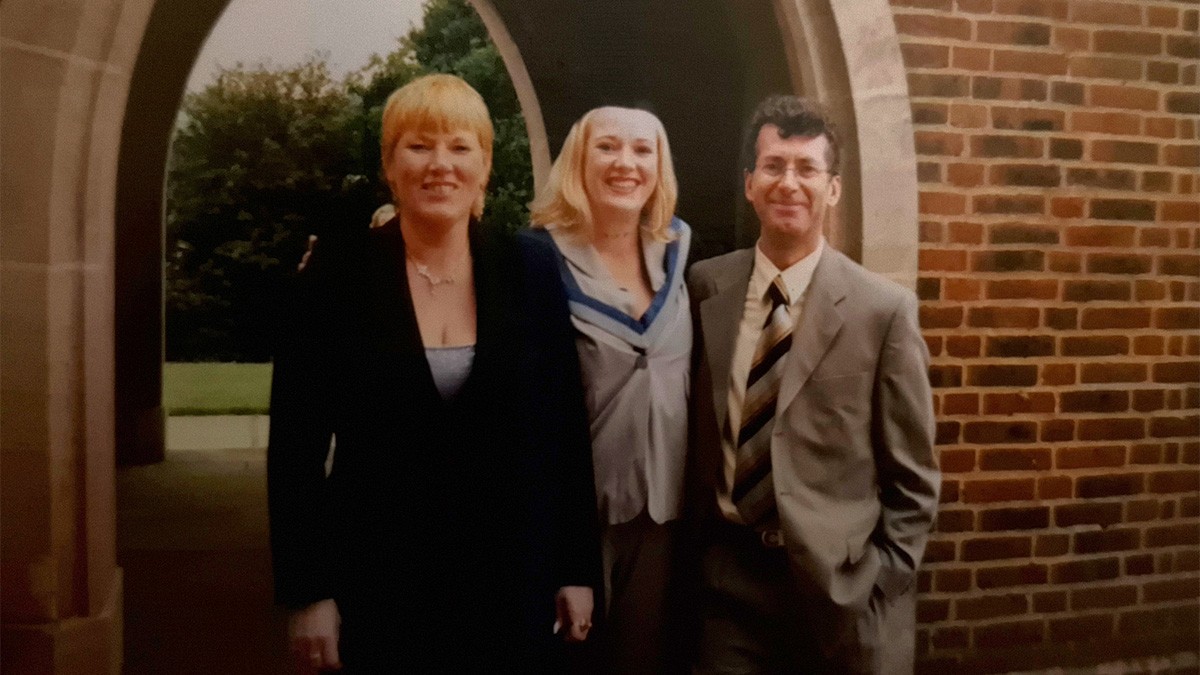 When I finished my BEng, I fancied a life change. I got a permit to work in Canada and I landed there with one night's accommodation sorted – and that was it. While I was looking for a role in Vancouver, I landed a job at a ski resort called Whistler. I had no idea about skiing or snowboarding, but I learnt while I was there. It was fun. I lived halfway up one mountain and I worked at the top of another one. 
Then you came back to the UK… 
After I'd done a bit more travelling, I came home. But I wasn't sure what I wanted to do. 
I then met Professor Chris France, who's been a good mentor to me. He oversaw the EngD. This is like a PhD, but you spend time in industry, so you do PhD-level research while being embedded in the sector you're working in. It was a good fit for me. I don't like working in isolation. I much prefer to be part of a team. I applied and I was accepted. 
I worked for a company called Interfaceflor and they were very big on environment and sustainability practices. My research focused on biopolymers, and assessing advancements in that field and their likely impact. 
One of my proudest achievements on my EngD was meeting my supervisors early on and telling them I'd hand them a chapter on a particular date three years in the future, and they'd hand it back to me one week later. They all signed up thinking it wouldn't happen because the time span was too short. But I kept to that deadline and I completed my EngD in four years. 
What did you do next?
I fancied another change, so I went to teach English in China for four months. I had a visa and thought, "Why not?" 
I came back to the UK and I secured a job as a materials engineer for Senior Aerospace BWT. The company was based in Macclesfield. They focused on air flow within aircrafts and building aircraft ducting. The work was interesting, but I was largely working on my own and I wanted to try something else. 
Fortunately, when I moved to Yorkshire, I was living in a town between Halifax and Bradford called Shelf, and I joined the Territorial Army. 
I joined the Infantry Unit in the TA and the role I chose was as a medic. I took several courses and I loved it. I loved helping people, being part of a team and the immediate gratification of making an instant difference. I did every medical course with the TA that I could do. These included Combat Medic Technician, Team Medic, Pre-Hospital Care and instructor courses. 
I realised I was getting satisfaction out of this. I thought, "Maybe I should try for medical school. I may not get in. But at least I'll have tried." In 2011, I got a place at the University of Leicester and moved there to train as a doctor. 
I understand a Surrey connection helped you meet your husband? 
I met my now husband at the wedding of a mutual friend, nicknamed "Haribo". We sort of knew each other from our time at Surrey because we worked at Tesco's while taking our degrees. We lost touch between 2002-2010 and we met again at the wedding. We had a long-distance relationship for a year, then we moved in together in 2011 when I started my medical degree. 
What are you doing now? 
I'm a Registrar in Emergency Medicine at University Hospitals Leicester. I worked all the way through Covid-19. In fact, I had my daughter during the pandemic, which was very tough.
What's it's like working in the NHS? 
It doesn't feel like we've had a break since the pandemic, although it does feel like we're in a steadier state now we're no longer dealing with that issue. We'll see what happens. 
I thoroughly enjoy my job. I enjoy helping people, working as part of a team, and using my brain and my hands. It's very fulfilling. 
Bizarrely, I don't think I'd ever have done medicine when I left school because I wouldn't have had the life experience I have now that makes me understand what kind of doctor I am. I'd probably have tried to fit into somebody else's idea of what a medical person is, which is the bright person who gets the highest grades at school and excels in academia from an early age. 
That was never me. I'm glad that I took this path. I'd never have completed medical training when I was 18. It's OK to take an unusual route to where you want to go as long as you enjoy the journey.
Do you have any more career changes planned? 
People keep asking that! I've done intensive care work and I like that. I may edge into that area. There may be a job out there that combines all my life experiences! But my husband may also explode if I change my career again. 
You attended the Surrey Weekender. What was that like? 
One of the rugby girls, "Blue", sent me the details and she asked me if I fancied going. I thought, "Why not?" I'm delighted I did. It was brilliant and we went to everything. 
On Friday night, we went to the BBQ and bumped onto "Storks" who was there with her dad. He was a Surrey alumni as well. Then we teamed up with graduates from the 1980s and 1990s to do the quiz. 
We stayed up chewing the fat until 4am in the morning in our kitchen. It was like we were students again. 
On Saturday, we went to the Surrey Live event and I attended a few mini lectures. The one on the new School of Medicine was particularly interesting. On Saturday evening, we went to the formal dinner and danced the night away. 
Some attendees celebrated through Saturday night. Did you?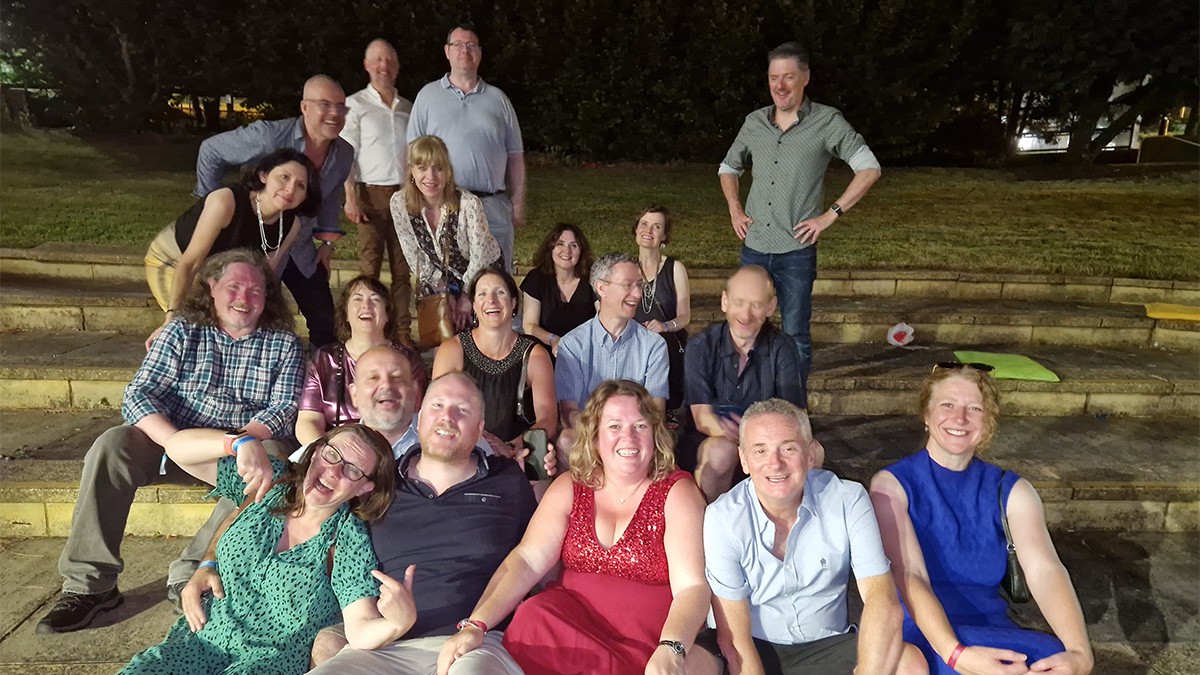 A hardcore group of us stayed up all night to watch the sun rise on Sunday morning while sitting in the amphitheatre. When me and my husband returned home to the kids on Sunday, it's fair to say that we weren't as refreshed, relaxed and rejuvenated as we'd hoped to be.
Finally, if you could time travel, what advice would you give to the UG version of yourself? 
I don't think I'd give the undergraduate version of myself any advice. The 18-year-old me would ignore it and carry on being a headstrong teenager. But that's one of the joys of being young. You get the chance to find your own way. It sometimes takes a long time to change and become an adult. But that's OK. 
If I had to offer any form of wisdom, it would probably be about reflecting on that process and I'll borrow a Doctor Who quote for that. It goes, "We're all different people throughout our lives. That's OK and it's good – as long as we keep moving forward and as long as we remember all the people we used to be."