---
case study
Maximising the impact of patient-doctor video observation data
Dr Katriina Whitaker, Reader in Cancer Care, and her team of researchers have been embracing the principles of open research, with a focus on the creation, storage and dissemination of research, as well as its preservation for further impact.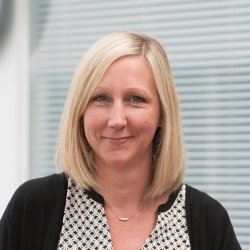 Dr Katriina Whitaker
The issue 
In 2018, we were awarded a Cancer Research UK grant to use video observation methods to understand the doctor-patient conversation and how this could impact on earlier cancer diagnosis. 
Having embarked on obtaining ethical and governance approvals, we realised that our data management plan was inadequate. Our data had huge potential, not just for answering our immediate questions about how patients describe their symptoms and doctors elicit information, but also future questions related to the GP-patient encounter. 
We recognised if we could future-proof the data, this would benefit everyone involved in this research. 
The solution 
We contacted researchers from other universities who had collected similar data. Our aim: to see how we could create consent forms and information sheets that would allow the data to be stored securely for longer. All the doctors – and more than 90% of patients we went on to contact – agreed for their data to be archived beyond the original five years and for research purposes beyond our project. 
We went on to transcribe all the video observations and pseudo-anonymised them, so they could be made available for data sharing. In 2019, we applied to the Economic and Social Research Council (ESRC) to conduct secondary analyses of our data and elaborated on how the datasets would be future-proofed. We also committed to making anonymised data available via a repository, in line with ESRC's Research Data Policy, in addition to setting up an archive to enable sharing of video data. 
The outcome 
Unfortunately, we didn't get the ESRC funding, but we learnt it is worth investing in a comprehensive data management plan and building in future-proofing early on. This is also in line with our funder's ambitions, as members of the Declaration on Research Assessment (DORA), to ensure research outputs are valued beyond journal-based metrics. The key lesson from this journey was to plan early, invest time in sections of grant applications that can get side-lined (e.g. the data management plan) and seek support from others. 
We are now working with several teams across the globe to continue to use our data on topics such as multimorbidity, age inequalities, health literacy and diagnostic uncertainty. 
Featured Academics
---
Related content
---