---
feature
Meet the academic: Alex Mandilaras
Director of Learning and Teaching and Deputy Head of School for Economics, Alex Mandilaras discusses his current academic roles and recounts his first-ever lecture.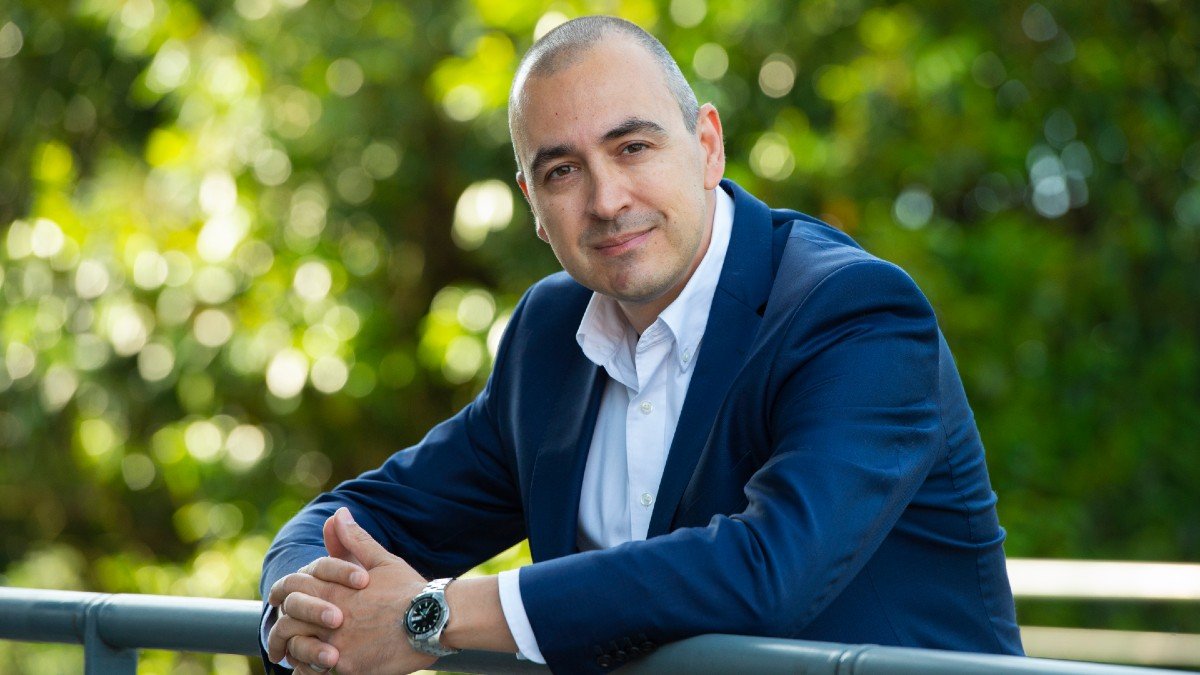 Please could you introduce yourself – perhaps you could tell us something that isn't on your staff profile page?
I am Alex, Director of Learning and Teaching at the School of Economics. When I am not teaching or otherwise engaged at work, I enjoy being with my wife and our four children. Iris, Philip, Ellie and Victoria have a variety of interests outside school and, as they are too young to drive themselves, I spend a lot of my time as their designated taxi driver. Other than that, I enjoy hardcore gardening and mountain cycling, even though I wish I had the time to do more of the latter. During down time, I read a lot, especially history, and listen to music –mainly classical, but many other genres, too. With young children at home, there's also a semi-permanent background of Peppa Pig music.
 
What's your favourite memory of being a student?
It's not really about one particular memory. It's more about the transformative effect of higher education in general. I learned to cook (starting from pasta dishes with ready-made sauces to a decent homemade moussaka or coq au vin), met lots of people from a huge range of different backgrounds, made lasting friendships, entered and exited relationships, took responsibility for my life and developed as a person. Oh, I studied, too! And discovered that learning is a lifetime endeavour.
 
How and why did you become an academic?
I grew up in the suburbs of Athens and came to the UK in 1996 with the intention of doing a masters degree. But what was a one-year plan before military service in Greece turned into an academic career and a life in the UK. I loved the country from the beginning and when the University of Surrey offered me a PhD scholarship, I knew that it was a career choice and a long-term commitment. A PhD takes you naturally to the academia and this is a world that I've always admired. A world of knowledge, curiosity, creativity and a constant supply of young minds, eager to learn, challenge and develop. Being part of that is very rewarding for me.
 
What excites you most about your current role?
My current role, like most academic roles, is not really one role but many under the same title. I teach, do research and, in addition, try to make a difference to our students' experience as members of the School of Economics. For example, this year, together with our superb Economics and Finance Society, we organised a black-tie dinner in one of Guildford's hotels, which was a great success. We have also adopted a new digital platform for work and communication, that seems to be the way forward for student-staff digital interaction. Taking initiatives, driving improvements is what I do best and my current role as Director of Learning and Teaching allows me the freedom to do these kinds of things.
 
What is your particular area of academic expertise, and why are you passionate about it?
International Finance. This includes things such as exchange rates (the value of one currency in units of another) and the balance of payments (a country's record of goods, services and financial transactions with the rest of the world). Another name for this field is open economy macro and it helps us understand the impacts of countries' trade and financial transactions with each other. 
 
Why should people study at postgraduate level in your academic area?
Because it helps students think more deeply about their chosen subject and can help to distinguish them in the jobs market, too. A masters degree will make them better economists. It will challenge them and once they graduate, they will know that they have achieved something admirable. Students may also discover that they want to pursue further studies (at the doctoral level), as I did several years ago.
 
What are you looking for in a postgraduate student?
Thirst for learning and loving the subject. I am very excited because in 2018 we launched a new MA Economics programme that allows non-economists to join our world of thinking. We have discovered that there are a lot of people with undergraduate degrees in different fields who want to understand economics either as a means to itself or because they want to pursue careers for which economics knowledge is an asset. Our other masters programmes are designed for those with an economics undergraduate degree or a degree in a closely related subject. 
 
Is there a particular memory of your time at Surrey (so far) which stands out for you?
Yes, my first-ever lecture. It was a second year Applied Macroeconomics module in a packed lecture theatre in 2001. I cannot really describe how nervous I was – running off and never returning certainly crossed my mind. But I am so happy that I didn't do that, as despite the challenging nature of our profession, it is a very fulfilling one. The end of that first lecture series was rewarded by a warm applause by the students, which made it very special to me.
 
Discover our courses in economics, including our new MA Economics course.