---
news
Published:
18 February 2021
Meet the academic: Dr Mike Duignan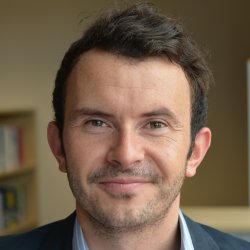 Dr Mike Duignan
How would you describe your time at Surrey?
I joined in September 2020, so I've been pretty much locked down and locked away from campus. However, through plenty of Zoom chats with staff and students, there are hundreds of opportunities to engage in meaningful conversation – both work and play! 
What inspires you about Surrey?
My colleagues. Within the School of Hospitality and Tourism Management, we have internationally renowned colleagues in our field, individuals who I have always looked up to, so I now feel very proud to call them my colleagues. Just the everyday conversation over a digital cup of coffee is enough to inspire!
Why should a student come to Surrey to study your subject?
We truly have one of the world-leading events programmes in the world – engaged with industry and policy, with ample opportunities to test learning in practice and do a whole range of work experience opportunities. Our staff don't just teach the books, we write them – and we write internationally recognised pieces that really help to push the boundaries of the best ways to run events, but also understand their role in society too.
Your career before joining the University
Before joining Surrey, I was a Senior Lecturer in Events Management and former Programme Director of the MSc International Events Management and MSc Sport Management at Coventry Business School, Coventry University, UK. I have held visiting positions at Pace University (New York, US), Berlin School of Economics and Law (Berlin, Germany), and Waseda University (Tokyo, Japan). I am a Senior Fellow of the Higher Education Academy with 12+ years of teaching experience at bachelor, masters, MBA and doctoral level.
Before starting my PhD in 2012, I was a project manager at the UK Research Councils Government-funded organisation 'Vitae' where I was responsible for managing the UK's researcher development programme, including the 'Researcher Development Framework' and 'GRADSchool' events. Throughout this role and since, I have managed and/or supported the delivery of over 80 events, conferences, and festivals across education, sporting and cultural sectors, managing events in an eclectic range of contexts – from internationally renowned venues like the British Library, public squares and parks, to university institutions across the UK.
What are your interests and hobbies outside of academia?
I play lots of tennis and I play for Richmond's second team! I used to captain my previous university's staff football team, but I play less now because I am injury-prone. I love to cook – so much so I was on the UK Masterchef TV rounds.
Discover our International Event Management BSc course