---
news
Published:
26 January 2023
On My Plate: An exhibition by women in the criminal justice system, in partnership with Koestler Arts
Researchers at the Department of Sociology have partnered with Koestler Arts to showcase an art exhibition all about food in women's prisons and other settings at South Hill Park in Berkshire.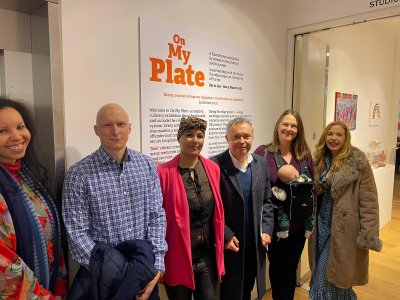 A research team in the Department is carrying out a large research project called 'Doing Porridge: Understanding women's experiences of food in prison'. The study is exploring food practices in prison, as well as the social and cultural meanings of food for individuals. Interviews, observations, focus groups and art workshops are being used to examine the subject in several UK women's prisons.
This creative, culinary exhibition about food inside and outside the criminal justice system combines art made in the research project's creative workshops and pieces entered into the 2022 Koestler Awards. Together, the artworks reveal the many memories and meanings that food can hold – joyful, tantalizing, nostalgic, complicated…
The exhibition is being held at South Hill Park. Based in Berkshire, this arts centre is home to two theatres, a cinema, artist studios and gallery spaces, set within sprawling parkland. Entry is free.
Dr Maria Adams, who leads the Doing Porridge project, said:
'We are excited to be partnering with Koestler Arts to launch this exhibition on an integral topic that contributes to prison life. In this exhibition, there are diverse range of pieces that are emotive and creative to raise an awareness around the role food plays in the criminal justice system and the impact it has on the lived experiences of women'