---
news
Published:
24 February 2022
Phyllis Tuckwell donation bins now on University of Surrey campus
Surrey Sustainability Champions collaborate with local charity to reduce waste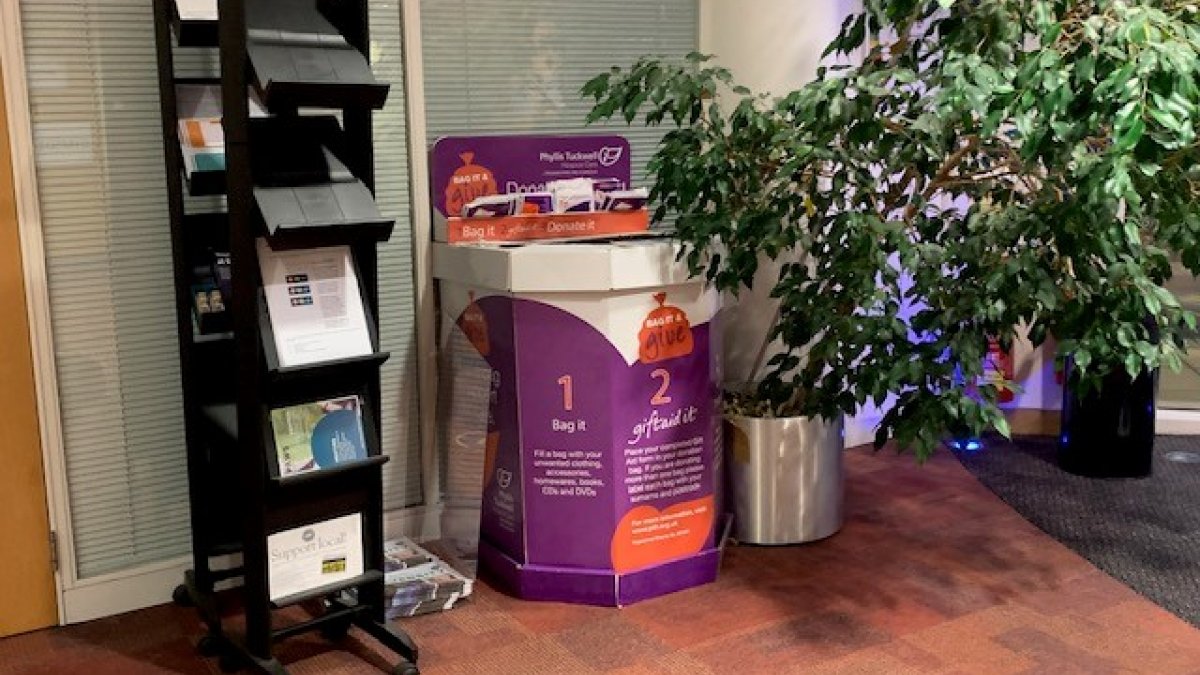 To help reduce waste, additional donation bins from Phyllis Tuckwell have been introduced and we now have 7 locations across the Stag Hill and Manor Park campuses. Items that can be places in the bins include clothing, crockery, jewellery, books, CDs, DVS and vinyl, as well as antiques.
Surrey Sustainability Champions Michelle Rimmington and Amy Woods have collaborated with the local charity to initiate the project, which will have Phyllis Tuckwell receive all profits from the sale of goods to provide free supportive and end of life care to local people living with an advanced or terminal illness such as cancer.
Bins locations on campus include:
Rik Medlik (MS) building – located inside the main entrance
Duke of Kent (DK) building – located on the 2nd floor landing, close to 17DK02
GSA building  – located on the ground floor
Library – located on level 1, opposite the reception
Surrey Sports Park (SSP) – located on the left of the main entrance doors
Kate Granger building – located at the reception
VSM building – located at the reception
In addition to the donation bins on campus, the University is also conducting a trial with Phyllis Tuckwell to donate surplus furniture. Most recently, a furniture and piano donation raised over £1000 for Phyllis Tuckwell, a great success for both the university and the charity.
Many thanks to the local Sustainability Champions who are supporting the Donation Bin Scheme: Serge Mcquillen, Debbie Nelson, Julie Tidy, Beth Mills, Caroline Horsefield, Joanna Gronlund, Emily Hammond and Alicia Zmuda-Stokowacka!
To find out more about the work of Phyllis Tuckwell Hospice Care, please visit their website.