---
news
Published:
25 February 2020
Q&A with Brian Linton, NOVUM Structures UK
Surrey's Spatial Structures Design Competition – launched to coincide with the IASS Annual Symposium and Spatial Structures Conference 2020 (IASS 2020) – is being sponsored by NOVUM Structures UK, which has played an important role in advancing the field of freeform structures in the UK. Here we talk to Brian Linton, Engineering Manager at the company and a member of the competition's judging panel.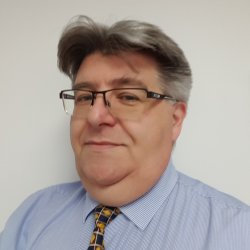 Why has NOVUM Structures made the generous decision to sponsor the Spatial Structures Design Competition at IASS 2020?
NOVUM Structures has a long history of developing space frame technology and supporting innovation among young engineers, with our roots in this going back to the late 1970s. As a company we also have close links with Surrey – our previous CEO studied for a PhD at the University and we currently employ two Surrey masters alumni in our UK office. I also studied for the MSc in Bridge Engineering at Surrey after becoming Chartered, and have been a guest lecturer there since 2016.
What are you looking for in entries to the Spatial Structures Design Competition?
I'll be looking for a design that is interesting in appearance and technically robust, with attention to material section and life-long protection. It must also be low maintenance and make good use of the space and location where it will be installed.
The theme of IASS 2020 is 'inspiring the next generation'. How does NOVUM Structures encourage young talent and inspire the next generation of engineers?
History is always a great starting point. We have been involved in space frame technology for over 30 years and the semi-automation of production from CAD models has strong roots within NOVUM. Today the industry is demanding more robust solutions and we encourage our young engineers to understand the early development of these structures in order to allow them to take this further in the future.
What have been the most interesting spatial structures you've worked on at NOVUM Structures?
My favourite is the Salvador Dali Museum in Florida, but there have been many interesting projects, such as the single layer glass grid at The Double Tree Hilton in London, the ETFE Façade for the Glasgow Arena, and the open-sided canopy at the Bluestone Resort in Pembrokeshire.
How did you first become interested in the field of spatial structures?
After my masters at Surrey I found employment locally and then responded to a small ad in the local newspaper for a position within a company called MERO UK, based at Fleet. At the interview, they asked if I would like to help them build the Eden Project in Cornwall and this required me to become familiar with the design, manufacture and construction of a variety of space frame technologies. I eventually became Head of Engineering with MERO Schmidlin UK, and then in 2008, NOVUM invited me to assemble a new technical team in the UK. We have grown from employing one engineer to seven engineers and six CAD technicians today.
What part has NOVUM Structures played in the development of the global field of spatial structures over the past 30 years?
NOVUM has been actively developing freeform structures and the supporting technology to semi automate fabrication for the past 10 years, allowing many market sectors to access and embrace this technology. The group has been active in many international locations and aims to deliver space frame solutions to developing countries as well as more developed locations. We have serviced the domestic market with grid shell design in the UK through to larger, more commercial structures.
The IASS Annual Symposium and Spatial Structures Conference 2020 takes place on 24 to 28 August 2020 at the University of Surrey.