---
news
Published:
18 February 2022
Settling into postgraduate life at Surrey
Starting university as a postgraduate student can be daunting, whether you're joining from another university, coming from another country or returning from the world of work. Our postgraduate students Lorena, Gaurav, Yashika and Aravind describe their experiences of settling into life at Surrey and share their advice for students.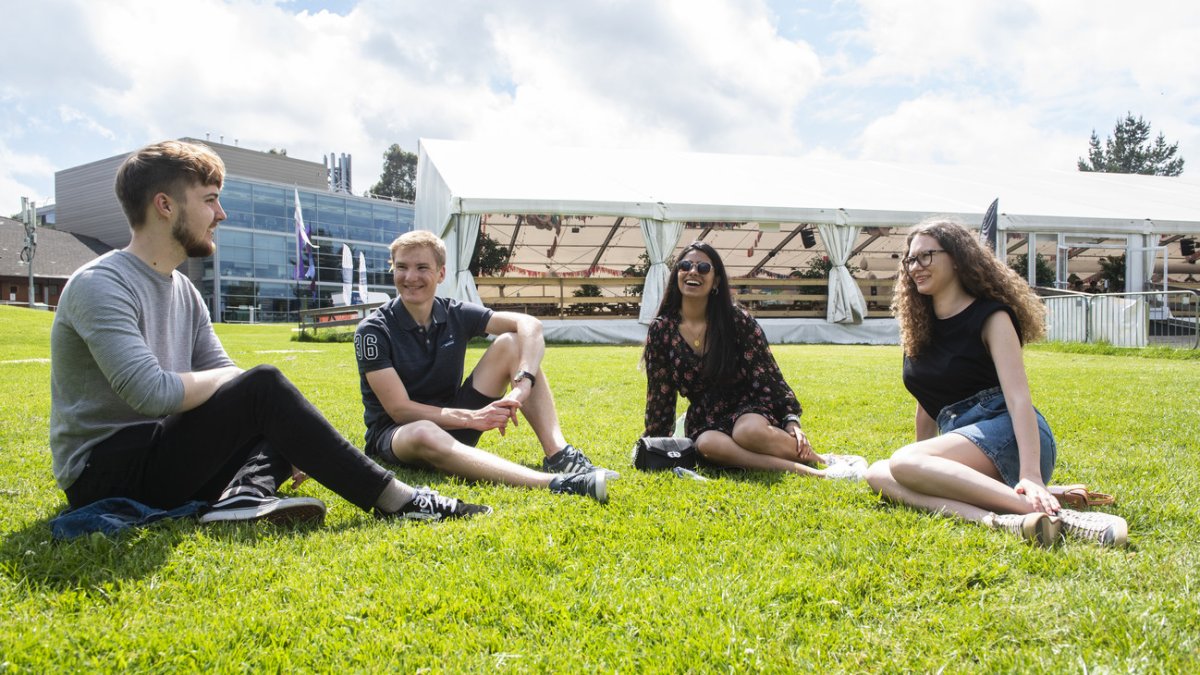 Did you have any worries before starting at Surrey, and how do you feel now?  
Lorena: I was worried about the difficulty of the course, especially considering the different grading standards between the USA and the UK. I now feel like the differences in grades are reflected appropriately.   
Gaurav: As an international student, I had a few concerns about fitting in, adjusting to life in another country and establishing a life of my own. The University made sure I felt welcome through their numerous activities, and they were immensely supportive by offering mental health support and student assistance.   
Yashika: My biggest concern was adjusting into the culture and feeling 'in-place' but the extensive support at Surrey and diverse communities helped me a lot. Now I feel as if I've always been here.  
Aravind: I was anxious about the cultural difference and managing my time and finances. After a few weeks, I eventually adapted to the new environment and right now I believe I have settled down comfortably. I made mistakes and learned from them.  
Have you adjusted to life in Guildford, and what did you do to help?  
Lorena: I have enjoyed exploring the city around my flat and the various food options. I am at an advantage because my partner lives in Guildford – she has supported me a lot.   
Gaurav: I think one of the main reasons my transition to Guildford and University has been smooth is that I managed to find part-time work that really got me in touch with the community. I work as an International Student Ambassador at University and as a Mental Health Support Worker in Guildford. These experiences make a big difference – I no longer see myself as an outsider, instead I feel part of the community here.   
Yashika: My biggest help was talking to people and making friends. I still meet new people every day through societies or at university events. Working part-time was another thing that helped me because I met people outside the University who have their own stories and experiences for me to learn from.  
Aravind: I am naturally adventurous, hence I wanted to explore this town to the fullest. Communities such as Friends International organised guided walks around Guildford which helped me explore as well as understand the history of Guildford.   
How have you found the transition from undergraduate to postgraduate study, and were you supported in this process?  
Lorena: I don't feel there is much difference. There are slightly higher standards, and the expectation to write a dissertation is there, but I feel supported by professors in both aspects. Maybe that is why I don't feel the difference.   
Gaurav: The transition has been well-supported by my academic tutors and staff at the University. Their constant support in terms of adjusting to a postgraduate course has made it a seamless transition. I'd say that even though the transition seems vast and rocky, the University's attempts to make continuing education as normal and smooth as possible have been successful.  
Yashika: In the beginning it was alright for me. In fact, I felt less pressure compared to my undergraduate study. However, after my first semester evaluations, I did get insights about how a postgraduate course is evaluated and how students should improve their work. Regular feedback from my faculties was really helpful in this case.   
Aravind: Having worked as a software engineer for more than five years, the transition was more from corporate life to university for me. Though it was initially challenging, I sought help from previous students and peer support groups who helped me understand postgraduate life better and provided solutions for the transition troubles I was dealing with here.  
Have you used any of the University's support services? If so, can you describe your experience?  
Lorena: Yes, I participated in therapy from the Centre for Wellbeing. I had 4 sessions to help adjust to life here and starting new routines, as that is difficult for me.   
Gaurav: Over the December break, I was ill with COVID-19 from Christmas until the first week of January. During that time, the University constantly checked in on me, ensuring I had everything I needed to recover.   
Yashika: As an undergraduate student during my semester exchange at Surrey, I was stuck in the UK because of the lockdowns. I used the Centre for Wellbeing's support and got regular therapy to battle anxiety and loneliness, which was helpful at that time.   
Aravind: The university, along with the Students' Union, has taken a lot of initiatives to help students cope with stress during exams such as dog therapy, free coffee and distributing energy bars. I fully benefited from all these initiatives.  
Do you feel supported at university?  
Lorena: Absolutely, my tutor has been extremely helpful, and my professors are all very understanding.   
Gaurav: Mental wellbeing is something that my professors and the University take very seriously, and that can be seen across department policies, activities and institutions in place. I'd say that their support is one of the main reasons why I like being a student here.  
Yashika: The University has extensive support in every domain. However, I feel there is a special focus on international students in terms of job prospects and graduate support.  
Aravind: I was amazed at the level of importance placed on my mental wellbeing. We have Peer Supporters who offer to listen to us, and the Centre for Wellbeing provides us with tools for mental health issues.   
What advice would you give to others on settling into student life?  
Lorena: Get to know your professors a bit, ask them about their research if you are interested in it. It helps you find opportunities that will coincide with your dissertation and build your network. Don't be afraid to ask for help either, there are resources out there that can help you.  
Gaurav: What worked for me was getting myself involved in things I was interested in – be it a job, volunteer work, societies or academic pursuits. Settling into student life can be an unfamiliar, isolating experience but it needn't be that way.   
Yashika: You can never be too prepared so, take things step by step. Experience different things and do not limit yourselves.  
Aravind: University life, especially as a postgraduate student, plays a memorable role in our lives and not everyone is fortunate enough to pursue it. So, let's go for it with all that we've got and shape ourselves in the process.   
Also, take your vitamin D supplements during winter.