---
news
Published:
14 December 2020
Spotlight on Jasmine Arnold
Jasmine Arnold, Bsc Business Management and Marketing, is the founder of Instant Swim: Sustainable training swimwear, for swimmers by swimmers.
Instant Swim is a Student Enterprise company.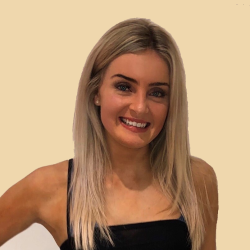 Jasmine Arnold
Instant Swim is a sustainable training swimwear business, aimed at competitive swimmers and those who swim for fitness. Made for swimmers by swimmers, our swimwear is created using unique recycled fabric to reduce the impact on our environment.
We stand out in the market as all of our products are made using innovative fabric created using recycled yarn and ocean waste, including plastic bottles and fishnets. Our fabric is also ultra-chlorine resistant and provides muscle control, making it perfect for swim sessions. All of our swimwear pieces are practical, affordable and fashion conscious.
Instant Swim was started in Summer 2019, as we struggled to find training swimsuits that were durable and stylish as well as eco-friendly. Our mission now is to bring together those who share a passion for swimming and the environment, to create a positive and supportive swim community.
Instant Swim stands out from competitors as we go above and beyond, by bringing fresh styles that look good and are great to train in. We bring current fashion trends and style into the sport which hasn't been done before.
Our swimwear is designed with ultimate comfort and practicality in mind. We know how important it is, now more than ever, to consider where the products we purchase have come from, therefore we keep our business open and share our progress and ideas with our followers and appreciate their input and suggestions. Another goal of ours is to reduce the dropout rate of girls in the sport, especially around the age of menstruation. We believe that all swimmers deserve to feel confident, so with an emphasis on body confidence and health benefits we aim to help more girls and women fall in love with the sport.
By using fabric that is created using recycled yarn and ocean plastic, we are helping those in our sport to do their bit for the environment. From research we have found that on average competitive swimmers replace training wear up to four times a year, by using durable and ultra-chlorine resistant fabric we aim to reduce this by 50%. Currently, there is not an established competitive swimwear brand with all products and packaging made using recycled materials; we aim to be the first in the industry. Furthermore, to ensure we are actively helping our oceans we donate 10% of profits to Surfers Against Sewage and aim to increase this as our business expands. We chose this charity as they regularly conduct local beach clean ups around the UK and strive to keep our oceans free of plastic.
We have recently begun to sample and manufacture all of our designs in the UK. This will have a positive local impact, including reduced emissions and fair pay to manufacturers. This is an important factor of our brand, and although it may cost more to have our products manufactured in the UK we will work hard to ensure our prices stay competitive.
With a commitment to sustainability, quality and innovative design, we believe potential customers will be interested in Instant Swim because it is different to any other training swimwear brand. It will offer them sustainable, stylish and high-quality swimwear, at an affordable price, which is a completely new concept within the competitive swimming industry.