---
press release
Published:
12 January 2023
Surrey Research Park celebrates tenants' year of award-winning success, and contributing over 10% of Guildford's economy
The University's home for businesses at the cutting edge of technology, science, space, and engineering enterprise – the Surrey Research Park – has published its annual review for 2022, setting out its achievements and progress.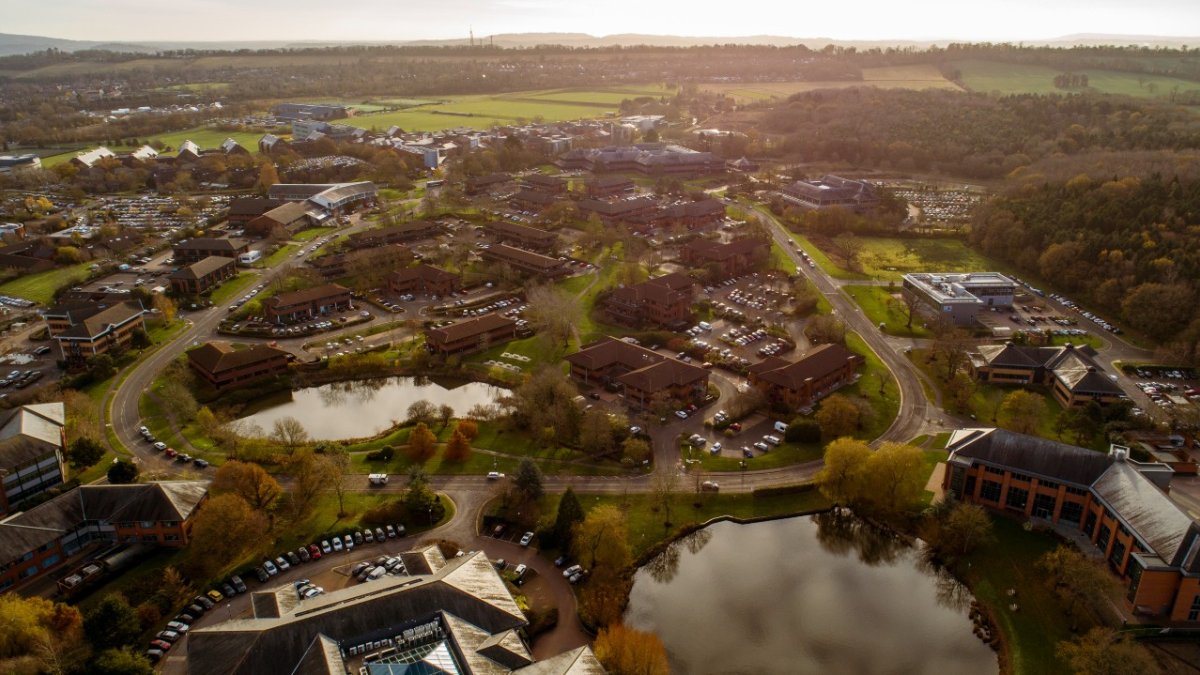 The Annual Review showcases the breadth, depth and success of the 203 businesses on the Surrey Research Park (SRP) and the various benefits of being co-located and being part of the University's wider innovation community. The report celebrates that the Park's businesses collectively constitute over 10 per cent of the Guildford economy. 
The Review celebrates the achievements of SRP companies and their significant contribution to enhancing research and student experience at the University. Work was provided by 28 per cent of the Park's companies to University students in the form of internships, work experience or professional training year placements (PTY).  
It also reports that SRP tenants are responsible for around 10 per cent of the University's industry-funded research and innovation.  
You can read the report on the Surrey Research Park's website.   
Introducing the review, Grant Bourhill, CEO of Surrey Research Park, wrote: "This has been a positive year for SRP and our businesses despite a challenging external environment." He added: "This report celebrates the achievement by SRP companies. There is much to celebrate. 
"From new ribonucleic acid (RNA) delivery mechanisms, to managing clinical trials of Lecanemab, hailed as a 'historic moment' in Alzheimer's treatment. From building new satellites, to changing the way animal cancer is treated. From developing a global atlas of environmental DNA data, to FDA approval for early-stage cancer detection.  
"The list goes on, and it was unsurprising that SRP companies collected five of the 16 available Surrey Business Awards. 
SRP companies together are responsible for 10 per cent of the Guildford economy; for the second year in a row, SRP has returned an increased financial performance with income of around £12m and a total return on investment of 25 per cent. 
Kathy Slack OBE was appointed Chair of Surrey Research Park Board in July 2022. 
Welcoming the report, she wrote: "This Annual Report is our success story, highlighting the achievements of a Research Park that delivers results. 
"This year, the SRP has supported 70 companies through the SETsquared Surrey incubator and is linking more companies into the emerging research and technologies of the University. This activity reinforces the importance of the wider innovation ecosystem, which is a unique feature of this Park." 
She added: "Since joining as the new Chair of SRP, I am struck by the many opportunities waiting to be harnessed by businesses and the University of Surrey, working independently or together.  
"Businesses bursting with innovation and ideas continue to be drawn to the Park, with new tenants such as Alliance Medical bolstering and complementing our community.  
"Of course, challenges still exist, whether it is skills shortages, energy prices or the continuing disruptions to supply chains but my sense, from talking to businesses, is that obstacles are tackled with the innovative spirit and tenacity to continuously improve and grow." 
Media Contacts
---
External Communications and PR team
Phone: +44 (0)1483 684380 / 688914 / 684378
Email: mediarelations@surrey.ac.uk
Out of hours: +44 (0)7773 479911