---
news
Published:
16 November 2021
Week in the life of an English Literature with Creative Writing student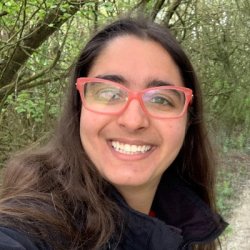 There are no monotonous days studying English Literature with Creative Writing at Surrey. There's always an informative lecture, exciting seminar and plenty of activities offered by the University and its societies to make student life as enjoyable as possible.  
Mondays 
Mondays are my busiest days. I have lectures for all my modules from 9am to 12pm, followed by a short break then one last lecture from 1pm to 2pm. Thankfully, lectures are recorded so students can always revisit them later to recap. I get to rest for the remainder of the afternoon. Sometimes I go to the Hive in the evenings, as they put on movie nights every Monday. Otherwise, I might book a room with a screen on campus and have a movie night with friends.
The lesson starts at 9am - that might sound early, but creativity knows no time and having a class early means I get to see the gorgeous sunrise over campus.
Tuesdays 
Tuesday mornings I have my Creative Writing seminar at 9am, which is my favourite as it always leads to some great discussions. The lesson starts at 9am - that might sound early, but creativity knows no time and having a class early means I get to see the gorgeous sunrise over campus.
I finish my seminar at 11am and the possibilities for the rest of the day are endless. I might do some coursework, meet with friends, go shopping in town or take a walk around Guildford.
Tuesday nights are when the Disney Society gathers for fun movie nights, or for a change I might go to the Tuesday Challenge night at Hari's bar around the same time.  
Wednesdays 
Wednesday morning, I have a Teaching English as a Foreign Language (TEFL) module. It's quite a unique module since you are assessed by producing a lesson plan and having a teaching practice. After that, I am mostly free, but there are some course-related activities on Wednesdays including ad-hoc events like lunchtime reading where students get a chance to read out their works and get feedback from staff. At 1pm I may go to a Pet Society meet up, which is a great way to relax, spend time with cute dogs and meet new people.  
If you enjoy clubbing and don't have 9am lessons the next day, I suggest going to Rubix, the Surrey campus nightclub, since they have Citrus events happening every Wednesday. 
Thursdays 
On Thursdays my mornings are free, so I usually spend them catching up on reading, organising notes and working on assignments. One thing I find useful when it comes to organising my schedule is to pin my reading lists and to-do-list on the wall to help me know exactly what I have to work on.  
I'm also part of The Stag Society, the University Magazine that publishes works written by students, so I might also work on some material for them. 
Thursday afternoon is the Postcolonial Fiction seminar which is another exceptional module as the focus is discussing Colonialism and its lasting effects. It's a short lesson from 2pm to 3pm so after that I usually spend time with friends. Occasionally, there is a Poetry Workshop on Thursdays from 4pm to 6pm which is really exciting and inspiring. Later in the evening, the University puts on movie nights at the Marquee on PATS Field.
Fridays 
Finally, Fridays I only have one class from 10am to 11am for my Modernism module and after that, the weekend commences. Usually, I go to town because there is a fruit and vegetable market which I definitely recommend checking out, before meeting friends for lunch.
In the afternoon I usually return home and either do some work, writing, reading or just enjoy myself. Later on, around 6pm, it's piano time. There are a few rooms in the Teaching Block that include a piano and students can book them after 6pm to practice. Later in the evening, I sometimes go to Rubix as Fridays are the most ideal day for nightclubbing.