---
news
A week in the life of a GSA postgraduate student
Simply put, no week is the same when you're studying on the Stage and Production Management masters course. Matt Rudkin gives an overview of a sample week which combines sections of work he did as Puppetry Assistant Stage Manager (ASM) and Acting ASM at the Guildford School of Acting (GSA), general student life and his placement as follow spot-operator at the Royal Academy of Music (RAM).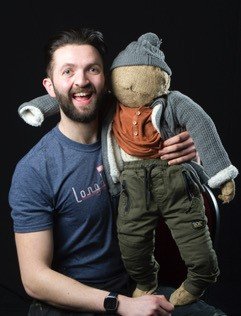 Lectures (focusing on practical and theoretical techniques) are more prominent during the first term to help you prepare for the upcoming roles you take on shows – be they at GSA or on professional placements. A massive benefit with this course is that it follows a hybrid platform of in-person and online teaching – with a lean towards online lectures. This style allows you to apply for professional placements during your studies as online lectures are recorded.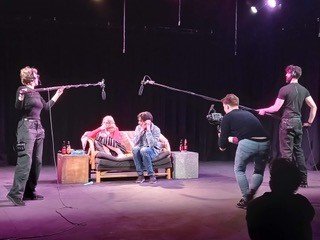 Monday
Rehearsals at GSA generally last from 11:00-19:00. As such, Stage Management (SM) need to be in at least one hour beforehand to discuss daily agendas with the Stage Manager and assist with setting up the rehearsal room. I'll wake up at 06:30 for breakfast and then be in the gym for 08:00.
11:00-14:00 will be a fight choreography session so my time could be spent assisting the Deputy Stage Manager (DSM) with blocking, timing fights for the fight choreographer, or assisting the cast with resets.
14:00-15:00 will be a lunch break for the cast which is an opportunity for the SM team to discuss any queries with the director/creative team. Our DSM regularly updated us with any new requests rather than leaving it until the show report so we're able to be very responsive to the creative vision. We'll then take lunch once discussions have wrapped up.
15:00-19:00 will be responding to any outstanding tasks in our production office at Ivy Arts Centre on campus. One task I took on was the hiring, transport and maintenance of 16 industrial stacking chairs. This involved collaborating with the respective companies on ideal collection dates and meeting with the production manager to sort out payment.
19:00 onwards will be assisting the DSM with clearing out the rehearsal space. Our team would take it in turns (via online schedule) to be in rehearsals at the end of the day so members of the SM team weren't staying late on consecutive days.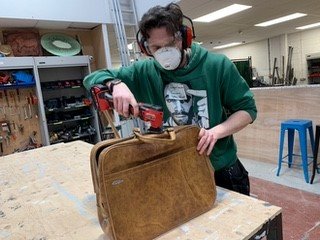 Tuesday
Once again, I'll be up for 06:30 and in the gym for 08:00. Keeping fit is my daily treat and I consider it to be very important in our industry given we can often get involved in tasks involving heavy lifting and carrying. I'll follow a Pull, Push, Legs (PPL) routine with a day's rest then I'll repeat.
Today will be spent fixing the limbs and neck for the puppet. I'll be based in the GSA Scenic Workshop – where our sets are built – for the whole day as I can access additional materials and tools and discuss design concepts with the workshop team.
One of my favourite moments experimenting with the puppet was figuring out which manipulating rods I wanted to use. I wished to stay away from wooden rods and choose a niche material such as suitcase handles which allowed for different choices of puppeteer manipulation and fit within the shows creative vision.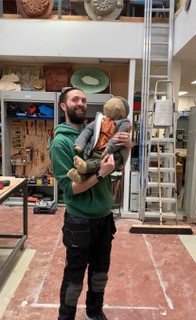 Wednesday
Today will be a focus on props sourcing from 11:00-14:00. GSA has taken massive steps in being green when creating shows – such as the reusing/borrowing of props from previous shows/ local theatre groups, and staying away from using delivery companies. I'll then take lunch in prep for the weekly production meeting at 14:30 where all departments involved in the show can discuss how their role in meeting the creative vision is proceeding.
I'll then work in the production office for the remainder of the day – looking at sorting out my paperwork/track for the show with all necessary cues and have my SM check it over.
Wednesday evenings are generally a mate-date with one of my course-mates where we'll cook something new each week and then watch the latest episode of a series we're currently watching. Latest creation is beef burritos (see here for recipe) and we're currently watching the latest series of The Boys on Amazon Prime.  
Thursday
Today will be a hybrid session with 11:00-13:00 being spent in the rehearsal room rehearsing my scene in combination with assisting the DSM and cast with any new prop additions. I'll then break for lunch in prep for our weekly course meeting with our course leader at 13:30. Having weekly meetings is great as you can bring up any queries and see an efficient turnaround by the following week if queries haven't been solved during the meeting.
I'll spend the rest of the afternoon either back at accommodation or in the library undertaking essay research. The library is great with a fantastic spectrum of books, open 24 hours and has numerous nearby food options – personal favourite are Simply Fresh (located on the library ground floor) for their cookies, or the souvlaki truck (located just behind the library) that serves amazing Greek food.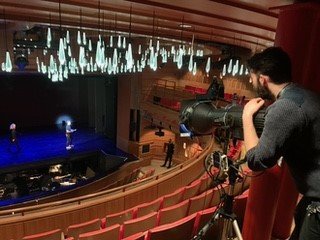 Friday
As stated before, the ingenuity of the course structure means you can apply for professional placements. My work with RAM has been one of several opportunities I've had the pleasure to work on this year.
I'll be up for 07:00 so I can be at the theatre for 09:00 for a 09:30 start-time. We'll then have three sessions lasting three hours with 1½ hour breaks in-between. My focus during these sessions is getting accustomed to manipulating the follow-spot and iris (training sessions are offered at GSA) in combination with writing my track-sheet and responding to requests by the lighting designer.
Hours are long and slightly unsocial within this side of the theatre industry but it always helps when you're getting paid to work.
Weekends:
I'll take Saturdays generally for myself to get work, washing and meal-prepping done. Sundays are where my mates and me will usually get up to shenanigans. I must give a massive shout-out to our local, The Britannia – brilliant Sunday roasts, dog-friendly, great board game selection and it's just really cosy. The local gameboard café, Unplug + Play, is a great place to lose yourself for an afternoon (and evening if you've nowhere else to be). The local leisure centre, Spectrum, also offers ice-skating sessions which is so much fun. If none of those take your fancy, the River Wey passes through the city centre and allows for some wonderful walks.
Course shout-outs
"The name GSA also makes fellow theatre industry peers take another look at you when working professionally – the reputation is clearly well-known and received"
It's cliché-ed but I've made so many wonderful friendships that will last a lifetime during my time at GSA. On top of that I've made incredible industry connections in the space of a year – number 1 must be Mervyn Millar who is the creative genius behind the puppetry seen in War Horse. The name GSA also makes fellow theatre industry peers take another look at you when working professionally – the reputation is clearly well-known and received.
Again, having the option to go on placements is easily the best part of the course – especially when London-based theatre is resurfacing after so long (it's a hop, skip and a jump to get to Waterloo as well). Please don't be deterred if you don't get offered gigs – just keep applying as they pop up. Plus, it's not necessary for you to live the full experience at GSA. There are so many opportunities to get involved in during all three terms.