---
feature
A week in the life of a music student
First year BMus (Hons) Music student Edward Bellett-Travers tells us a bit about what it's like to study at Surrey – from his typical timetable, to attending concerts and heading out for a jog around campus.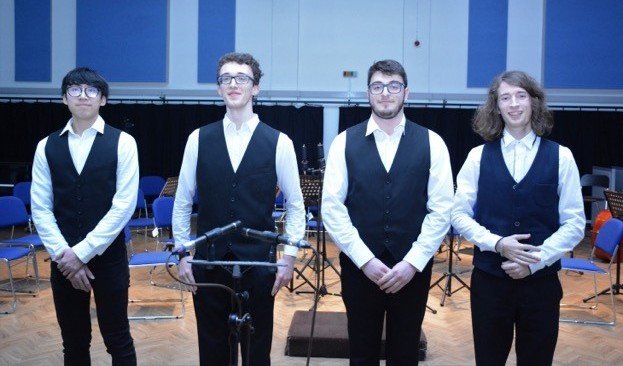 A typical week
Monday
"Studying music at Surrey means no two days are ever the same. On Monday mornings, I could be sitting in a lecture on pop music talking about Adele's superb and varied music. Then, following a quick lunch, I might find myself in discussion with a world expert in Postmodernist music, chatting about a piece by the great improviser and composer, John Zorn. I then finish my day by scaling the dizzying emotional heights of a Brahms overture, playing the cello in the University orchestra.
Tuesday
After jotting down some ideas for an essay on my favourite album by The Beach Boys, at 11am I usually have a singing lesson – with a famous tenor. This involves vocal exercises and singing through some songs, ranging from Italian Arias to Benjamin Britten, to prepare me for my end term solo exam. I often then attend a lunchtime rehearsal for chamber choir, which is led by a well-known conductor. The rest of my Tuesday is filled with a seminar on industry experience or a two-hour masterclass until 4pm. I then have a break until the evening, when the student-led string orchestra rehearses. This is a chance for us to come together and enjoy ourselves through playing film music and classics, such as Saint-Saëns' The Carnival of the Animals, in preparation for the termly ensembles concert.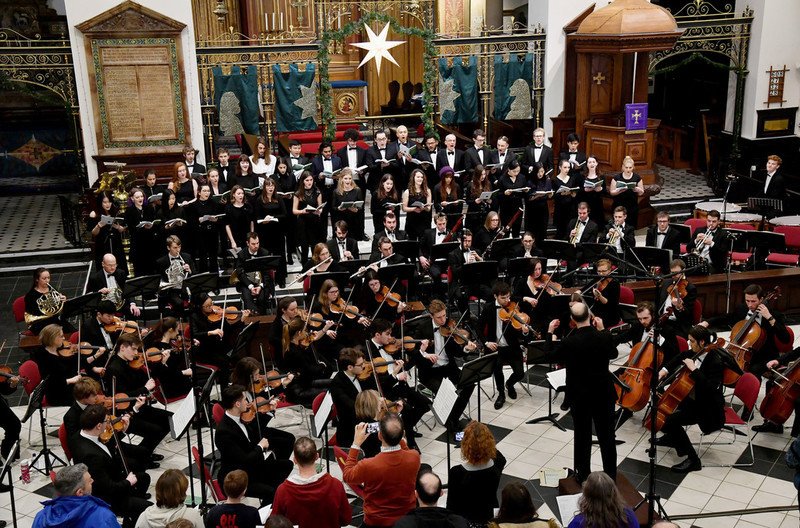 Wednesday
My Wednesday mornings are generally free, unless I'm performing or managing one of the many lunchtime concerts which allow music students to showcase their talents. In the afternoons, it's time to do some sport with the athletics or ballroom and Latin dancing clubs, training to compete in our next major competition.
Thursday
Each Thursday, my timetable alternates so I either have a lecture or a seminar on arranging performance and composition. Everyone in the year enthusiastically tries their hand at composing short melodies, which are then played by other students or the composer themselves. After this, I go for a short walk or bus ride to the local supermarket to do my shopping, or sometimes I go to the weekly farmers market in the Students' Union. I then have the rest of the day to finish some work and the evenings to enjoy a concert by a visiting band, ensemble or composer.
Friday
My day starts at 11am with a lecture on the Romantic composer Mahler, his cinematic music filling the lecture theatre, as the lecturer opens the floor to a tough question about harmony. After this, I meet with the University barbershop quartet to sing fantastic close harmony acappella. I then have the rest of the day free to socialise with friends on-campus, work in the library or practise for my next performance in one of the many practice rooms available in the Performing Arts and Technology (PATS) building."
"Everyone in the year enthusiastically tries their hand at composing short melodies, which are then played by other students or the composer themselves."
Choosing Surrey
"For me, it's the variety that makes Surrey's BMus (Hons) Music course unique from other universities. I love the new opportunities each day. In the evening, I might be managing an event for a visiting band or playing my cello in the string orchestra, planning a barbershop performance for a charity ball or organising a sectional for the University orchestra's end of term concert.
What I love most about Surrey is the beauty and diversity of our campus. To be able to go for a jog round the lake in the summer and hear birds whistling in the trees, or to see the sun set perfectly behind the cathedral from the top of Stag Hill on a winter's evening, is a magical opportunity."
Discover more about life at Surrey and our courses in music and sound recording.