---
news
Published:
09 November 2021
Women in Civil Engineering at Surrey
Our civil engineering degree programmes have proved a successful training ground for female civil engineers who are now forging their way in the world's leading engineering companies. Meet some of our talented staff, students and alumni, and find out why they chose to pursue a career within this fascinating discipline.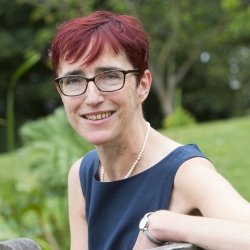 Professor Abigail Bristow
Professor Abigail Bristow
Head of Department of Civil and Environmental Engineering and Professor of Civil and Environmental Engineering
Appointed as Head of Department in September 2016, Professor Abigail Bristow has long experience in transport management and policy, focusing particularly on two of the negative environmental effects of transport: noise and climate change. One key area of her work has been minimising the environmental effects of road transport through research into low carbon vehicles.
She says, "I think this is a really exciting time to be in civil engineering. We have an increasingly urban population needing more and smarter infrastructure. We now have an ageing infrastructure – particularly in water, sewage and drainage – and our road system is at capacity. We also face new challenges in terms of sustainability, and of course we have new technologies that can help us design, monitor and repair systems throughout their lifecycle.
"As Head of Department, I want to create the best possible environment for staff and students to do their best work, and also to convey to prospective students just how exciting a discipline this is."
Professor Bristow is a Fellow of the Institute of Acoustics and the Royal Society of the Arts, and was a member of the board of the Low Carbon Vehicle Partnership from 2007 to 2011.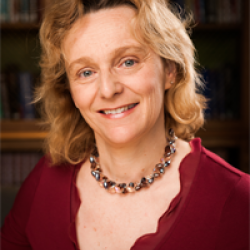 Dr Susan Hughes
Dr Susan Hughes
Senior Lecturer in the Department of Civil and Environmental Engineering
How did you get into engineering? What inspired your love for the subject?
I went to an all-girls grammar school where young ladies, like myself, went into humanities, nursing, teaching or social sciences. I really liked maths and physics but I wanted to do something more applied rather than just the "pure" subjects. So engineering was an option. At the time, I didn't have the confidence to commit to a specific engineering discipline but instead I found a course at Nottingham University called Mathematics with Engineering. This was perfect for me as it was essentially an applied maths degree with all the applications/options being taken in the different engineering subjects, so it was here that I got my first taste of engineering. 
Did you have a female role model in engineering or science when you were younger?
Unfortunately, there weren't many females in my area at the time. However, I was very inspired by Ann Dowling (now Professor Dame Ann Patricia Dowling DBE, FREng, FRS) who became the first female professor at Cambridge University when I was working at the Whittle Lab at Cambridge University. 
What particular aspect of your discipline intrigues you the most?
I really feel that I have three disciplines – fluid mechanics, maths and computing, which all offer different components. The fluid mechanics has a practical element associated with it and the chance to work with flumes and experimental rigs is always exciting and sometimes unpredictable. The mathematics offers the academic rigour and poses many problem solving challenges and both these subjects are closely interlinked with the computing. The big challenge with computing is that it is always such a rapidly developing and changing field that it is a constant battle to stay up-to-date with the changing technology!
What are your future research ambitions?
I'm very versatile in terms of my research. I research across several disciplines ranging from numerical weather prediction, intelligent transport systems, water quality and sustainable infrastructure. I would like to see this continue in the future. 
What's the most rewarding aspect of teaching your discipline?
Definitely the students! I thoroughly enjoy engaging with students at all levels. In the first year, the students have never experienced any fluid mechanics before and are often quite baffled by new concepts. Towards the end of the year, they are much more confident and successfully tackling most questions. By second year, the students are in their stride and do more applied fluid mechanics, group work and developing posters. The banter is much more of a two-way process and the students really embrace the subject. For me, the most rewarding part is watching this transition over the two years and seeing the students mature, develop new skills and gain much more confidence in fluid mechanics.
Do you feel that enough is being done to encourage women to pursue a career in engineering?
A lot of work is being done to encourage women to pursue a career in engineering and we have some excellent female ambassadors in the field as well as professional bodies such as WES (Women's Engineering Society) which specifically support female engineers. But we can always do more.
There are two areas that I believe need targeting. Firstly at the school level (year nine pupils), before girls have chosen their options so that they do not miss out on the opportunity of selecting engineering as a career choice. And secondly at the postgraduate stage, to encourage women to stay in the field, especially if they wish to combine family and/or part-time work and maintain their career profile.
Do you have any advice for aspiring female engineering and science students?
Go for it!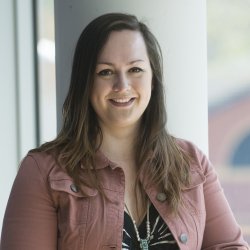 Helen Piggott
Helen Piggott
Alumna Helen Piggott is involved in a variety of projects in her current role as Graduate Civils and Drainage Engineer at WSS Construction Consultants – from the massive Crossrail scheme to a modular school build in Surrey. Her daily work includes a huge range of areas including design management, ensuring BIM compliance, managing contractual issues, detecting clashes with other engineering disciplines, and presenting schemes to finance boards for funding approval.
Having graduated from Surrey's MEng Civil Engineering with a first class honours degree in 2015, Helen's first role was Graduate Engineer at Tony Gee, where she worked predominately on Thames Tideway Tunnel, before moving to WSS.
She says: "I thoroughly enjoy my career in civil engineering; the variety on a daily basis keeps things interesting, and being able to see your designs come to fruition as a physical 'thing' is very rewarding."
Helen is now an active STEM ambassador and Liaison Officer for the Kent and East Sussex Graduates and Students ICE (Institution of Civil Engineers) Group. She says: "I take pride in engineering and tell anyone who will listen about it - I am certain I bore all my friends and family silly when I tell them about how you don't have to steer on a motorway because the road has been designed to do it for you!"
During her time at Surrey Helen was South East regional winner of the Women in Property (WiP) National Student Awards.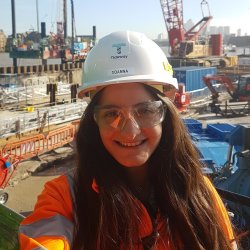 Ioanna Papanikolaou
Ioanna Papanikolaou
"I'd recommend to anyone applying for a Civil Engineering degree at Surrey that they take up the various work experience opportunities offered by the University and also consider applying for the Surrey/ICE Scholarship," says Ioanna Papanikolaou, a graduate of Surrey's MEng Civil Engineering programme. "As a scholarship winner I was matched with Costain, where I undertook paid summer placements and an industrial placement year – which were excellent opportunities to gain hands-on experience."
Ioanna is now employed by Costain in the dual role of Site Engineer and innovations champion on the Thames Tideway project. The biggest 'super-sewer' in the world, the Thames Tideway Tunnel will capture millions of tonnes of sewage which would otherwise overflow into the river, and deal with it in a sustainable way.
Ioanna was highly commended in the Best Young Woman in Construction category in the European Women in Construction and Engineering Awards 2016.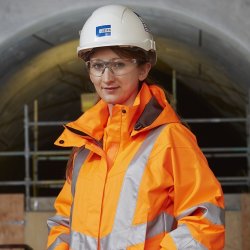 Lydia Walpole
Lydia Walpole
A graduate of the University's MEng Civil Engineering programme, Lydia Walpole has achieved great things since entering the industry six years ago. Sponsored by Costain through a Surrey/ICE scholarship while at Surrey, she joined the company on graduating, became Chartered in 2015, and has now been promoted to the role of Senior Agent. Currently working on Crossrail, she is responsible for a team of civil and mechanical engineers overseeing the construction of Royal Oak Portal – a project critical to the overall Crossrail programme.
Lydia was named Best Young Woman in Construction in the 2015 European Women in Construction and Engineering (WICE) awards in recognition of her rapid career progression and her unique contribution to the industry. Lydia has developed a range of women's PPE which enables women to be comfortable and perform properly on site. A first in the industry (previously women had to wear PPE in men's sizes), this is helping to erode the barriers to women entering the profession.
In addition, Lydia was the first female contractor to be selected as the ICE President's Apprentice in 2001-12, and got the opportunity to shadow ICE President Richard Coackley for a year.
Talking about her time at Surrey she says, "I feel that there was a culture where you could achieve anything you wanted to: the sky was the limit and you were supported by lecturers to achieve that. I've carried this on from university into the workplace. Civil Engineering was definitely the right career path for me. Every day brings a new challenge, and I get to work with teams of fantastic people across the globe on really exciting engineering projects."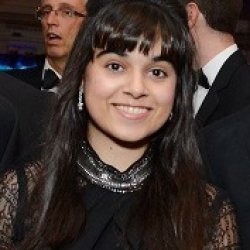 Lily Webb
Lily Webb
Civil Engineering alumna Lily Webb – now employed by Atkins Global and seconded to London City Airport– won high profile recognition for her entrepreneurial activities during her time at Surrey, winning both the NCE (New Civil Engineer) 'Dragon's Den' and Surrey's 2016 Business Enterprise Student Support Scheme. She also represented the University in the Santander Universities Entrepreneurship Awards.
In the NCE 'Dragons' Den' competition, Lily and her two teammates (both graduates working for Atkins) designed 'Siteband', a unique wearable band that keeps the user safe on construction sites. The idea received a unanimous vote from the panel of expert judges and won over 40 percent of the audience vote.
Lily says, "The 'Dragon's Den' competition was a great opportunity to generate a range of innovative ideas, to really understand the challenges facing the construction industry over the next ten years, and to investigate ways of using new and existing technology to address these problems."
Lily was also South East regional winner of the Women in Property National Student Awards in 2015.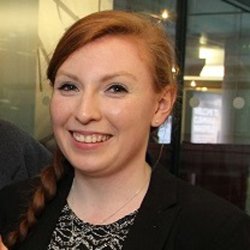 Poppy Tilt
Poppy Tilt
Third year Civil Engineering MEng student Poppy Tilt was named South East regional winner of the highly competitive Women in Property (WiP) National Student Awards in 2016 – making it the fourth consecutive year a Surrey student has landed the award.
Poppy impressed the awards' judging panel with her presentation on the design for an immersed tube tunnel in Hong Kong, which she worked on during her Professional Training year at Capita. As the winner of a Surrey/ICE (Institution of Civil Engineers) scholarship to study at Surrey, Poppy has been paired with Capita and will join the global company's design department on graduating from the University.
She says, "I was honoured to be nominated for the Awards. I've learned a lot from the process and the regional awards evening was a great networking event."