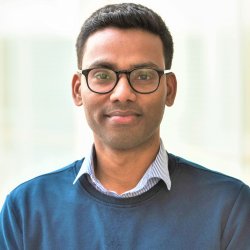 Dr Ajith Kumar
---
Research Fellow
M.Sc., (Chemistry) Ph.D., (Chemistry)
Energy & Process Engineering Lab (05BC01)
About
Biography
Dr Ajith Soman Narayanan has received his PhD in 2021 from Sathyabama Institute of Science and Technology, Chennai, India. 
He joined to Prof. Qiong Cai & Dr. Bahman's research group as a post-doctoral research fellow in November 2022. His research focus is on fabrication of tubular solid oxide steam electrolyzer (SOSE) and evaluation of its electrochemical performance. The project is funder under EPSRC in collaboration with Robert Gordon University, Scotland and National Physical Laboratory (NPL)-UK.
Research Positions / Experiences
2019-2022: Scientist-C, Centre for Nanoscience and Nanotechnology, Sathyabama Institute of Science & Technology, Chennai-India
Nov 2018-Jan 2019: Visiting Researcher, Tzu Chi University, Taiwan
July 2018-Nov 2018: Short term research internship, National Dong Hwa University, Taiwan
Awards & Appreciations
"Col. Dr. Jeppiaar est Thesis Award " by the Board of Research & Management of Sathyabama Institute of Science and Technology (2022)
Second Prize winner at National level flash talk competition on Ceramics Materials for Solid Oxide Fuel Cells organized by ARCI-Indian Ceramics Society & University of Hyderabad held on 21st October, 2021
International visiting fellowship funded by Ministry of Education  (MoE) Taiwan (2019)
2 Best Oral presentation Awards (2018)
Research fellowship funded by Ministry of Human Resource and Development (MHRD)-India (2015-2018)
Areas of specialism
Solid electrode & electrolytes materials for SOEC & SOFC;
Synthesizing of ceramic materials, thin films nanostructures by pulsed laser deposition (PLD) & Characterization;
X-ray diffraction, Raman Spectro (micro)scopy, electron microscopy & electrochemical techniques (EIS, I-V & Potentiometry etc., )
My qualifications
2021
Ph.D., (Chemistry)
Thesis entitled: "Investigation on Microstructural and Electrical Properties of Ceria based Electrolytes and Electrodes for Intermediate Temperature Solid Oxide Fuel Cells"
Sathyabama Institute of Science and Technology, Chennai, India
2011
M.Sc., (Chemistry)
University of Madras, Chennai-India
Previous roles
2011 -
2015
Associate Research Analyst: Analyzing, Coding and indexing worldwide chemical Patents to DWPI (Derwent World Patent Index) for patents retrieval
Thomson Reuters, Chennai-India
2019 -
2022
Scientific Assistant:
Synthesis and characterization of advanced materials for solid oxide cells (SOFC/SOEC) application
Handling in-charges: (i) Raman Microscope (Renishaw inVia Raman microscope, UK), (ii) potentiostat/galvanostat with impedance analyzer BioLogic, SP300, France), (iii) Pulsed laser deposition (PLD) Unit, Microtech, Italy.
Supporting to scientist in various projects, organizing/co-ordinating workshops/seminars
Sathyabama Institute of Science and Technology, Chennai, Tamil Nadu-India
Affiliations and memberships
Life time Member
Life time Member of Electron Microscopy Society of India' (EMSI), Membership Number LM-1417
Research

Research interests

Advanced materials for green energy conversion devices
Durable cathodes for next-generation solid oxide electrolyzers (SOE) and fuel cells
Nanomaterials (ceramic thin films/coatings) for clean energy high temperature solid state devices

Research collaborations

Prof. Yen-Pei Fu

Professor & Chairman

Department of Materials Science and Engineering

National Dong Hwa University, Shou-Feng, Hualien 97401, Taiwan

Dr. K. Prabahar

Scientist 'D', Advanced Magnetics Group

Defense Metallurgical and Research Laboratory (DMRL)

Hyderabad, Telangana 500066, India