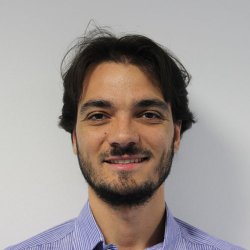 Alessandro Scamarcio
---
Postgraduate research student
My publications
Publications
This paper presents a traction controller for combined driving and cornering
conditions, based on explicit nonlinear model predictive control. The prediction
model includes a nonlinear tire force model using a simplified version of
the Pacejka Magic Formula, incorporating the effect of combined longitudinal
and lateral slips. Simulations of a front-wheel-drive electric vehicle with multiple
motors highlight the benefits of the proposed formulation with respect to a controller
with a tire model for pure longitudinal slip. Objective performance indicators
provide a performance assessment in traction control scenarios.
Anti-jerk controllers compensate for the torsional oscillations of automotive
drivetrains, caused by swift variations of the traction torque. In the literature
model predictive control (MPC) technology has been applied to anti-jerk
control problems, by using a variety of prediction models. However, an analysis
of the influence of the prediction model complexity on anti-jerk control performance
is still missing. To cover the gap, this study proposes six anti-jerk MPC
formulations, which are based on different prediction models and are fine-tuned
through a unified optimization routine. Their performance is assessed over multiple
tip-in and tip-out maneuvers by means of an objective indicator. Results
show that: i) low number of prediction steps and short discretization time provide
the best performance in the considered nominal tip-in test; ii) the consideration
of the drivetrain backlash in the prediction model is beneficial in all test cases;
iii) the inclusion of tire slip formulations makes the system more robust with respect
to vehicle speed variations and enhances the vehicle behavior in tip-out
tests; however, it deteriorates performance in the other scenarios; and iv) the inclusion
of a simplified tire relaxation formulation does not bring any particular
benefit.