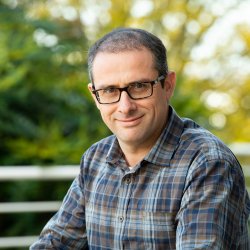 Professor Alex Gershkov
---
Professor of Economics
BA, MA, PhD
Biography
Alex received his BA in Economics and Accounting, MA in Economics and PhD in Economics from The Hebrew University of Jerusalem (Israel), completing his doctoral studies in 2005. Since that time, he has worked as a Research Fellow and Junior Professor at the University of Bonn, before returning to The Hebrew University of Jerusalem to become a Senior Lecturer (2009-2012).
Alex divides his time between Surrey University and his role as Professor of Economics at The Hebrew University of Jerusalem.
His professional activities include Associate Editor of the International Journal of Game Theory, Editorial Board Member of the Review of Economic Studies, Program committee member of ESEM 2012, and Program committee member of EC 2010.
Research
Research interests
Alex's main research interests are in Microeconomic Theory, Information Economics, Mechanism Design and Contract Theory. His recent work focuses on dynamic mechanism design and dynamic contracts and explores different aspects of sustaining incentives in dynamic mechanisms and environments.