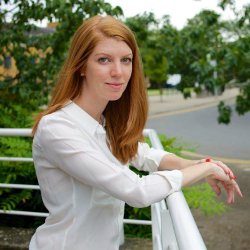 Dr Alkmini Gkritzali
---
Senior Lecturer in Tourism
BSc, MA, MRes, PhD
Biography
Dr. Alkmini Gkritzali is a Senior Lecturer in Tourism at the University of Surrey, where she is also the Programme Leader of MSc in International Tourism Management and the SHTM Dissertation Leader. Alkmini has received a BSc in Marketing and Communication from Athens University of Economics and Business (AUEB) and an MA in Creative and Media Enterprises from the University of Warwick, before pursuing a PhD on the way motion pictures influence travel destinations at Cass Business School, City University London. At Surrey, Alkmini teaches various courses, such as Destination Management and Marketing, Tourism Services Marketing and Strategic Brand Management. Her research interests include the way destinations and their images develop and transform in everyday life, through popular culture projections, offline and online storytelling, intercultural stereotyping or even major social, political or natural crises. Alkmini is passionate about destinations, viewing them not as products, but as powerful experiences, which can create memories of a lifetime and change people's lives.
Areas of specialism
Destination management and marketing
University roles and responsibilities
Programme Director - MSc in International Tourism Management
Research
Research interests
Destination marketing, Destination branding, Online and offline storytelling, Social media, Social cognition, Value co-creation in tourism, Popular culture tourism, Film-induced tourism
My teaching
Tourism Management - Level 4
Strategic Brand Management in Tourism - Level 6
Strategic Marketing and Brand Management in Tourism - Level 7
Research Methods - Level 7
Destination Management and Marketing - Level 7 
My publications
Highlights
Gkritzali A, Gkritzali D, Stavrou V. (2017) 'Is Xenios Zeus Still Alive? Destination Image of Athens in the Years of Recession'. Sage Journal of Travel Research,
Publications
The emergence of social media necessitates a fundamental rethink of marketing practises as brands are now co-created with social media users. Destination management organisations (DMOs) therefore need to develop new social media strategies. This thesis suggests that DMOs ought to strengthen their storytelling capabilities as it is an essential tool in increasing social media engagement. A conceptual framework is therefore developed drawing on four particular sociological concepts: storytelling, mobilities, performance and performativity. Based on Foucauldian thinking, they are conceptualised as 'technologies of power', which are techniques used in the practical operation of power. They demonstrate that a combination of individuals' storytelling performances, performative acts and mobilities enable stories to spread and influence brand narratives. DMOs can employ the conceptual framework to understand and analyse the underlying mechanisms that shape social interaction in social media and they can operationalise the technologies of power to engage with social media users and spread their preferred brand narratives. The findings show that social media platforms have grown into a 'virtual apparatus' utilising institutional technologies to suppress certain kinds of user behaviour. However, some users resist the constraining structures and they use the technologies of power to mediate engaging stories. The findings also show that DMOs' social media strategies and practices are largely dependent on alliances with various storytellers. DMOs employ a strategy of 'free value utilisation' by sourcing content from users, while also enticing users to contribute stories to their social media platforms by providing culturally driven raw material. It is recommended that DMOs should operationalise the conceptual framework in their social media strategies to mediate appealing narratives that connects with people. They should also employ a strategy of 'experiential micro-branding', where every shared user story can be utilised as it represents a micro-brand appealing to a specific target segment.
The Business Events industry has tremendous economic importance for many destinations worldwide. With increasing competition, it has become crucial for event organisations to find innovative ways to add value and to make their events more distinctive for their attendees and to enhance the sustainability of this industry. There is evidence that the event mobile application is one of the most popular tools that is used to enhance event experiences. However, there is little research as to whether attendees actually use or like this technology. Additionally, it is critical for event organisers to understand the impacts of this technology on attendee satisfaction and future intentions, which helps underpin the sustainability of this industry. Thus, this study attempts to fill this gap by establishing a conceptual framework – namely, the 'Business Events IS framework' - to investigate how event mobile application adoption impacts the business events industry. Employing a sequential mixed-methods approach with a three-stage research design, data were collected in the UK using semi-structured interviews, participant observations and a quantitative survey. Phase 1 employed a semi-structured interview with 13 event organisers, while Phase 2 of the research involved 25 semi-structured interviews with conference attendees as well as participant observation at three conferences. Phase 3 conducted a survey involving 428 conference attendees. Thematic analysis was applied to analyse data collected in Phases 1 and 2, and covariance-based structural equation modelling (CB-SEM) was undertaken in Phase 3.
In this study, findings are divided into three main parts. First, the findings from the interviews with event organisers demonstrated that event mobile applications play an important role in facilitating engagement between event organisers and attendees. This engagement occurred in a variety ways including information provision, excitement creation, engagement with sessions, games, facilitation of attendee networking, evaluation of event sessions and promotion of subsequent events. Furthermore, the findings also identified internal and external factors that shape ICT adoption, particularly event mobile applications in conferences. Attendee apathy and technological issues were found to be key barriers to the adoption of event mobile applications. The findings from this first section were combined and conceptualised as a framework of 'Event mobile application adoption process – event organiser's perspectives.
The second part of the findings was based on interviews with attendees as well as participant observations. It was found that perceived engagement benefits motivated the use of event mobile applications. These perceived engagement benefits were perceived usefulness, perceived enjoyment and social benefits. In terms of engagement activities, information searching, planning, engaging and socialising, sharing event experiences, navigating and sharing event contents were identified as activities that attendees usually perform through their event mobile application. This study also identified the importance of event mobile application experience as a key determinant of overall event satisfaction, re-attendance intention and continuance intention. The findings from Phase 2 were then combined with literature relating to the proposed conceptual framework and further investigated in Phase 3 of the study. The key elements that were explored are perceived usefulness, perceived enjoyment, social benefits, event mobile application experience evaluation, overall event satisfaction, continuance intention and re-attendance intention.
Finally, the findings from a survey showed that perceived engagement benefits have a positive influence on overall event satisfaction except for perceived enjoyment. However, these factors have an indirect influence on overall event satisfaction through event mobile application experience evaluation. In addition, it was found that the adoption of event mobile applications influences the long-term of business events in terms of re-attendance and re-use of the event mobile application through overall event satisfaction.
The findings of this study provide an increased understanding of event mobile application usage in the business events industry and how it can impact to the sustainability of this industry. More specifically, this study identifies the factors that motivate attendees to adopt an event mobile application and demonstrates how event organisers and attendees use event mobile applications to engage with each other. The findings also underpin a range of strategies to help event organisers and event mobile application developers to be more successful in using this technology. These strategies include the provision of more IT support (e.g. Internet connection, charging area) and improved event mobile application features (e.g. interaction features, agenda). Additionally, event organisers need to do increase the level of mobile application promotion they undertake in order to increase the event mobile application adoption rate.
To mainstream sustainability, we need to understand the value gained from sustainability by users. We apply a user-centred design methodology to develop an agile, iterative, incremental and reflexive process to understand the sustainability value proposition for Lufthansa City Center travel agents. We analyse the failure of sustainability communications within the online platforms used by these agents and explore why the agents factor out sustainability information during the customer sales process. We identify how agents and customers understand sustainability, and we explore opportunities to co-create sustainability value. Furthermore, we prototype, and then test, methods of empowering travel agents to communicate sustainability to their customers as a value-adding proposition.
Advances in technology have brought back the concept of home sharing and transformed it into a global phenomenon that is peer-to-peer (P2P) accommodation. Yet, the vast growth of P2P accommodation also pairs with increasing customers' dissatisfaction. There is an increasing evidence of guests experiencing service failures during their stay with P2P accommodation, resulting from various service encounters, such as guest-host relations, technological challenges, customer service interactions, etc. Though the concept of service failure has received considerable attention in the past, most studies have been limited to investigating its patterns and impacts from a dyadic customer – provider relationship perspective, where the provider is solely responsible for service failure. Through P2P platforms, how service is delivered and experienced is fundamentally changed as more entities are involved in service system. In P2P accommodation system, service is delivered through different service encounters within the triadic relationship: customer – service provider encounter and customer – platform provider encounter. This new form of service delivery has been neglected in current service failure research. Therefore, in order to fill the research gap and provide managerial implications, this study explores the major forms of service failure in P2P accommodation and provides effective recovery strategies accordingly.
Efforts to design and communicate sustainable tourism products have been based on the premise of explicit market demand for sustainability. This study tests whether it is possible to design mainstream sustainable tourism products that circumvent customer scrutiny of their sustainability features, by making sustainability implicit (as part of quality product design) and communicating hedonistic benefits instead. This is akin to using the peripheral route of communication, as explained in the Elaboration Likelihood Model, as the central route emphasises the consumer-driven message of overall quality of experience; the approach lessens the need for customers to be conscious of the sustainability consequences of their actions. The methodology proposed to achieve this is User-Centred Design (UCD), which places insights into customer needs, values and demands at the heart of new product design. We designed sustainable tourist activities using UCD and then appraised customer demand for them. Although this may seem counterintuitive, the results show that it can be more effective than traditional methods in mainstreaming sustainable activities, through choice-editing of unsustainable ones and normalising the appearance and communication of sustainability, provided a focus on sustainability is maintained by the product provider.
This paper explores the way location myths conveyed through Hollywood movies influence consumer expectations, by looking at how the city of Paris is represented in motion pictures. We develop measures of the location image of Paris in a sample of Hollywood movies released between 1985 and 2011. These are used to examine the images of Paris held by American consumers who have never directly experienced the location. Our results show that Hollywood movies project specific location images and myths of Paris. More specifically, we show that these images fall into two distinct stereotypic patterns and are widely shared by consumers. Individuals who seek information on location from popular culture are shown to embrace and reproduce Paris myths. The study concludes that the cultural industries influence the cognitive consumption of location through the production and dissemination of meaning, via stories and fuelled by perpetual myth making.
The article discusses a study that explores the role of value creation in the value created by consumers in their consumption activities and experiences. Topics covered include the relationship between value consumer creativity and the consumption of brands, the emergence of online platforms of exchange and the development of new consumer experiences, and on how value is crated when consumers integrate and share resources to others. Also mentioned are the psychological, social and cultural mechanisms that drive value creation.
This study examines the evolution of the city of Athens' destination image from 2005 to 2015, in order to exploit the impact of the recent economic recession on individual perceptions. It uses advanced web content mining to analyze Tripadvisor messages that were posted in Athens Travel Forum. The findings show that the image of Athens has remained positive, facing a significant, but short-term, shift during the first years of the crisis. The findings also reveal that the destination image of Athens is only partially shared by people residing inside and outside Greece, and that non-Greek residents have more favorable perceptions towards the destination. The study expands understanding on destination image literature by demonstrating the normative nature of destination images, which - once established - can be particularly resistant to change, even during long term crises.
This research note uses sentiment analysis of online conversations to identify how long it takes for individual attitudes to turn favourable again during a sustained destination crisis. The note's main aim is to give insights to researchers and DMOs on the recovery process of online destination sentiment, as an indicator of destination image, by investigating the representation of the city of Athens in a popular forum. The case of Athens is topical, as the city faces a sustained financial crisis, which officially began on April 2010 and has been marked by a series of major financial events, such as credit downgrades and international loans. The research note is part of a wider research project, which aims to respond to the growing financial instability that has affected multiple destinations, and its multiple impacts on tourism.