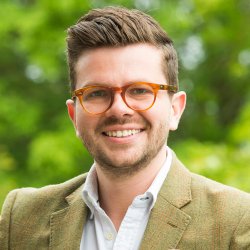 Dr Allan Kilner-Johnson
---
Associate Professor in English Literature & Associate Dean (Doctoral College), Faculty of Arts and Social Sciences
BA (Baldwin-Wallace), MA (Leeds), PhD (Leeds)
About
Biography
Allan Kilner-Johnson's research focuses on the psychoanalytic implications of narrative absence and elision (i.e., the unsaid and unspeakable) in twentieth-century literature in order to demonstrate the ways in which psychological and humanist thought are historically intertwined in modernist fiction and its critique. He is the author of Alan Hollinghurst and the Vitality of Influence (Palgrave Macmillan, 2014), Masculine Identity in Modernist Literature (Palgrave Macmillan, 2017), The Sacred Life of Modernist Literature: Immanence, Occultism, and the Making of the Modern World (Bloomsbury, 2022), and numerous articles and chapters on literary modernism.
Areas of specialism
Literary modernism;
Modernism and mass culture;
Sexuality and desire;
Literary architecture;
Western esotericism;
Psychoanalysis
My qualifications
PhD, English Literature
University of Leeds
MA, Twentieth-Century Literature
University of Leeds
BA, English with Art History
Baldwin-Wallace College
Previous roles
2013 -
2016
Assistant Professor of English Literature
City University of Hong Kong
2012 -
2012
Associate Lecturer
Birkbeck, University of London
Affiliations and memberships
Fellow
Royal Society of Arts
Associate Fellow
Higher Education Academy
Research

Research interests

Allan's research centres broadly around literary modernism, esotericism, sexuality, and narrative theory.
Supervision
Postgraduate research supervision
PhD, Georgia van Raalte (AHRC funded), 'Black Isis, Liquid Gold and Sacred Sex: The Hidden Influence of Hinduism on the Work of Dion Fortune'
PhD, Lamia Hamidi, 'Edward Albee and the Discursive Construction of Masculinity'
PhD, Michelle Rushefsky, 'The Gothic Contemporaries: Supernatural Elements in Neo- Nineteenth-Century Fiction' (co-supervisor)
PhD, Toby Jungius, 'Narration, Story, and Stop-motion Animation' (co-supervisor)
PhD, Stewart Ferris, 'Wodehouse and Modernist Satire' (co-supervisor)
PhD, Gianni Washington, 'Contemporary Horror' (co-supervisor)
PhD, Katrina Marshall, 'Five Get Into Gender Trouble: A Study of Gender Controversy in the Famous Five Revised Editions'
PhD, Christopher Hill, 'Music Figures, Inspiration and the Performance of Identity in the Contemporary Transnational Novel'
PhD, Stephanie Han, 'Writing Beyond the Nation: Globality, Aesthetics, and the Asian American Novel' (co-supervisor)
Teaching
At undergraduate level, I convene 'Modernism', 'The American Century', and 'Magic, Mysticism, and Modernity' as well as lecture on modernism in several introductory modules.  At postgraduate level, I convene 'Magic, Mysticism, and Modernity' and contribute to the team-taught module 'Literary Scholarship and Creativity'.