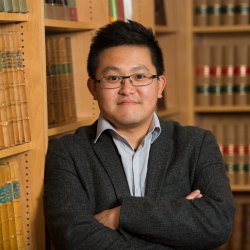 Dr Ambrose Y. K. Lee
---
Lecturer in Legal Theory
B.A. (HKU), M.Litt. (St Andrews), Ph.D. (Stirling), AFHEA.
Biography
Biography
Ambrose joined the School of Law in August 2017 after having been a Research Development Fellow at University of Derby. Prior to that he was a Postdoctoral Research Officer for the AHRC-funded Preventive Justice Project and then a Leverhulme Trust Early Career Fellow, both of which were based at the Centre for Criminology in the Faculty of Law at University of Oxford. He also briefly lectured on metaethics at the Division of Law and Philosophy at University of Stirling. Ambrose's research background was in political philosophy. His doctoral thesis was about duties of minimal wellbeing and their role in global justice. However, ever since he graduated from his doctoral studies, his research interests have gradually expanded to also include legal philosophy. Nowadays, Ambrose draws insights from political philosophy and researches on a variety of philosophical issues relating to criminalization and punishment.
Research interests
Philosophical issues relating to criminal justice, especially in relation to punishment and criminalization; criminal law theory; legal theory and legal philosophy; political and moral philosophy.
Potential PhD supervison areas/topics: theories of punishment and theories of criminalization.
Teaching
Criminal Law II, Jurisprudence II.
Departmental duties
Deputy Head of PhD Admissions
Affiliations
Surrey Centre for Law and Philosophy
Associate Fellow of the Higher Education Academy
My publications
Publications
PEER REVIEWED JOURNALS
Lee, A.Y.K. 'Defending a Communicative Theory of Punishment: The Relationship between Hard Treatment and Amends', Oxford Journal of Legal Studies 37, issue 1 (2017): 217-237. [Link to Article]
Lee, A.Y.K. 'Public Wrongs and the Criminal Law', Criminal law and Philosophy 9, no. 1 (2015): 155-170. [Link to Article]
Lee, A.Y.K. 'Legal Coercion, Respect & Reason-responsive Agency', Ethical Theory and Moral Practice 17, no. 5 (2014): 47-859. [Link to Article]
Lee, A.Y.K. 'Co-national and Cosmopolitan Obligations towards Foreigners', Politics 31, no. 3 (2011): 159-166. [Link to Article]
BOOK REVIEWS
Lee, A.Y.K. 'An Expressive Theory of Punishment by Bill Wringe', Philosophical Quarterly 67, issue 267 (2017): 418-421. [Link to Article]
Lee, A.Y.K. 'Cosmopolitanism: A Philosophy for Global Ethics by Stan Van Hooft; Globalizing Justice: The Ethics of Poverty and Power by Richard W. Miller.', Analysis 72, no. 1 (2012): 202-205. [Link to Article]