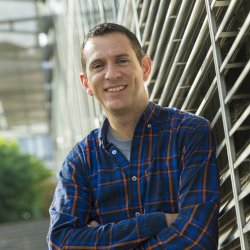 Dr Andrew Hulton
---
Teaching Fellow in Sport and Exercise Sciences
BASES Accredited Sports Scientist for Scientific Support (Physiology), and a Fellow of The Higher Education Academy
Biography
Biography
Andrew Hulton is a Teaching Fellow in Sport and Exercise Science, he joined the university in 2016. Previous to joining the university of Surrey he received his Master's degree in Sport Physiology in 2004 from Liverpool John Moores University, before going on to complete a PhD focusing on pre-exercise nutritional strategies for intermittent exercise. Prior to Andrew's role in teaching and research at higher education, he was a Sports Science Officer at his previous university working on various applied projects within the world of sport physiology and nutrition. Further to Andrew academic work he has also continued to work as an applied practitioner, he has worked as a nutritional consultant at Premiership and Championships football clubs, and as a Physical Performance Coach at the English Football Association, working primarily with the women's U19 and U20 squads, where he has been a part of the support staff during three European Championships and a World Cup.
Research interests
Andrew's research interests are linked to training and nutritional strategies to enhance adaptations to inform practise and improve performance. Initial research themes focused on nutritional feeding specific to intermittent exercise, with this research aiming to maintain an ecological approach that can be applied to real sporting settings. Current research projects include the role of utility movements and changes of direction on training adaptation, the effects of ischemic preconditioning on short- and long-term recovery responses and skeletal muscle adaptations to resistance training, and the use of caffeine as an ergogenic aid.
Research collaborations
Prof Don MacLaren, LJMU. Prof Barry Drust, University of Birmingham. Dr James Malone, Liverpool Hope University, Dr Marco Beato, University of Suffolk, Dr Kaio Vitzel, Massey Institute of Food Science and Technology
Teaching
Together with colleagues from the School of Biosciences and Medicine, Andrew will teach on the BSc Sport and Exercise Science programme.
Andrew leads four modules on the Sports and Exercise Science programme- 1. Human Nutrition for Sport and Exercise 2. Performance Training and Assessment 3. Performance Analysis 4. Sports Nutrition. In addition to these he teaches on a variety of modules across programmes within the department.
My publications
Publications
Hulton AT, Vitzel K, Doran DA, MacLaren DPM. (2020). Addition of Caffeine to a Carbohydrate Feeding Strategy Prior to Intermittent Exercise. Int J Sp Med, 41: 1–7. 
Hulton AT, & Gapper K. (2020). An innovative presentation tools as an alternative to traditional methods for student assessment, in Gravett K, Yakovchuk N, Kinchin IM, (eds). Enhanced Student-Centred Teaching in Higher Education, Cham, Palgrave Macmillan, pp. 273-292.
Mohebbi H, Campbell IT, Keegan MA, Malone JJ, Hulton AT, MacLaren DPM. (2019). Hyperinsulinaemia and hyperglycaemia promote glucose utilization and storage during low- and high-intensity exercise. Eur J Appl Physiol, 120 (1): 127-135
Nonnato A, Hulton AT, Brownlee TE, Beato M. (2020). The Effect of a Single Session of Plyometric Training Per Week on Fitness Parameters in Professional Female Soccer Players: A Randomized Controlled Trial. J Strength Cond Res 00(00)/1–7.                                               
Malone JJ, MacLaren DPM, Campbell IT, Hulton AT. (2020). A 3‑day dietary manipulation affects muscle glycogen and results in modifications of carbohydrate and fat metabolism during exercise when hyperglycaemic. Eur J Appl Physiol, 120:873–882.                                                                    
Malone, JJ, Bassami, M, Waldron, SC, Campbell, IT, Hulton, A, Doran, D, MacLaren, DP. Carbohydrate oxidation and glucose utilisation under hyperglycaemia in aged and young males during exercise at the same relative exercise intensity (2019). Eur J Appl Physiol, 119(1):235-245
Ward, PA, Ramsden, S, Coutts, AJ, Hulton, AT, Drust, B. Positional Differences in Running and Non-Running Activities During Elite American Football Training (2017). J Strength Cond Res, 32(7):2072-2084.
Beato, M, Coratella, G, Schena, F, Hulton, AT. Evaluation of external workload in female futsal players (2017). Biology of Sport, (34):227-231.
Christopher J, Beato M, Hulton AT. Manipulation of exercise to rest ratio within set duration on physical and technical outcomes during small-sided games in elite youth soccer players (2016). Human Movement Science, 12 (48): 1-6.
Hulton AT, Flower D, Murphy R, Richardson D, Drust, B, Curran K. Effectiveness of a Community Football Programme on Improving Physiological Markers of Health in a Hard-To-Reach Male Population: The Role of Exercise Intensity (2016). Soccer and Society, 17 (2): 196-208.
Hulton AT, Morton JP, Mercer S, Gould H, Deadman M, Drust B. The Effects of Nitrate Gels on High-intensity Intermittent repeated sprint performance and recovery (2015). In International Research in Science and Soccer II, (edited by T. Favero, B. Drust and B. Dawson), Routledge, UK, pp 71 - 80.
Datson N, Hulton A, Andersson H, Lewis T, Weston M, Drust B, Gregson W. Applied Physiology of Female Soccer: An Update (2014). Sports Med; 44(9): 1225-40.
Hulton AT, Edwards J, Gregson W, Maclaren D, Doran DA. Effects of Fat and CHO Meals on Intermittent Exercise in Soccer Players. (2013). Int J Sports Med. Feb; 34(2): 165-9.
Lahart IM, Lane AM, Hulton A, Williams K, Godfrey R, Pedlar C, Wilson MG, Whyte GP. Challenges in Maintaining Emotion Regulation in a Sleep and Energy Deprived State Induced by the 4800km Ultra-Endurance Bicycle Race; the Race across AMerica (RAAM) (2013). J Sports Sci Med; 1;12(3):481-8.
Hulton AT, Gregson W, Maclaren D, Doran DA. Effects of GI Meals on Intermittent Exercise. (2012). Int J Sports Med. Sep; 33(9): 756-62.
Williams K, George K, Hulton A, Godfrey R, Lahart I, Wilson MG, Charlesworth S, Warburton D, Gaze D, Whyte G. (2011). A unique case series of novel biomarkers of cardiac damage in cyclists completing the 4800 km Race Across America (RAAM). Curr Med Chem; 18(23): 3446-51.
Hulton AT, Lahart I, Williams KL, Godfrey R, Charlesworth S, Wilson M, Pedlar C, Whyte G. (2010). Energy expenditure in the Race Across America (RAAM). Int J Sports Med; 31(7): 463-7.
Hulton, AT., Ford, T. and Reilly, T. (2008). The energy cost of soloing a Gaelic football. In Science and Football VI, (edited by T. Reilly and F. Korkusuz), Routledge, UK, pp 307 - 313.