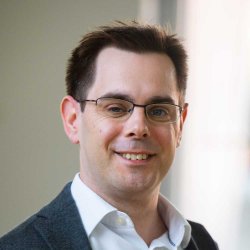 Dr Andy Hill
---
Senior Lecturer in Business Analytics
PhD, BSc
About
Biography
Andy is a lecturer on the Business Analytics MSc.  His main research interests lie how to translate complex quantitative analysis into useful insights understood by anyone.  His specialism lies in quantitative operational research methods, including Monte Carlo simulation, Machine Learning and Data Analysis.
Andy started out as a Risk Analyst at the Animal and Plant Health Agency, helping deliver the scientific evidence behind various UK policies and EU regulations in food safety and exotic disease control, working with Defra, the UK Food Standards Agency, the European Food Safety Authority and commercial companies such as Novartis and Unilever.  Andy has also spent time as a Principal Modelling and Analysis Consultant at BAE Systems, delivering solutions to various problems including inventory forecasting and optimising processes for new digital technologies in forensics and warship energy management.
My qualifications
2012
PhD in Mathematical modelling of infectious diseases
University of Strathclyde
2001
BSc (Hons) Physics with Nuclear Astrophysics
University of Surrey
Previous roles
2002 -
2015
Senior Risk Analyst
Animal and Plant Health Agency
2015 -
2019
Principal Modelling and Analysis Consultant.
BAE Systems
Research

Research interests

Systems Analysis and Simulation
Data Analytics
Operational Research
Publications
Highlights
Hill, A., Muñoz, V., Downes, J., Schuppers, M., Buncic, S., O'Brien, S. and Stärk, K.D.C. (2020), To Sample or Not to Sample? An Analysis of the Need for Salmonella Sampling of Smaller Poultry Processors. Risk Analysis. doi:10.1111/risa.13545
C Gavin, R Simons, A Berriman, D Moorhouse, E Snary, R Smith and A Hill (2018). A cost-benefit assessment of Salmonella-control strategies in pigs reared in the United Kingdom. Preventive Veterinary Medicine, 160:54-62.
Additional publications
Hill A, Crotta M, Wall B, Good L, O'Brien SJ, Guitian J. Towards an integrated food safety surveillance system: a simulation study to explore the potential of combining genomic and epidemiological metadata. R Soc Open Sci. 2017;4(3):160721. doi:10.1098/rsos.160721
R Kosmider, J Smith, S Gillings, L Snow, A Breed, R Irvine and A Hill (2016). Updated risk of H5N1 HPAI incursion to poultry in Great Britain via wild birds. Veterinary Record, doi:10.1136/vr.103700.
A Hill, R Simons, L Kelly, E Snary (2016). A farm transmission model for Salmonella in pigs applicable to EU Member States. Risk Analysis, 36(3): 461-481.
A Hill, A Swart, R Simons, H Vigre, A Calado Domingues, L Kelly, E Snary. (2016). Intervention analyses for Salmonella in pigs in the EU. Risk Analysis 36(3):546-560.
E Snary, R Simons, A Swart, H Vigre, A Coutinho Calado Domingues, E Evers and T Hald, A Hill (2016). Quantitative Microbiological Risk Assessment on Salmonella in Slaughter and Breeder pigs. Risk Analysis 36(3):437-449.
H Vigre, K Barfoed, A Swart, R Simons, A Hill, E Snary and T Hald (2016). Characterization of the human risk of Salmonellosis related to consumption of pork products in different E.U. countries based on a QMRA. Risk Analysis 36(3): 531-545.
A Hill, T Dewé, R Kosmider, S Von Dobschuetz, S Munoz, A Hanna, A Fusaro, M De Nardi, W Howard, K Stevens, L Kelly, A Havelaar and K Stärk (2015). Modelling the species jump: towards assessing the risk of human infection from novel avian influenzas. Royal Society Open Science 2: 150173.
P Gale, A Hill, L Kelly, J Bassett, P McClure, Y Le Mark and I Soumpasis (2014). Applications of omics approaches to the development of Microbiological Risk Assessment using RNA virus dose-response models as a case study. Journal of Applied Microbiology 117(6): 1537-1548.
A Hill, V Horigan, K Stärk, K Clarke, S O'Brien and S Buncic (2014). A qualitative risk assessment for visual-only post-mortem meat inspection of cattle, sheep, goats and farmed/wild deer. Food Control 38(4): 96-108.
A Hill, A Brouwer, N Donaldson, S Lambton, S Buncic and S Griffiths (2013). A risk and benefit assessment for visual-only meat inspection of indoor and outdoor pigs in the United Kingdom. Food Control 30(1): 255-264.
A Hill, P Nally, R Chalmers, G Pritchard and M Giles (2011). A quantitative risk assessment for zoonotic transmission of Cryptosporidium parvum infection attributable to recreational use of farmland. Zoonoses and Public Health 58(5): 323-333.
A Hill, E Snary, M Arnold, L Alban and A Cook (2008). Dynamics of Salmonella Transmission on a British Pig Grower-Finisher Farm: A Stochastic Model. Epidemiology and Infection 136(3): 320-333.