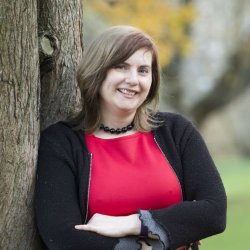 Dr Angela Szczepaniak
---
Lecturer in Creative Writing
Biography
Angela Szczepaniak's writing focuses primarily on multi-genre books—books that blend fiction, poetry, graphic art/design, and illustration, among other forms. Her research interests include a variety of contemporary forms, including graphic novel, innovative poetry and fiction, visual/concrete poetry and fiction, cross-genre literary works, writing for digital/new media, hypertexts, and film. She is a Lecturer in Creative Writing at the University of Surrey.
Research
Research interests
Creative Writing (prose, poetry, hybrid genre and mixed media writing); contemporary literature; graphic narrative.
My publications
Publications
The novel renames Nikos Kazantzakis as Cosmas Eleftherakis and follows him during the last six months of his life. It dramatises imaginary meetings between Eleftherakis and Albert Camus, Eleftherakis' trip to China, conspiracies against him orchestrated by the Church of Greece and the Greek Writers Society. The critical component surveys the historical novel and Kazantzakis' own historical novels.