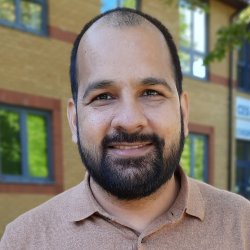 Arvind Tiwari
---
Research Fellow (CO-TRACE)
M. Tech (Environmental Engineering & Management); B.E. (Civil Engineering)
About
Biography
Arvind Tiwari is a research fellow as well as a postgraduate researcher (Ph.D. Student) that holds a postgraduate degree in environmental and management from the Indian Institute of Technology Delhi (IIT-D) and an undergraduate degree in civil engineering from Madhav institute of technology & Science Gwalior, India.
He is a research staff in the ESPRC funded project CO-TRACE (COvid-19 Transmission Risk Assessment Case studies- education Establishments; https://co-trace.uk/about) at the Global Centre for Clean Air Research (GCARE), in the Department of Civil and Environmental Engineering at the University of Surrey. He has more than ten years of work experience in modelling, monitoring and simulation of environmental flow problems such as urban-scale air pollution and green infrastructure modelling, indoor and outdoor air quality monitoring, data analysis of low-cost air pollution sensors network, and citizen science activities. 
Arvind has completed Graduate Certificate in Teaching and Learning (GCLT) and currently is a PhD student at the GCARE in the Department of Civil and Environmental Engineering at the University of Surrey. During his stay in Guildford, he will be under the guidance of Professor Prashant Kumar (Principal Supervisor) and Dr. Devendra Saroj (Co-Supervisor) on the topic: Modelling Framework for Assessing Green Infrastructure Interventions to Simulate Air Pollutant Concentration and Urban Heat Island Effect at Urban Scale.
Arvind has won Santander Universities Researcher Mobility Awards 2018 and FEPS "PGR Student of the Year Award" 2020.
 
My qualifications
2 Year (Master of Technology)
Post graduate degree in Environmental & management
Indian institute of Technology Delhi (IITD), INDIA
4 Year (Bachelor of Engineering)
Under graduate degree in Civil Engineering
Madhav institute of Technology & Science (MITS), INDIA
18 months (Graduate Diploma/Certificate at level H)
Graduate Certificate Learning and Teaching
University of Surrey, UK
6 months (Graduate Diploma)
Graduate Diploma in Nuclear Science & Engineering
BHABHA ATOMIC RESEARCH CENTRE, INDIA
Research

Research interests

Air pollution modelling
Urban green infrastructure planning
Indoor air quality monitoring
Outdoor air quality monitoring
Particle dispersion modelling
Respiratory infection risk modelling in indoor environments
Low-cost sensor networks
Big data analysis

Research projects

The CO-TRACE project brings together researchers working at the Universities of Cambridge, Surrey, and Imperial College London, to assess the risk of airborne COVID-19 transmission in schools and evaluate the effectiveness of mitigation measures.

This will be done by developing techniques to assess the absolute risk of infection in a given indoor space, using field studies in primary and secondary schools, complemented by laboratory experiments and computational fluid dynamics to elucidate the flow patterns responsible for airborne transport. 
The understanding generated will underpin recent developments in infection modelling to predict the likelihood of airborne transmission within schools. 
The project will reduce the uncertainties associated with airborne transmission routes and provide evidence to evaluate mitigation measures. The scenarios we will investigate include changes to ventilation, classroom layout, and occupancy profiles. The methodology will facilitate application to offices, restaurants, shops, etc.

 

The RealAir project is a citizen science activity, in which Guildford Living Lab (GLL) will collaborate with Zero Carbon Guildford (ZCG) to design, set up, and operate a real-time air quality monitoring system based on low-cost sensing technology. This system will monitor local PM at different size fractions along with temperature and relative humidity. The GCARE team played an active role in the launch of the ZCG in the month of November 2021.

 

iSCAPE  was a European research and innovation project active from September 2016 to December 2019. The project worked on integrating and advancing the control of air quality and carbon emissions in European cities in the context of climate change through the development of sustainable and passive air pollution remediation strategies, policy interventions, and behavioural change initiatives.