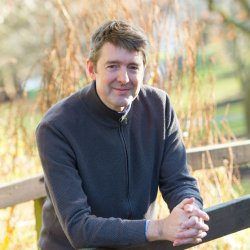 Professor Ben Murdin
---
Professor of Physics, Head of the Photonics and Quantum Sciences Group
BA (Cantab), MSc (Heriot-Watt), PhD (Heriot-Watt)PA
About
Biography
1966 born Rochester NY, USA 
1989 BA in Physics from Cambridge University, UK (upgraded to a free MA after a couple of years!)
1990 MSc in Optoelectronics from Heriot-Watt University, Edinburgh, UK
1993 PhD in Semiconductor spectroscopy from Heriot-Watt University Edinburgh, UK
1993 - 1996 European Union Marie Curie fellow at FOM-Rijnhuizen, Utrecht, NL
1996 - 2002, Lecturer at University of Surrey.
2002 - 2004, Reader
2004 - present, Professor of Physics
2005 - 2007 School Director of Research
2007 - 2011 Associate Dean (Research and Enterprise)
2009 - 2014, COMPASSS grant PI (compasss.net)
2015 - 2020, ADDRFSS grant PI (addrfss.net)
University roles and responsibilities
I am the Chair of the Department's Equality, Diversity and Inclusion Committee

I am the Group Leader for Photonics and Quantum Sciences
My qualifications
1993
PhD, on mid and far-infrared spectroscopy of semiconductors
Supervisor Prof Carl Pidgeon
Heriot-Watt University
Previous roles
2005 -
2007
School Director of Research (School of Physical Sciences)
University of Surrey
2007 -
2011
Associate Dean (Research and Innovation), Faculty of Engineering and Physical Sciences
University of Surrey
Affiliations and memberships
FInstP
Fellow of the Institute of Physics
Research

Research interests

I am an experimentalist interested in the study of electronic and optical properties of semiconductors and semiconductor nanostructures using high-pressures, magnetic-fields, and linear, nonlinear and time resolved infrared spectroscopy. I am a regular user of the Free-Electron Laser, FELIX, in Holland, and I am the coordinator and spokesperson for UK Condensed Matter Physics users there. I am also a Scientific Advisory Committee member for the Dresden laser, FELBE. I like "applicable physics" rather than really pure or really applied physics, for example I study how quickly and why electron spins lose their memory (applicable to spintronic devices), and use THz lasers to control electronic orbitals in silicon for quantum information devices. 

Research collaborations

I have strong research links with the groups of Prof. Carl Pidgeon (my best friend and mentor) at Heriot-Watt University (UK), Dr Neil Curson at University College London (UK), Dr Britta Redlich at Radboud University (NL), and Prof Gabriel Aeppli at Paul Scherrer Institute (CH).

Further details can be found on compasss.net. 
Teaching
In the Physics Department I teach level one Data Handling (aka probability and statistics),  level three Light and Matter. On the MSc in Medical Physics I teach Medical Statistics.