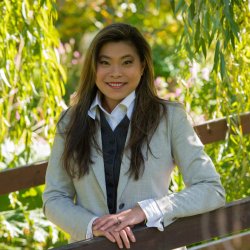 Dr Benaliza Loo
---
Lecturer in Business and Management International Exchange Coordinator
PhD FHEA PGCert MBA BSc
About
Benaliza Loo is a lecturer in business and management at the School of Business, University of Surrey.  Prior to joining the University of Surrey, she led the Distance Learning undergraduate course in Strategic Management and taught undergraduate and postgraduate students on the Management programmes at the Royal Holloway, University of London.  Benaliza obtained her MBA and PhD in Management, focusing on International Strategy and Branding, from the School of Management, Royal Holloway, University of London.  During her time at the Royal Holloway, she taught undergraduate BSc strategic management and marketing management, and postgraduate MSc International Management and MA Marketing.  In addition to lecturing, Benaliza supervised research projects on MSc International Management, MA Marketing, MSc Business Research Methods, MSc Asia Pacific Business and MSc Independent Research Paper.  She was also a personal tutor and academic supervisor to international students on the Bridging Diploma Course.  Furthermore, Benaliza was invited by the University of Law to serve as an external panel member for their new undergraduate BSc (Hons) International Business Management Programme approval event.  She also serves as an external examiner for the University of Law's postgraduate MSc programmes in management.  Benaliza's teaching and research interests encompass international strategic management, branding, foreign direct investment, mergers and acquisitions, strategic alliances and marketing communications.
University roles and responsibilities
Academic Integrity Officer

SBS International Exchange Coordinator

Personal and Placement (PTY) Tutor
Affiliations and memberships
Higher Education Academy (Fellow)
   External Examiner, University of Law
Research

Research interests

International Strategy
Branding
Foreign Direct Investment
International Mergers and Acquisitions
International Strategic Alliances
Marketing Management
Teaching
MAN1103 Fundamentals of Business Management (BSc) (Module Convenor)
MANM472 Study Abroad (MSc) (Module Convenor)
MAN1089 Business Decision Making (BSc)
MAN1091 Business Skills (BSc)
MAN3083 Entrepreneurship and Business Planning (BSc)
MAN2138 Comparative Country Studies (BSc)
MAN3106 Marketing Strategy (BSc)
MAN3090 International Business Strategy (BSc)
MAN2142 Topics of International Business Management Assessment (BSc)
MANM381 E-Business Strategy (MSc)
MANM372 International Business Project (MSc)
MANM061 Dissertation Assessment (MSc)
MANM009 International Business Management Assessment (MSc)
MANM013 International Trade Assessment (MSc)
Publications
Kuang Y Loo, Benaliza and Hackley, Chris.
(2013)
"Internationalisation Strategy of Iconic Malaysian High Fashion Brands", Qualitative Market Research: An International Journal, Vol.16 (4): pp. 406-420

Kuang Y Loo, Benaliza and Hackley, Chris. (2011) "The Role of Brand Communication in Establishing Asian High Fashion Brands in the West", 7th Global Brand Conference for the Academy of Marketing Brand, Corporate Identity and Reputation SIG, Said Business School, University of Oxford, Oxford, April

Kuang Y Loo, Benaliza and Hackley, Chris. (2011) "I Love my Jimmy Choos: High Fashion Brand Internationalisation from South East Asia to Europe", 1st Brand Camp, Brand Research Laboratory, University of Innsbruck, Obergurgl, March

Kuang Y Loo, Benaliza and Faulkner, David. (2008) "Is the Strategic Alliance an Effective Strategy for the High Fashion Companies to Compete Successfully in the International Markets?", 15th Annual Conference on Multi-Organisational Partnership, Alliances and Networks (MOPAN), Suffolk University, Boston, January

Kuang Y Loo, Benaliza and Faulkner, David. (2008) "International Market-Entry Mode Selection of Eastern High Fashion Enterprises", 8th European Academy of Management Conference (EURAM) on Managing Diversity, European Hope and Destiny, University of Ljubljana & Bled, Slovenia, May