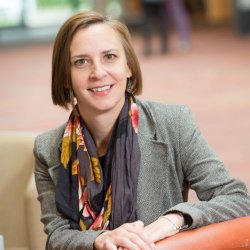 Dr Beth Palmer
---
Senior Lecturer in English Literature
Biography
Biography
I completed my doctorate at Trinity College, Oxford, in 2007-8. I then taught at Keble College, Royal Holloway, and the University of Leeds before moving to the University of Surrey in 2010.
My published work includes a monograph, Women's Authorship and Editorship in Victorian Culture: Sensational Strategies, (Oxford University Press, 2011) and a co-edited volume entitled A Return to the Common Reader: Print Culture and the Novel, 1850-1900 (Ashgate, 2011). I have also written an undergraduate guide entitled Victorian Literature: Texts, Contexts, Connections (York Press, 2010) and numerous articles on aspects of nineteenth-century print culture and women's writing.
I am currently working on a project entitled Sensational Genres which examines the relationship between the sensation novel and the theatre in Victorian Britain.
Research interests
My research interests include:
Victorian fiction
The periodical press
Nineteenth-century popular culture
The nineteenth and twentieth-century theatre
Readership
The Neo-Victorian novel
Women's writing
Contemporary fiction
Postcolonial writing
I welcome enquiries from doctoral students interested in working in any of these areas.
Research collaborations
I have co-edited a book entitled A Return to the Common Reader: Print Culture and the Novel, 1850-1900 (Ashgate, 2011) with Adelene Buckland (University of East Anglia).
I was asked to be guest editor of the online postgraduate journal Victorian Network for their special issue on 'Theatricality and Performance' (2011)
I edited a special issue of the Journal of Neo-Victorian Studies with Dr Benjamin Poore at York University in 2016 on the theme of 'Performing the Victorian'.
In 2017 I co-organised a conference on Picturing the Reader: Reading and Representation in the Long Nineteenth Century at Liverpool Hope University with Dr Amelia Yeates. We are using this event as a springboard for editing a collection of essays on this subject.
Teaching
Victorian Literature and Culture (ELI 2034)Contemporary Literature: Gender and Sexuality (ELI 2012)Contemporary Literature: Postcolonial Fictions (ELI 2022)The Theatre and the Novel (ELI 3023)
Departmental duties
I am Subject Leader for English, Film and Creative Writing, and Programme Director for English Literature.
Affiliations
I am a Member of the British Association for Victorian Studies and of the Research Society for Victorian Periodicals.
My publications
Publications
Books:
Articles
• 'Charles Reade' in Oxford Bibliographies Online: Victorian Literature, ed. Juliet John. (Oxford University Press, 2012). www.oxfordbibliographies.com
• 'Ella Hepworth Dixon and Editorship', Women's Writing (forthcoming, 2012).
• 'Reading at the Royal Colonial Institute' in A Return to the Common Reader: Print Culture and the Novel, eds. Adelene Buckland and Beth Palmer. (Ashgate, 2011).
• 'Introduction' (co-written with Adelene Buckland) in A Return to the Common Reader: Print Culture and the Novel, eds. Adelene Buckland and Beth Palmer. (Ashgate, 2011).
• 'Victorian Sensation Fiction and Its Legacies in the Twenty-First Century'. Victorian Studies. 51:4 (Autumn 2009): 80-88.
• 'Performing editorial identities in Florence Marryat's London Society magazine'. Victorian Periodicals Review. 42:2 (2009): 136-154.
• 'Florence Marryat, Theatricality and Performativity'. 19: Interdisciplinary Studies in the Long Nineteenth Century. 8 (April 2009) http://www.19.bbk.ac.uk/
• '"Dangerous and foolish work": evangelicalism and sensation in Ellen Wood's Argosy magazine'. Women's Writing. 15:2 (August 2008): 187-198.
• 'Sensationalising the City in Mary Elizabeth Braddon's Belgravia Magazine'. Literary London. 6:1 (March 2008) http://www.literarylondon.org/
• Several contributions to the Dictionary of Nineteenth-Century Journalism, eds. Laurel Brake and Marysa Demoor. Academia Press, in association with The British Library and Proquest. 2008.
Reviews
Review of Caroline Sumpter, The Victorian Periodical Press and the Fairy Tale for Victorian Periodicals Review 43:3 (2010): 343-345.
Review of Molly Youngkin, Feminist Realism at the Fin de Siècle: The Influence of the Late-Victorian Woman's Press on the Development of the Novel for Victorian Periodicals Review 42:2 (2009): 196-197.
Review of Kirstie Blair, Victorian Poetry and the Culture of the Heart for Peer English: The Journal of New Critical Thinking 2 (2007): 152-154.
Review of Isobel Hurst, Victorian Women Writers and the Classics: The Feminine of Homer for Review of English Studies 58:235 (2007): 419-420.
Review of Stephen Prickett, Modernity and the Reinvention of Tradition: Backing into the Future for Modern Language Review (forthcoming)
Review of Alberto Gabrielle, Reading Popular Culture in Victorian Print: Belgravia and Sensationalism for H-France (forthcoming)
I also provide annotations for the Routledge Annotated Bibliography of English Studies.