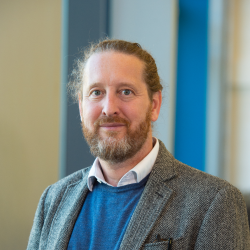 Dr Carl Thompson
---
Reader in English Literature
Biography
Biography
Carl joined Surrey in September 2017, having previously been at St Mary's University, Twickenham. Prior to that (2003-2016) Carl was Reader in English Literature and Travel Culture at Nottingham Trent University, and from 2000-2003 Junior Research Fellow in English at Trinity College, Oxford.
Carl completed his DPhil at Oxford University in 2001. This became the basis of his first book, The Suffering Traveller and the Romantic Imagination (Oxford University Press, 2007). Since then he has published extensively across a range of research areas. He is the author of Travel Writing (2011) in Routledge's New Critical Idiom series, and more recently edited The Routledge Companion to Travel Writing (2016). His main research focus in recent years has been on women travel writers in the 18th and 19th centuries, and he is currently completing a monograph on Maria Graham (1785-1842) for Oxford University Press.
Carl also maintains an interest in maritime culture and the literary depiction of the sea in this period, with a particular focus on representations of shipwreck. His principal publications in this area have been two edited collections, one of primary materials - Romantic-Era Shipwreck Narratives: An Anthology (Trent Editions, 2007) - and one of critical reflections - Shipwreck in Art and Literature: Images and Interpretations from Antiquity to the Present Day (Routledge, 2013).
Research interests
Travel writing in all forms and across all periods (but with particular emphasis on the 18th and 19th centuries)
Exploration; literature and science; the emergence of geography, sociology and other travel-related disciplines
Women's travel writing
Maria Graham (1785-1842)
Women and science (and other forms of disciplinary expertise, such as art history)
Travel writing, science and geography in Romantic-era educational texts
Romantic-era maps and mapping
Romantic-era intellectual networks and disciplinarity
Representations of shipwreck
The literature of the sea and maritime cultures
Carl welcomes enquiries from potential doctoral students or research collaborators in all these areas.
Teaching
MA English Literature
ELIM005 Research and Writing Skills
ELIM012 Open Essay
BA English
ELI3031 Gothic to Goth
ELI1011 Theories of Reading II
Affiliations
Carl is a member of the British Association for Romantics Studies (BARS) and of the Raymond Williams Society (of which he was previously the secretary).
My publications
Publications
Books (as author):
Travel Writing (Routledge, 2011)
The Suffering Traveller and the Romantic Imagination (Oxford University Press, 2007)
Books (as editor):
Routledge Companion to Travel Writing (Routledge, 2015)
Sarah Wilson: The Fruits of Enterprize (in the Chawton House Library's 4-vol. series Women's Travel Writings in Africa and the Middle East; Pickering and Chatto, 2014)
Shipwreck in Art and Literature: Images and Interpretations from Antiquity to the Present Day (Routledge, 2013)
Romantic-Era Shipwreck Narratives: An Anthology (Trent Editions, 2007)
Articles and chapters
'Women Travellers, Romantic-Era Science, and the Banksian Empire', Notes and Records: The Royal Society Journal of the History of Science (2019), available online at https://royalsocietypublishing.org/doi/10.1098/rsnr.2018.0062
'Nineteenth-Century Travel Writing', in Nandini Das and Tim Youngs (eds), The Cambridge History of Travel Writing (2019)
'Journeys to Authority: Reassessing Women's Early Travel Writing 1763-1862', Introduction to SI of Women's Writing 24.2 (2017)
'Sentiment and Scholarship: Hybrid Historiography and Historical Authority in Maria Graham's South American Journals', in SI of Women's Writing 24.2 (2017)
'Des Exploratrices: Genre Féminin, Voyage et Decouverte Dans La Tradition Britannique, 1780-1850', in Des Voyages Vers L'Inconnu Entre 1630 et 1880 (ed. Florence D'Souza; Editions L'Harmattan, 2016)
'Introduction', in The Routledge Companion to Travel Writing (ed. Carl Thompson; Routledge, 2015)
'Travel Writing Now', in The Routledge Companion to Travel Writing (ed. Carl Thompson; Routledge, 2015)
'"Only the Amblyrhynchus": Maria Graham's Scientific Editing of the Voyage of the Blonde', Journal of Literature and Science, 8.1 (2015)
'Shipwrecks, Mutineers and Cannibals: Maritime Mythology and the Political Unconscious in Eighteenth-Century Britain', in Framing the Ocean, 1700 to the Present: Envisaging the Sea as Social Space (ed. Tricia Cusack; Ashgate, 2014)
'Shipwreck and the Forging of the Commercial Nation: the 1786 Wreck of the Halsewell', in Shipwreck in Art and Literature (ed. Carl Thompson; Routledge, 2013)
'Introduction: Shipwreck, Modernity, Postmodernity', in Shipwreck in Art and Literature (ed. Carl Thompson; Routledge, 2013)
'The Explorer as Saint: Mungo Park in West Africa'. Extract from The Suffering Traveller and the Romantic Imagination, reprinted in Travel Writing: Critical Concepts in Literary And Cultural Studies, 4 vols. (eds. Tim Youngs and Charles Forsdick; Routledge, 2012)
'Earthquakes and Petticoats: Maria Graham, Geology, and Early Nineteenth-Century 'Polite' Science', Journal of Victorian Culture, 17.3 (2012)
'The Grosvenor Shipwreck and the Figure of the Female Crusoe: Hannah Hewit, Mary Jane Meadows and Romantic-Era Feminist and Anti-Feminist Debate', English Studies in Africa, 51.2 (2008)
'Romantic Travel Writing', in Romanticism: An Oxford Guide (ed. Nicholas Roe; Oxford University Press, 2004)
'The Heroic Age of the Tin Can: Technology, Ideology and Exploration in the Arctic, 1818-1835', in Maritime Empires (eds. D. Killingray, M. Lincoln and N. Rigby; Boydell and Brewer, 2004)
'The Double Voice of James Bruce, Abyssinian Traveller' in Eastern Deserts: Minerals, Missionaries and Explorers (eds. Janet Starkey and Okashi El-Daly; Astene Books, 2001).
'Redmond O'Hanlon: A Critical Appraisal and Bibliography', Post-War Literatures in English (March, 2000)