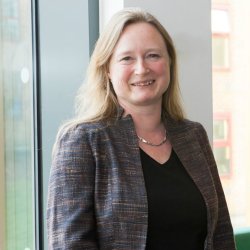 Biography
Christine Hine is a sociologist of science and technology who has a particular focus on the role played by new technologies in the knowledge construction process. She has a major interest in the development of ethnography in technical settings and in "virtual methods" (the use of the Internet in social research). In particular, she has developed mobile and connective approaches to ethnography that combine online and offline social contexts. In common with many scholars in Science and Technology Studies, Christine has a scientific and technical background herself. She studied Botany (BA, Oxon) and Biological Computation (MSc, York) and completed her DPhil in the Biology Department at York before making a transition to Sociology of Science and Technology.
University roles and responsibilities
Chair, University Ethics Committee 2015 - 2018
Research
Research interests
Christine Hine has taken a lead role in promoting discussion of methodologies for sociological understanding of the Internet, publishing widely on qualitative methodologies for study of online cultures in everyday life. Her research is located within sociology of science and technology. She is author of Virtual Ethnography (Sage, 2000); Systematics as Cyberscience (MIT, 2008) and Ethnography for the Internet (Bloomsbury, 2015). Substantively, her research includes ethnographic studies of scientific culture, information technology and knowledge infrastructures. She has also carried out research into digital work and particularly digital volunteering; local online groups and sustainability initiatives; and knowledge construction in online spaces. She was President of the European Association for the Study of Science and Technology, 2004 to 2008.
Supervision
Postgraduate research supervision
I supervise doctoral students in sociology of science and technology and studies of digital culture. Past students have included:
Narratives of identity in role-playing games. Thordis Sveinsdottir
Acceptability of web surveys for national statistics. Zoe Dowling
Enacting Controversy: An Ontological Study of the Development of Computer Encryption. Richard Fletcher
Online Support Spaces for a geographically-isolated group with specialist support needs. Jo Hope
Understanding the use of social networking sites by professional employees in the UK. Acheinu Iseko