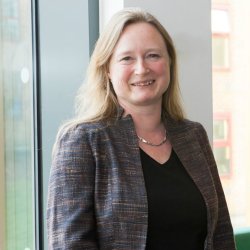 About
Biography
Christine Hine is a sociologist of science and technology who has a particular focus on the role played by new technologies in the knowledge construction process. She has a major interest in the development of ethnography in technical settings and in "virtual methods" (the use of the Internet in social research). In particular, she has developed mobile and connective approaches to ethnography that combine online and offline social contexts. In common with many scholars in Science and Technology Studies, Christine has a scientific and technical background herself. She studied Botany (BA, Oxon) and Biological Computation (MSc, York) and completed her DPhil in the Biology Department at York before making a transition to Sociology of Science and Technology.
University roles and responsibilities
Surrey AI Fellow, Surrey Institute for People-Centred AI
Research

Research interests

Christine Hine has taken a lead role in promoting discussion of methodologies for sociological understanding of the Internet, publishing widely on qualitative methodologies for study of online cultures in everyday life. Her research is located within sociology of science and technology. She is author of Virtual Ethnography (Sage, 2000); Systematics as Cyberscience (MIT, 2008) and Ethnography for the Internet (Bloomsbury, 2015). Substantively, her research includes ethnographic studies of scientific culture, information technology and knowledge infrastructures. She has also carried out research into digital work and particularly digital volunteering; local online groups and sustainability initiatives; and knowledge construction in online spaces. She was President of the European Association for the Study of Science and Technology, 2004 to 2008.

Research projects

New smart technologies offer great promise to improve care for people living with long-term conditions such as dementia and to enable them to live in their own homes for longer. Engineers work with healthcare professionals, patients and carers to develop technologies to monitor wellbeing and support people to live well at home. Significant ethical challenges arise, however, as decisions are made about what features the technology should contain, who has access to data collected by monitoring devices and what actions should be taken in response. Smart technologies can take decisions on our behalf, and sometimes this can be troubling. In this project, Christine Hine, as a social scientist is working with Prof Payam Barnaghi, an expert in machine learning and Internet of Things who is developing smart technologies for care settings. Together they will explore how ethical challenges arise and are managed in everyday practice.

The research will entail  interviewing engineers, healthcare professionals, carers and patients who are involved in development of smart technologies for care settings. The aim of these interviews is to identify from each participants' perspective when and how they become aware of ethical challenges, how they distinguish the ethical challenges from other kinds of issue such as a technical hitch or a misunderstanding, and how they deal with the various kinds of issue to negotiate acceptable outcomes. As a result we will learn more about whether ethical issues can be anticipated in
advance and develop ways to build ethical decision-making into the lifespan of a project.

This research is funded by the APEX award scheme.  In partnership with the British Academy, the Royal Academy of Engineering and the Royal Society ('the Academies') and with generous support from the Leverhulme Trust, the APEX award (Academies Partnership in Supporting Excellence in Cross-disciplinary research award) scheme offers established independent researchers, with a strong track record in their respective area, an exciting opportunity to pursue genuine interdisciplinary and curiosity-driven research to benefit wider society.
Supervision
Postgraduate research supervision
I supervise doctoral students in sociology of science and technology and studies of digital culture. Past students have included:
Narratives of identity in role-playing games. Thordis Sveinsdottir
Acceptability of web surveys for national statistics. Zoe Dowling
Enacting Controversy: An Ontological Study of the Development of Computer Encryption. Richard Fletcher
Online Support Spaces for a geographically-isolated group with specialist support needs. Jo Hope
Understanding the use of social networking sites by professional employees in the UK. Acheinu Iseko