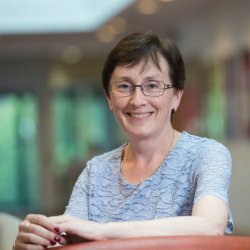 Dr Dawn Marley
---
Principal Teaching Fellow in French
About
Biography
Dawn studied at the University of Nottingham, obtaining a first degree in French and Spanish, and a PhD in French Sociolinguistics. She has been at Surrey since 1994, and has taught and supervised on many aspects of French studies. Dawn is GGA Exams office for the School of Literature and Languages, as well as Modern Languages Programme Leader for UG Language programmes, and a Senior Fellow of the Higher Education Academy.
Research interests
French in the Maghreb: use of and attitudes towards French, impact of French culture; language planning.
Moroccan women's magazines.
Identity issues for the Maghrebian community in France.
Sociolinguistic issues in France: language and cultural identity, regional languages
Teaching
Dawn is currently teaching French to English translation at all UG levels; Contemporary France I; Language and Literature in Education; French Sociolinguistics; she supervises UG dissertations on translation, sociolinguistics and social and cultural issues.
Departmental duties
GGA Exams Officer
Modern Languages programme leader
Programme Director for Languages and Translation, joint language programmes
Affiliations
Member of Association for French Language Studies
Member of Association for the Study of Modern and Contemporary France
Member of AILA Research Network on Applied Linguistics and Literacy in Africa and the Diaspora
Publications
"Language Policy in Morocco" in International Journal of Francophone Studies, Vol. 3, no. 2 and 3, July 2000, pp. 68-88.
'Uniformity and Diversity: fact and fiction in Moroccan Language Policy', in Kamal Salhi (ed.), French in and out of France. Language Policies, Intercultural Antagonisms and Dialogue, Bern: Peter Lang, 2003, pp. 335-376.
'The Evolution of a Post-Colonial Role for French in Morocco', in Rocheron, Y. and Rolfe, C. (eds.), Shifting Frontiers of France and Francophonie, Bern: Peter Lang, 2003, pp. 63-80.
'Language Attitudes in Morocco following Recent Changes in Moroccan Language Policy', Language Policy 3, 2004, pp. 25-46.
'Official and unofficial attitudes towards 'own' and 'other' languages in Morocco', in Rudolf Muhr and Richard Schrodt (eds), Standardvariationen und Sprachideologien in veschiedenen Sprachkulturen der Welt/ Standard Variations and Language Ideologies in Different Language Cultures around the World, Frankfurt am Main: Peter Lang, 2005, pp.183-202.
'Le français au Maroc. Perspectives à l'aube du 21ème siècle', Synergies Monde Arabe no. 2, 2005, pp. 84-91.
'The Maghrebian Community in France - defining the borders' in Gemie, S. and Altinck, H. (eds.), French at the Margins, Cardiff: Welsh Academic Press, 2007.
'Maghrebians via French' in M.C. Jones and W. Bennett (eds), The French Language and Questions of Identity, Legenda, 2007.
With Farid Aitsiselmi, 'The role and status of the French Language in North Africa', in Dalila Ayoun (ed.), Studies in French Applied Linguistics, Amsterdam/Philadelphia: John Benjamins Publishing Company, 2008.
With Annabelle Cone, Francophone Women's Magazines Inside and Outside France, New Orleans: University Press of the South, 2010.

The French-Speaking World. A practical introduction to sociolinguistic issues - second edition

https://www.routledge.com/The-French-Speaking-World-A-Practical-Introduction-to-Sociolinguistic/Ball-Marley/p/book/9781138801745