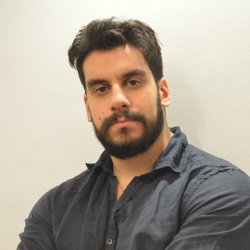 Dr Dimitrios Tsaoulidis
---
Lecturer
PhD, FHEA, AMIChemE
Biography
Dr Dimitrios Tsaoulidis is Lecturer of Chemical Engineering in the Department of Chemical and Process Engineering at the University of Surrey. His research interests evolve around clean energy, healthcare, and manufacturing and particularly their connection with microscale technologies. He specializes in complex multi-phase flows at different scales (micro-to-macro) and their application to process intensification in energy, manufacturing, and synthesis. His research combines advanced experimental investigations of multi-phase hydro- and thermo- dynamics that are enabled by cutting-edge sensing and measurement technologies, as well as numerical simulations, modelling, and optimization.
Dr Tsaoulidis obtained his Diploma in Chemical Engineering from the Aristotle University of Thessaloniki (Greece) and his PhD in Chemical/Nuclear Engineering from University College London (UK). His PhD research dealt with investigative experimental and numerical studies of a novel combination of liquid-liquid separations in microfluidic channels and the use of ionic liquids, and in particular micro-droplet extractions relevant to spent nuclear reprocessing. For his PhD thesis, the Dept. of Chemical Engineering (UCL) honoured him with the esteemed David Newton's award for his excellent research in the field of Sustainability. He also received a Springer Thesis award, and his work has been published in the "Springer Theses" series of outstanding dissertations.
Upon completion of his PhD, Dr Tsaoulidis worked as a post-doctoral research fellow at University College London, where he was involved in the conception and development of many successful proposals and was supported by different EPSRC-funded projects, related to nuclear applications and biowaste utilisation.
For his contributions in teaching and mentoring, Dr Tsaoulidis has been accredited as "Fellow" of the Higher Education Academy.
University roles and responsibilities
Academic Integrity Officer
Research
Research interests
- Application of microscale technologies (process intensification) in energy, healthcare, and manufacturing.
- Development and application of advanced diagnostic (optical/laser-based) techniques in complex multiphase flows.
- Development of continuous multiphase reactors using advanced experimental methodologies and reactor modelling tools.
- Scale-up strategies for commercial applications and optimisation.
- Novel fluid mixing techniques and characterisation.
My teaching
ENG3184: ADVANCED REACTION ENGINEERING
ENG3200: ADVANCED CHEMICAL AND PETROCHEMICAL REACTION ENGINEERING
ENG3193: DESIGN PROJECT